Portland, Oregon, and Boston, Massachusetts, have a bit of a storied history.
In 1845, New Englanders Asa Lovejoy (of Boston) and Francis Pettygrove (of Portland, Maine) were having some issues deciding how to split up a large parcel of land they both owned. They decided that the best solution was to have a coin toss. The winner would get the honor of naming this new town on West Coast whatever he wished. Pettygrove won the toss and promptly crowned the city "Portland".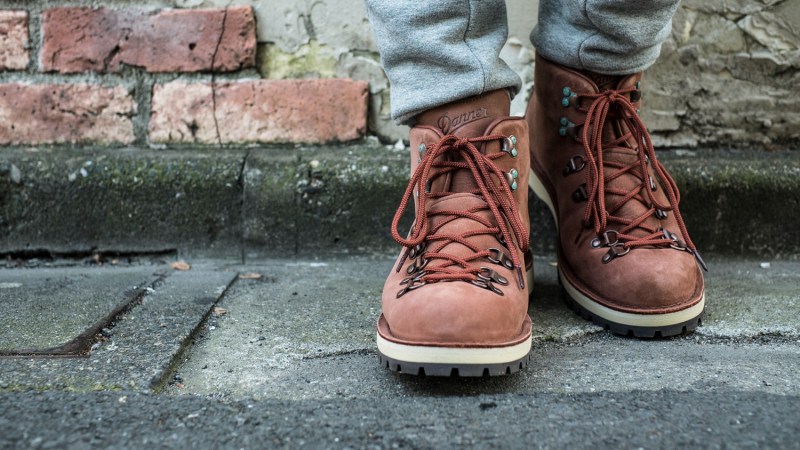 So it's only fitting that two of the country's best shoe manufacturers teamed up on another collaboration that represents the best of both town, while being individual all their own.
Portland's Danner and Boston-based New Balance have launched the second edition of their American Pioneer Project, which highlights the heritage of each brand in a seriously cool leather look. The shoes represent a collab that crosses style and terrain.
The Mountain Light Pioneer Boot (pictured above) highlights Danner's classic silhouette with a premium nubuck leather upper and oxidized copper hardware. It also has a GORE-TEX lining, which is great for trekking, while being casual enough to head straight from the trail to whichever activities might come next. (You'll also note the slick, embedded outline of Oregon on the side of the boot.)
The new interpretation of NB's 995 sneaker (pictured below) is a winner too. It features the same exterior coloring (inspired by the Portland coin toss) and similar copper hardware. Not one to be left out, New Balance also put a state outline on the side of the sneaker, representing Massachusetts.
Both shoes would be a great gift options this holiday season, either on its own or in tandem with other picks from our made-in-America gift guide.
The Danner boot retails for $400 and the New Balance 995 for $280. Both are on sale now at each brand's online stores and select brick-and-mortar locations globally.
Editors' Recommendations