Staying motivated to workout is hard. One great way to stay on top of your fitness routine is to keep your workout clothes fresh and comfortable, particularly your shorts. The best workout shorts for men are moisture-wicking, flexible, durable, and stylish. Let's not forget that the proper fit and length are essential when choosing the right workout shorts, as well. Pockets are a bonus, too — especially if they are zippered and spacious enough to hold your essentials while exercising.
Although there's no shortage of options in the world, there are only a few pairs of workout shorts that can truly check all of these boxes. What's great is you don't have to search far and wide to find them, as we've put together a list of the best men's workout shorts — all of which are pulled from the best workout clothing brands. Throw a pair of these guys into your gym bag and get ready to sweat this fall.
Related Guides
Best 3-Inch Inseam: Janji Split Short

For the more run-heavy individual, Janji's 3-inch inseam Split Shorts are recommended. They come with a built-in performance brief liner, and they're cut with a deep side split to ensure full mobility when striding. Another great feature is the zippered back pocket that's big enough to toss your phone in.
Best 9-Inch Inseam: Champion Jersey Shorts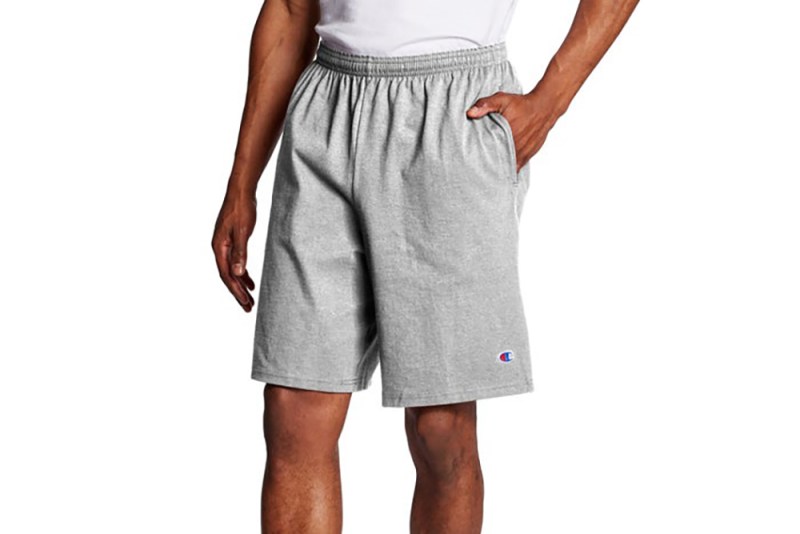 If you're looking for ultra-comfortable shorts, whether to wear them at the gym or on the couch, you can't go wrong with Champion, purveyor of some of the coziest jersey knits in the game. We've found more of the best athleisure brands like this one to browse as well.
Most Durable: Lululemon Pacebreaker Short
Lululemon's Pacebreaker short is pretty much the going standard for workout shorts these days. Simply put, they set a new level of expectations for what activewear should feel like. These come in a 7-inch inseam and feature a 3D pouched liner. Whether it be yoga, Peloton-ing, weightlifting, or even throwing the football, you'll own a durable workout short for years to come.
Best for Monitoring Body Temp: Smartwool Merino Short

For those who want a versatile 5-inch inseam short, Smartwool has an answer. Made with their Merino Sport 150 material, these shorts will limit odor, regulate body temperature, and quick-dry like the best of them. And if you find the weather's too nice to stay inside, the Merino Short is a solid choice for wearing out on a trail run.
Most Eco-Friendly: Nike Flex Stride

Flex Stride is the sustainable choice for runners—they're made with 100% recycled polyester. They feature a 5-inch inseam and a split hem on the side for a full range of motion. Not to mention they come in great colors like this mint green, for instance.
Best Running Shorts: On Running Hybrid Shorts
On Running is home to some of the best running gear and the Hybrid Short is a clear standout. Though slightly pricey, these shorts are incredibly breathable, durable, and mobile, built as they are to move with the person wearing them. What's especially interesting about these running shorts is their two-in-one design, which means you can wear the breathable outer shell or the interior compression layer independent of one another.
More Great Workout Shorts
Mack Weldon Stratus Active Shorts
Featuring an odor-free silver lining, temperature-regulating tech and reflective side details, the Active Short from Mack Weldon packs a serious punch. In addition to all these functional specs, the shorts also have a hidden pocket in the back for your cell phone or other essentials.
Rhone Versatility Short
In this case, the name really says it all. Here, you'll find a pair of incredibly versatile gym shorts designed with an adjustable interior waistband, zippered invisible pocket, and lightweight, quick-drying fabric exterior. Whether you're getting your cardio on or making your way through leg day, these bad boys will definitely see you through.
Patagonia Strider Running Shorts
Though known primarily as an outdoor clothing brand, Patagonia also sells some great gym clothes, like the Strider Running Short. Made from recycled polyester stretch material, these shorts are built to move with you, allowing for a wide range of motion that's ideal for high-intensity workouts.
Luwell Pro Men's 7-Inch Running Shorts
Luwell's running shorts are among the top-rated workout duds on Amazon for their lightweight material, moisture-wicking features, and their myriad pockets for storage.
Ten Thousand Set Short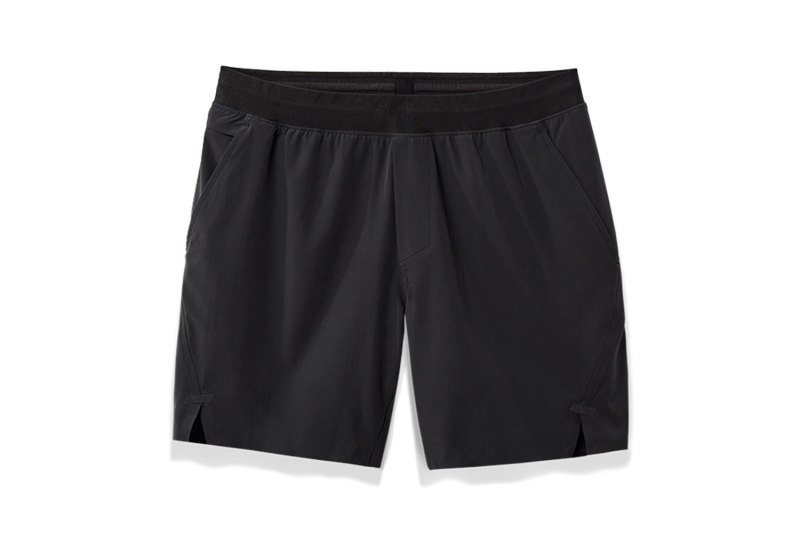 Ten Thousand has steadily made a name for itself in the athleisure sphere over the past few years for its uber-functional garments. Case in point: The brand's new workout shorts that double as swimming trunks, and are tested by Navy Seals and marine rangers, so you know they're the real deal.
Vuori Banks Shorts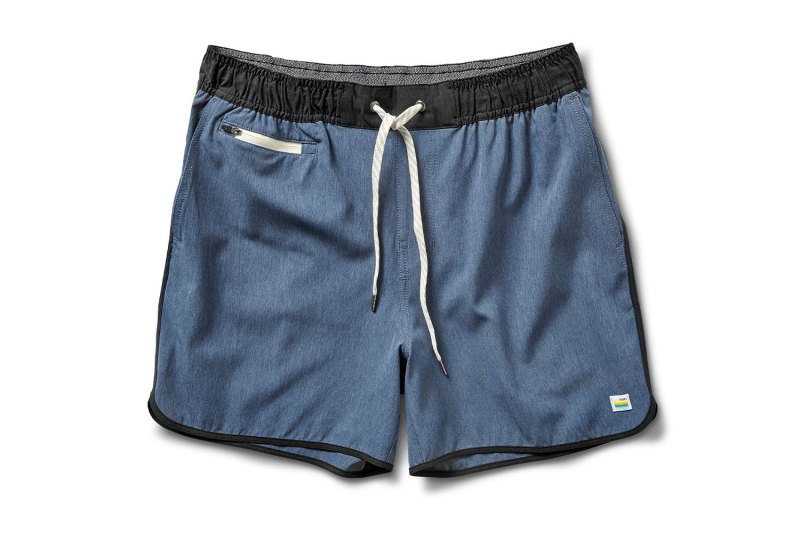 We can't stop raving about Vuori's signature shorts. They feature a blend of moisture-wicking fabrics that also fend off odors, provide plenty of support for your family jewels, and give you ample pocket room for your phone or outdoor gear.
Fabletics Men The Franchise Short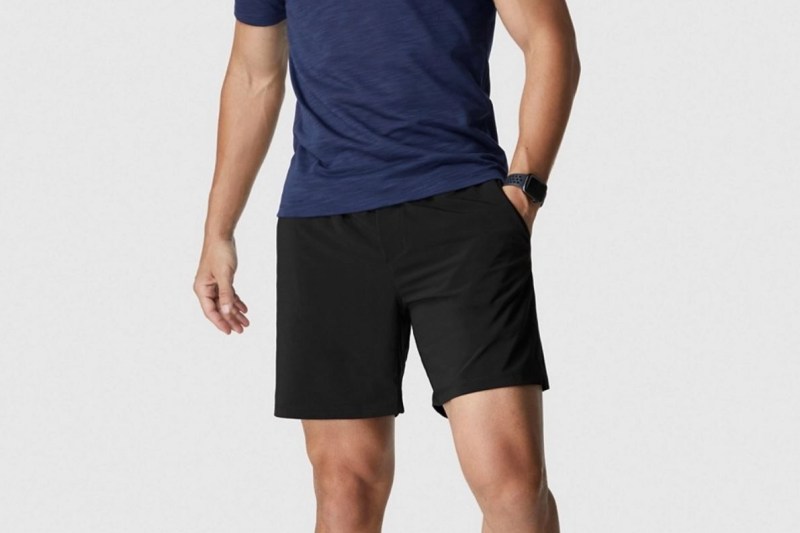 On top of being anti-odor and sweat-wicking, this was one of the few workout shorts we tried, and we found they provide plenty of secure pocket space that won't let things fall out when you're exercising, whether you're carrying tennis balls, your keys, or other EDC.
Editors' Recommendations