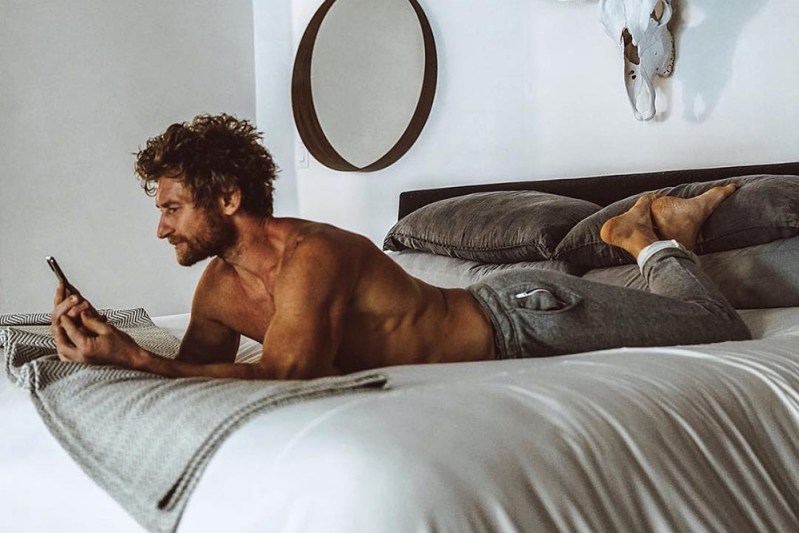 On a chilly weekend, there is nothing better than spending the day relaxing at home. No plans, no to-do list, just a full day of nothing. And while you're sitting there (enjoying a roaring fire or a steamy mug of hot tea), you'd better be decked out in some fantastic loungewear.
Lazy weeks aren't complete without a fluffy robe and a pair of cloud-like slippers to wrap you up in warmth from head to toe. If you want to slide into some house shoes or leather loafers as an alternative to slippers, consider wearing some of your best cotton socks to complete the look. In this roundup, we're focusing on one cuddly accessory in particular: The all-important lounge pant. In fact, we're going to introduce you to some of our favorites, all of which are designed with cozy comfort in mind.
Related Readings
Richer Poorer Terry Trousers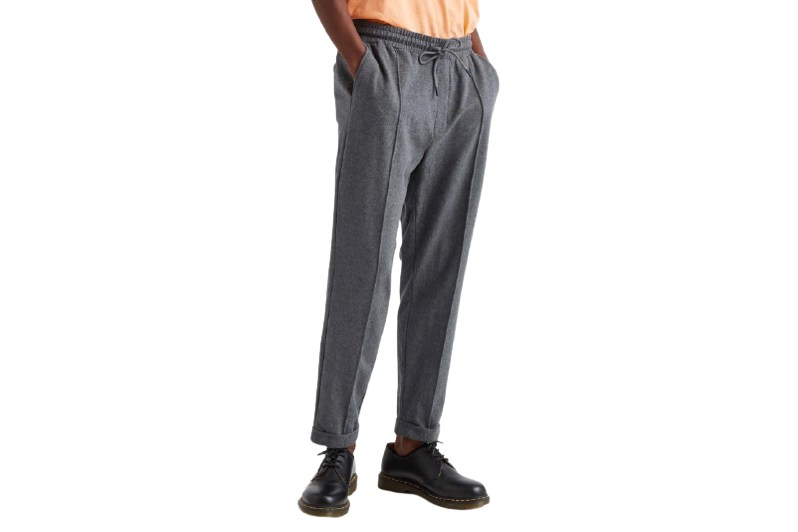 Lounge pants, it seems, are replacing most types of pairs of pants in your wardrobe for days at home, especially days spent working from home. Throw in Zoom happy hours and the demands of both comfort and style, and then watch as the Richer Poorer Terry Trousers rise to meet those demands in every way possible. The great looks of dress trousers, plus the fit and feel of tailored sweatpants — that's all you need to know. Yes indeed, your men's lounge pants just got a whole lot cooler.
Flint and Tinder French Terry Sweatpants
After all, the right lounge pants — especially these cozy French terry sweats — add comfort and style to your at-home looks alongside everything from one of the best T-shirts for men to one of the best men's sweaters.
Marine Layer Yoga Joggers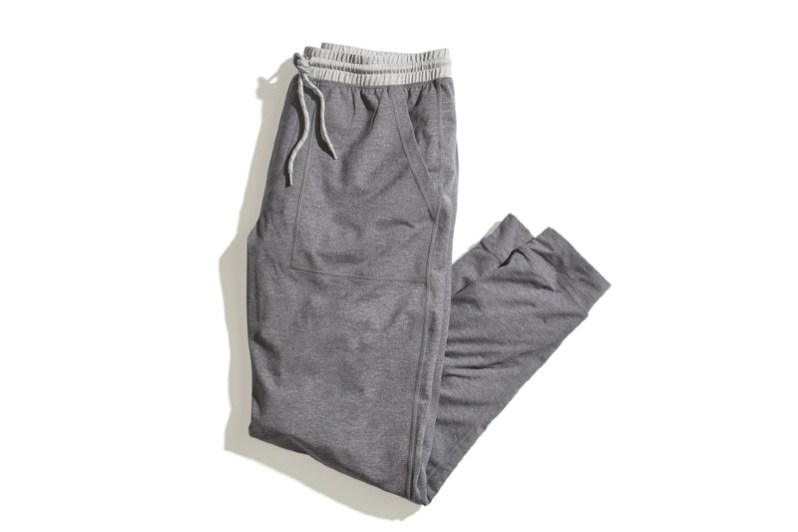 Marine Layer's specialty is crafting expertly laid-back style staples that make use of premium fabrics that are treated for extra softness, and that process shines through in the case of the Yoga Joggers. Wear 'em for your morning yoga session or better still, wear 'em for a day at home when you want to look more put-together than throwing on pajama bottoms.
Nordstrom Pima Cotton Lounge Pants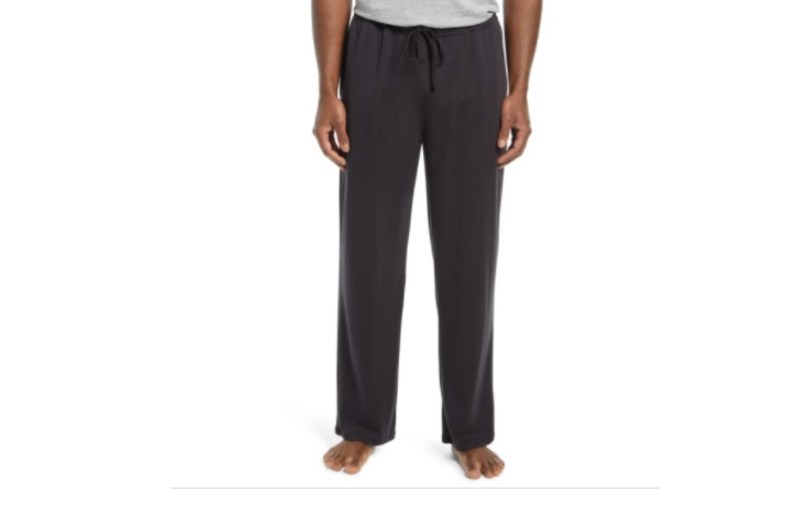 Score a great deal on some of the best lounge pants on the market with these under-$50, well-designed pants from Nordstrom. The "Black Caviar" color and the use of soft 100 percent Pima cotton are just two of the reasons we love these easygoing lounge pants for days on end.
Uniqlo U Straight Leg Sweatpants
Can sweatpants (or rather, men's lounge pants) get any more comfortable? What if we told you Uniqlo had perfected the art of laid-back sweats that were cool and casual without being too relaxed: Think of the Uniqlo U Straight Leg Sweatpants like slightly roomier joggers, featuring a cleaner cut that you can wear to more places than just your couch. That's what you get with a pair of the best lounge pants for men, right?
Eddie Bauer x Baja East Sherpa Pants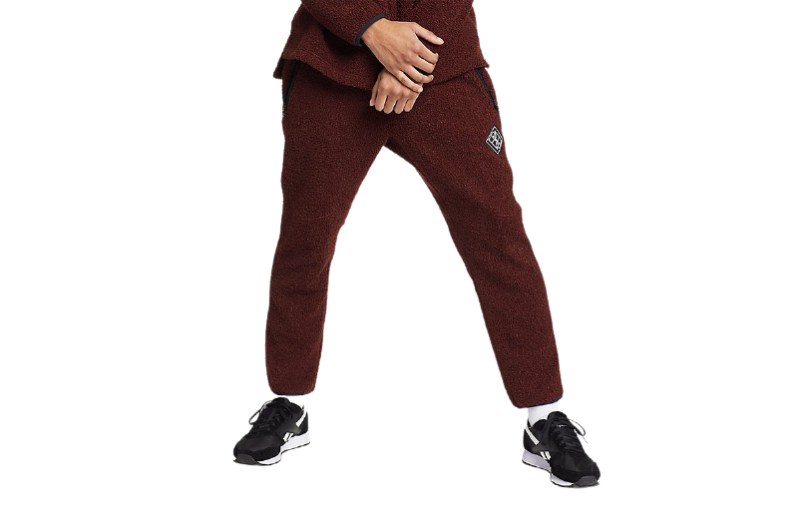 The luxury stylings of Los Angeles-based Baja East meet the outdoor heritage and ingenuity in this perfectly executed blend of cozy comfort and cool style. A fleece interior and a sherpa fleece exterior work hand-in-hand (or leg-in-leg?) to provide a super-soft feel and some unique fashion points at the same time. These are some of the coolest lounge pants we've seen, in that regard.
Wellen Lowtide Joggers
The stylish and the sustainable meet in this pair of eco-conscious, recycled nylon joggers that are as ready for mindful relaxation as they are for quick errands around town (more coffee, anyone?). Plus, the Olive colorway and sub-$100 price are also positives.
Monrow Supersoft Slim-Fit Jogger Pants
Lounge pants needn't sacrifice style points in the interest of comfort. You can have both with these nicely tapered jogger pants in a rich navy color, ideal for throwing on at a moment's notice with your favorite henley on drafty days or breezy mornings.
Tommy John Second Skin Lounge Pants
Tommy John makes remarkable men's basics, from tees to boxer briefs, that offer up loads of comfort and high-quality performance. Outfit yourself for your days off with one step better from Tommy John: A pair of the aptly named Second Skin Lounge Pants, made from a plush blend of micro modal and spandex.
GAP Drawstring Lounge Pants
The makers of your favorite jeans or your trusty denim jacket can also do more relaxed pieces quite well. Take these drawstring lounge pants, which are perfect to put on after a long day in slim black jeans.
Fourlaps Relay Track Pants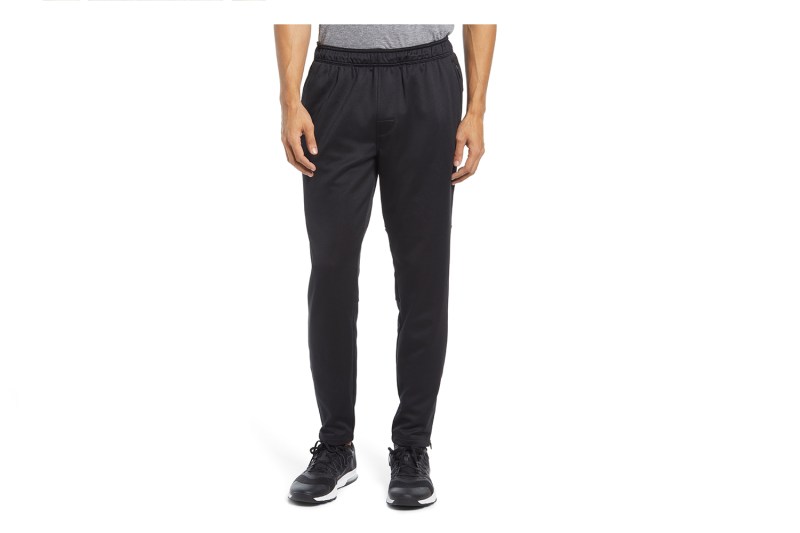 Fourlaps is an independent athletic brand founded by entrepreneur Daniel Shapiro. The brand is known for leveraging technologies and using quality fabrics to create state-of-the-art clothing for fitness enthusiasts looking for items that do not skimp on functionality and comfort. That being said, we suggest choosing its quick-dry relay track pants for your next visit to the gym. This pair is also moisture-wicking, which keeps moisture away from your body so you won't feel sticky (yuck!) or uncomfortable during your workout. Plus, it comes with an interior cell phone sleeve and a zippered pocket for your valuables.
Hylete Fuse Pants
This pair from Hylete is our favorite from the community-driven brand. Not only is it a great bargain, but the Fuse Pant ensures breathability thanks to its four-way stretch fabric. This makes it a fine addition to your gym wardrobe or your work from home OOTD. Available in navy and black, we find the navy variant sleeker and more eye-catching.
Boxraw Johnson Bottoms
Boxraw may be relatively new in the market, but it has established itself as a brand that creates top-notch sportswear and equipment for motivated individuals. If you are a driven athlete who wants a quick wardrobe upgrade or a pair of pants that will help you get through the day, we highly recommend getting the Johnson Bottoms, created using an anti-pilling knit for durability and comfort. It has large rear pockets and deep zippered pockets for your belongings. Boxraw even managed to include a hidden waistband pocket to secure your valuables. Now that's what we call innovation.
Falconeri Cashmere Trousers
Italian clothing brand Falconeri excels in manufacturing high-quality knitwear that blends tradition and creativity. If you're looking to invest in a well-crafted pair of pants, we recommend giving Falconer's Cashmere trousers a try. But don't be intimidated by the steep price. With the brand known for its meticulous craftsmanship and quality control, rest assured that is made from 100% cashmere to guarantee maximum relief when you're jogging in the park or lounging around at home. Truthfully, if we could live forever in Falconeri's cashmere trousers, we would.
Public Rec Stadium Joggers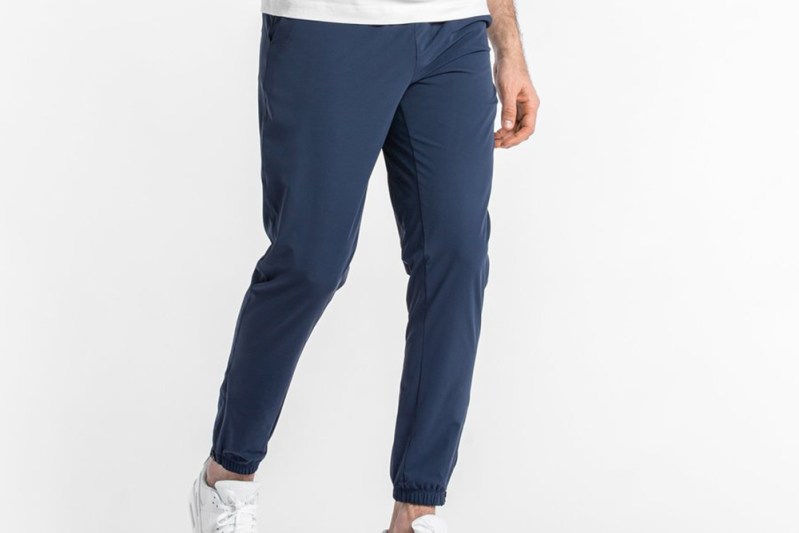 It's been difficult these days to wear anything but sweatpants while working from home. But if you want to upgrade your 9-to-5 bottoms, we suggest these joggers from one of our favorite athleisure brands. They feel formal enough to motivate you to work, and they're also insanely comfortable, thanks to the elastic waistband and breathable fabric.
Ably Leisure Sweatpants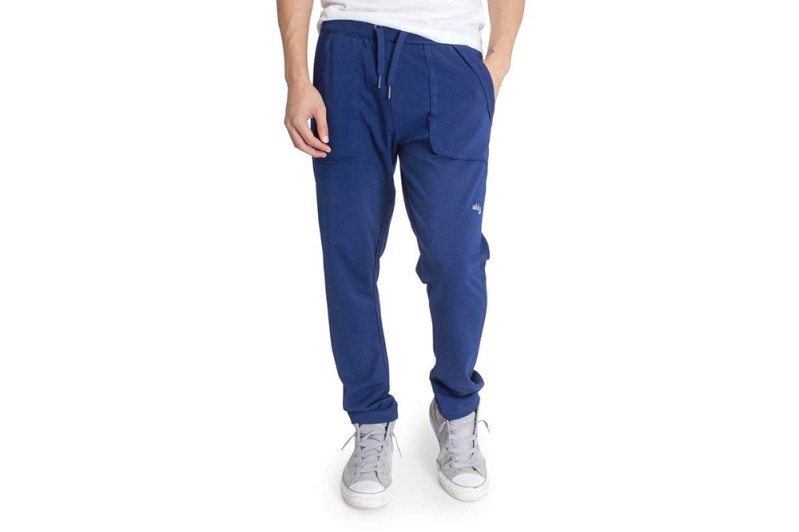 We love that these sweats are insanely comfortable (which is a prerequisite for sweats, after all), but they're also presentable enough to be worn outside the house. While they come in plenty of colors, the electric blue is our fave.
Patagonia Mahnya Fleece Pants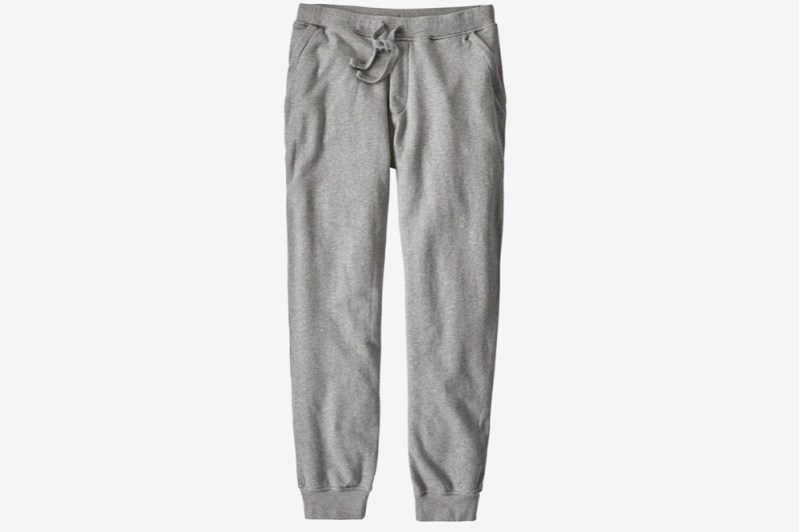 Patagonia, one of our favorite outdoor brands, makes apparel that's perfect for far-flung excursions, as well as lounging around the house for days on end (perfect for quarantine). Case in point: These soft-as-a-feather fleece pants.
Mack Weldon Ace Sweatpant
Featuring a refined fit, the Ace Sweatpant is meant to evoke a casual, grownup aesthetic. Knit with French terry, these pants are as comfortable as they are elegant, making an excellent addition to anyone's wardrobe.
Vuori Ponto Performance Pant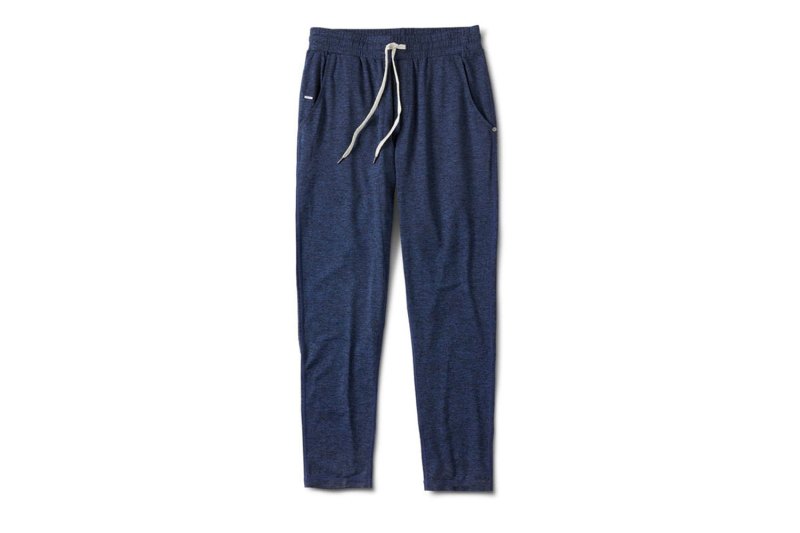 If you're on the prowl for performance-grade loungewear, look no further than the Ponto Pant from Vuori. Moisture-wicking and quick-drying, these lounge pants are as functional as they are comfy, making them a great pick for indoor and outdoor activities.
Gihuo Winter Fleece Pants
You know those mornings when you wake up and quickly realize that you're not going to be leaving your bed all day? Well, on those days, we suggest throwing on a pair of these fleece-lined pants from Gihuo. They're soft, warm, cozy, and guaranteed to seriously up your hibernation game.
Grayers Palmer Athletic Fleece Joggers
Lounge pants for men come in all shapes and sizes, including in a pair of surprisingly sleek joggers that work much better as laid-back lounge pants than a regular pair of athletic sweats. This pair from Grayers in particular draws on old-school style inspiration and comfortable fabric for hours on end of relaxed, stylish lounging.
PROGO USA Men's Casual Jogger Sweatpants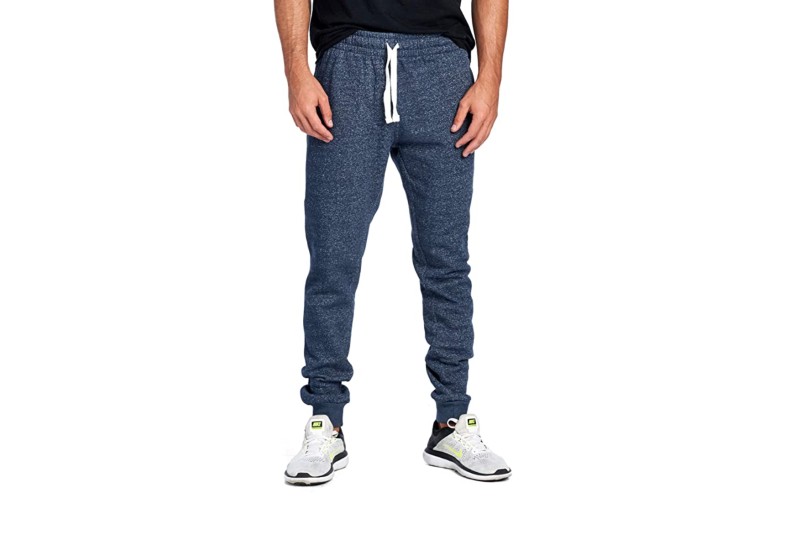 These casual joggers are great for lounging around the house on a cold evening. They're super soft and just stylish enough to look like you're not wearing pajamas if you wear these out of the house. Not only that, but they also come with a variety of designs that will help reflect your personality and sense of style.
YoungLA Slim Joggers
These true slim-fit joggers are the perfect cross between style and comfort. Made with a blend of 60% cotton and 40% polyester, these joggers are super soft but also contain a sweat-wicking material that makes them great for wearing to the gym or at home. Versatile pants for the win.
Editors' Recommendations