Casual and comfortable meets stylish and sleek with the classic henley shirt. This sporty, collarless pullover shirt can easily add rugged appeal to any look. So whether it's for a relaxing lunch with your family or an arduous hike with your gym buddies, you can look put together without having to compromise your overall comfort.
While this versatile and fashionable shirt can stand on its own with a pair of light-wash jeans and white sneakers, it can also be layered with your favorite denim jacket or button-up flannel shirt. Want to learn more about how you can add this staple piece to your wardrobe? We picked out some of our favorite henley shirts for the curious shopper.
The Work-From-Home Henley
Club Monaco Double Knit Henley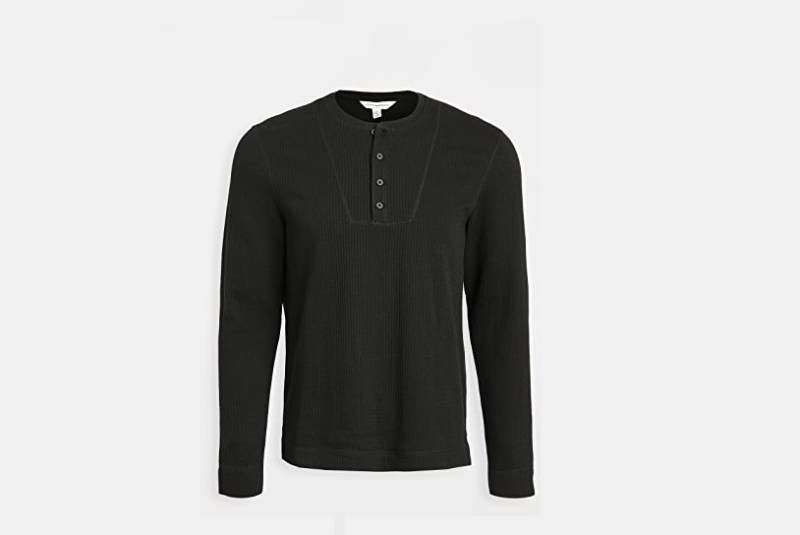 Club Monaco's Double Knit Henley has a ribbed weave, perfect for the wearer looking for a subtle texture that stands out without being too loud or risky. This piece can be layered with a t-shirt underneath or worn on its own. Finish off the look with slim-fit chinos in off-white or beige and vegan leather boots.
Loungewear
Mott and Bow Long-Sleeve Driggs Henley
Mott and Bow's henley is cool and comfortable enough to wear with the brand's famed jeans, or better still, with its comfy and cozy sweatpants. Make it your new go-to layer for weekend coffee runs aplenty.
Abercrombie & Fitch Essential Henley Tee
In these casual times, many people are choosing to elevate their loungewear. You may not be leaving your house like you used to, but that doesn't mean your look has to be pushed to the wayside. This henley tee is perfect for those stay-at-home days when you want to feel put together but maintain a sense of comfort and mobility. You can wear this basic tee with sweatpants or jeans.
Patagonia Organic Cotton Lightweight Henley Pullover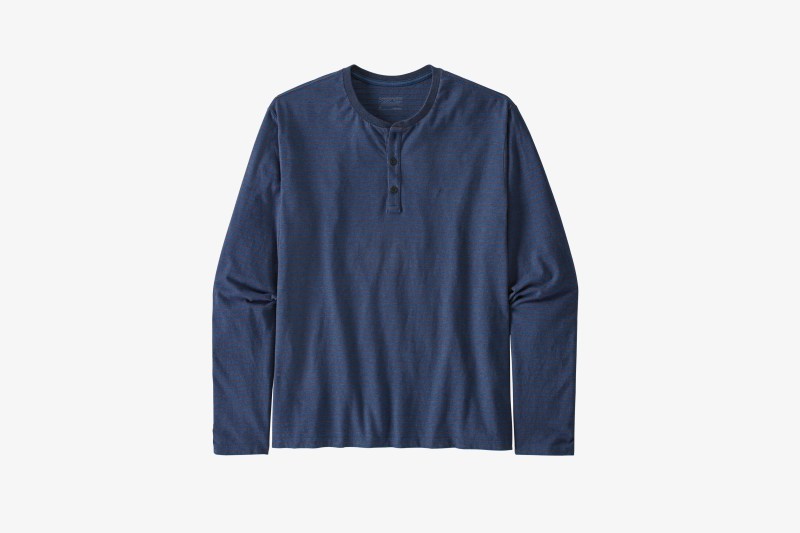 The long-sleeved option has a looser fit than the typical slim-fitting henley. The subtle striped print allows the piece to work well with any extra layers. The Patagonia Organic Cotton Lightweight Henley Pullover can be styled with your go-to pair of jeans and minimal low-top sneakers.
Everlane Air Henley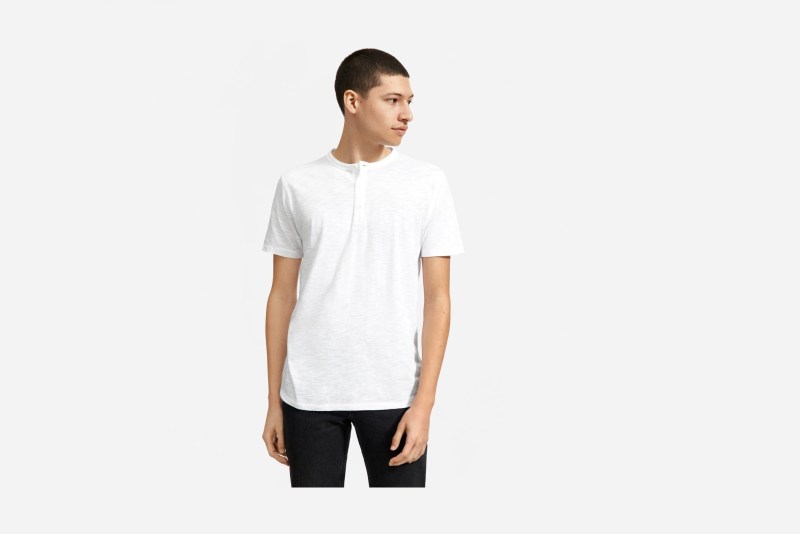 The Everlane Air Henley is expertly crafted with a cotton slub fabric, allowing for a cool, breathable feel throughout the day. The subtle texture adds unique detail to this classic piece. Pair this with dark wash jeans and layer it with a denim shirt.
Best for Travel
HNLY LA Bourdain Henley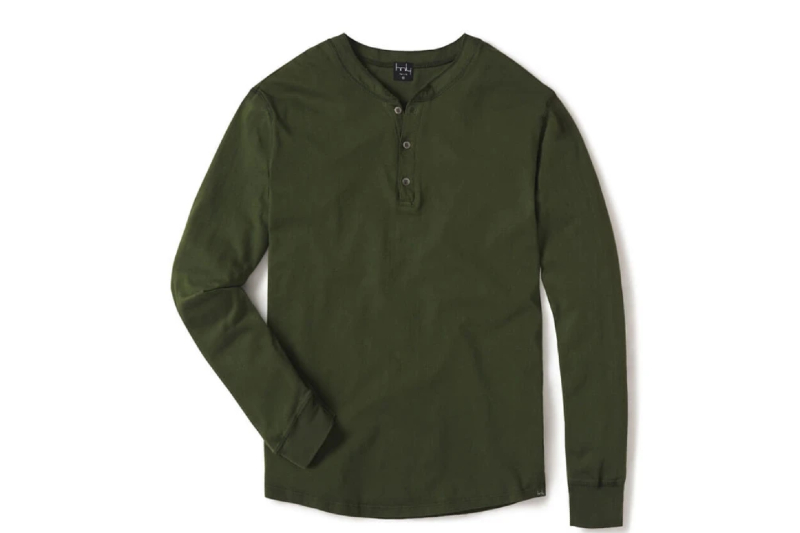 Perhaps more than anything else, henleys are meant to call to mind a spirit of adventure. With a name that calls to mind the global adventurer Anthony Bourdain himself, this up-for-anything organic stretch cotton henley is a perfect base layer for fall with your favorite denim shirt.
Aether Apparel Long-Sleeve Slub Henley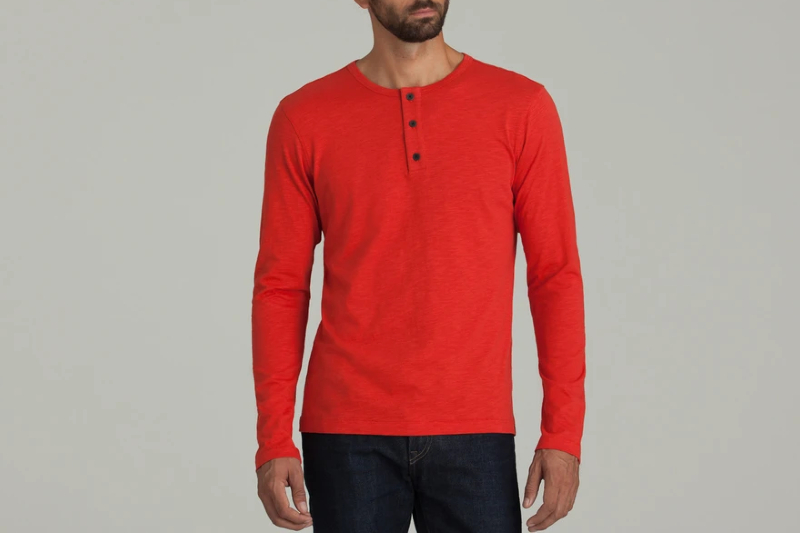 Aether Apparel was founded by a team that wanted stylish technical gear that would work well both in and out of the city. That's where this long-sleeve henley comes into play, in a bright color that calls to mind fall foliage you might find on road trips.
Taylor Stitch Merino Henley in Heather Blue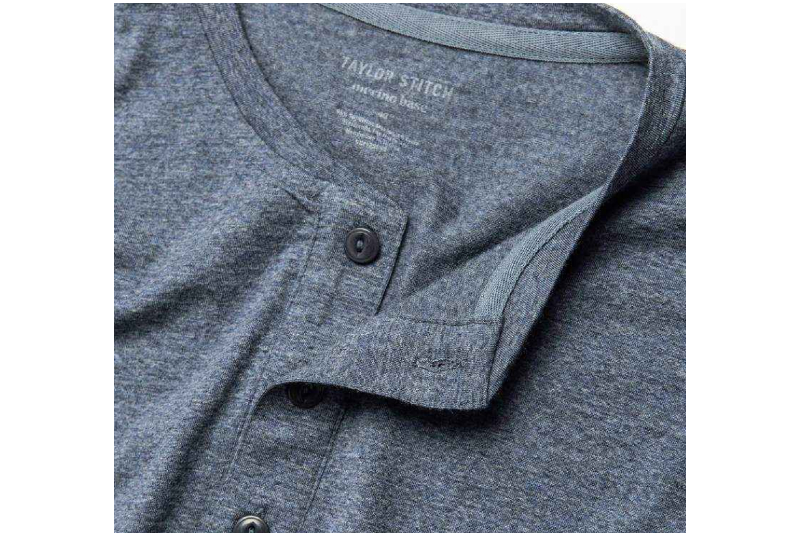 Merino wool is the way to go if you want a fabric that's made to last a long time without wearing out, and it's thanks to strong fibers that also wick away sweat and keep you comfortable. That makes this henley an obvious choice to wear on all road trips of all sorts.
Best in Luxury
Benson Stripe Linen Short Sleeve Henley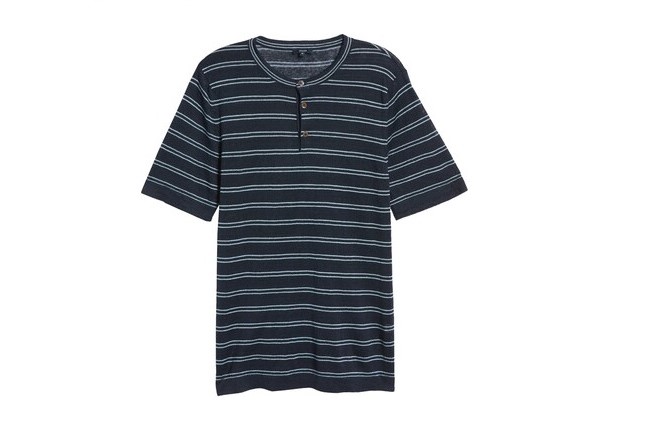 Stripes are an easy way to add some dimension to your outfit. The Benson Henley is made from linen, a super lightweight fabric that's woven loosely for breathability. Pair these with some off-white Chinos (or maybe your finest pajamas since no one's really going to see them).
Rag & Bone Classic Slim-Fit Henley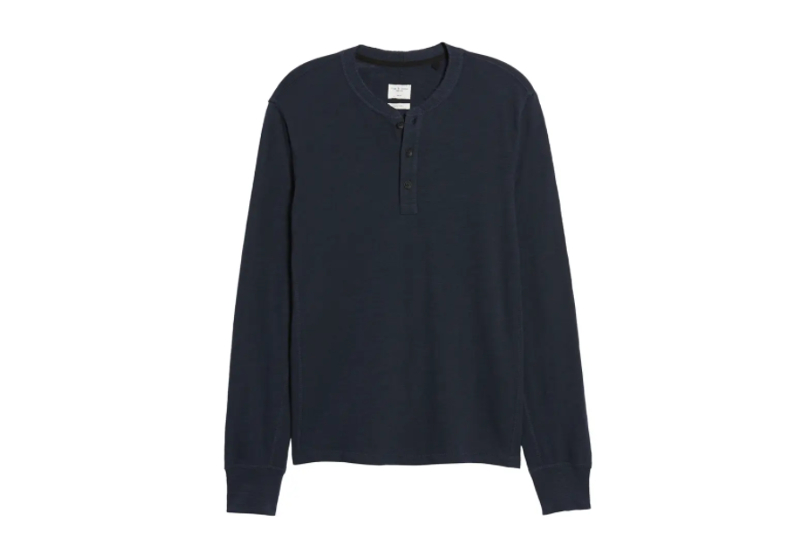 Rag & Bone specializes in sleek and minimal menswear that just works well together, like dark jeans and this crisp henley. It's a slim fit, so you can wear it on your own or underneath a black leather moto jacket.
James Perse Brushed Cotton Henley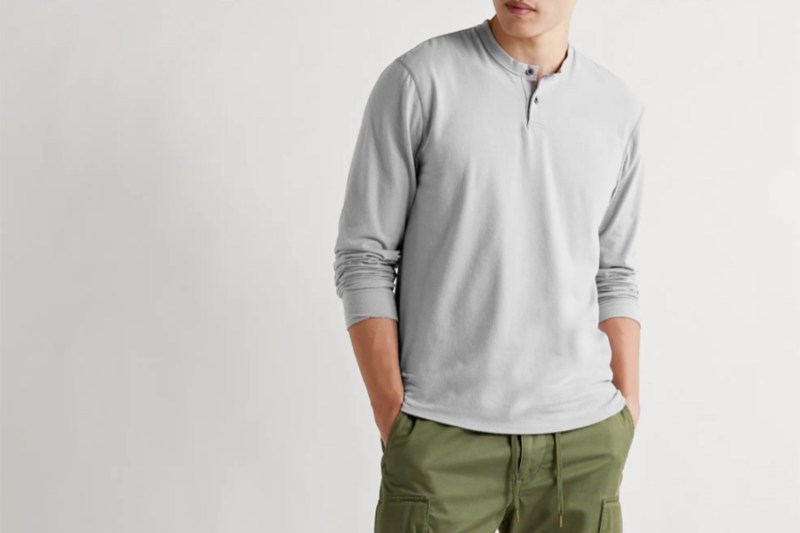 James Perse takes your favorite basics, then amps them up in a big way with premium materials and construction. This brushed-cotton henley is no exception.
Workout-Friendly
Lululemon Metal Vent Tech Short Sleeve Henley 2.0
Lulu Lemon has designed a short-sleeve henley shirt that channels its sporty origins. The recycled polyester, nylon, and elastane blend create a moisture-wicking fabric, perfect for your morning run. Put on your Nike running shorts and a pair of trainers along with the Metal Vent Tech Short Sleeve Henley 2.0 and you're ready for your workout.
The North Face Wander Short Sleeve Henley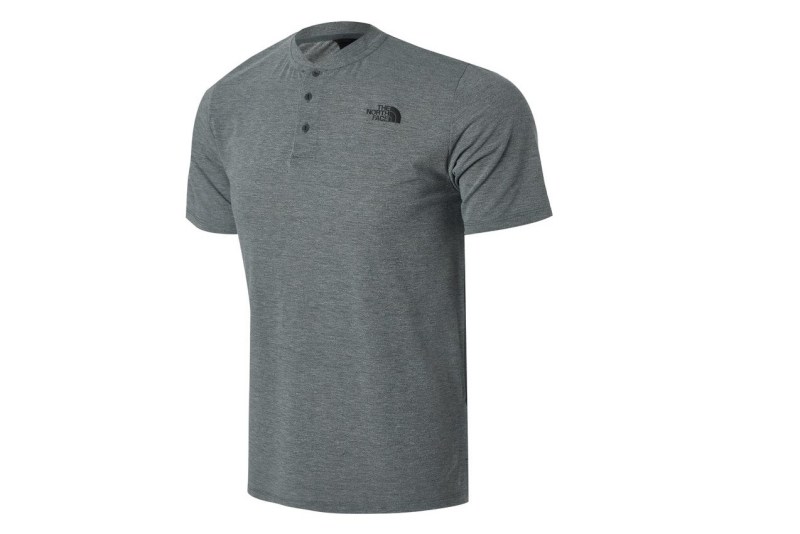 The North Face's short-sleeved interpretation will help your next workout go smoothly. The recycled polyester fabric is made with a jersey knit, allowing for temperature control. This shirt can even provide some protection from UV rays.
Other Henleys We Love Right Now
Proof 72-Hour Merino Long-Sleeve Henley
Merino fabric is the sort of fabric you need in your closet this season. It's made to both wick away moisture and keep you warm, making it ideal for day hikes or brewery patio beers. This option from Proof comes in a range of colors and features a flattering fit.
Marine Layer Striped Henley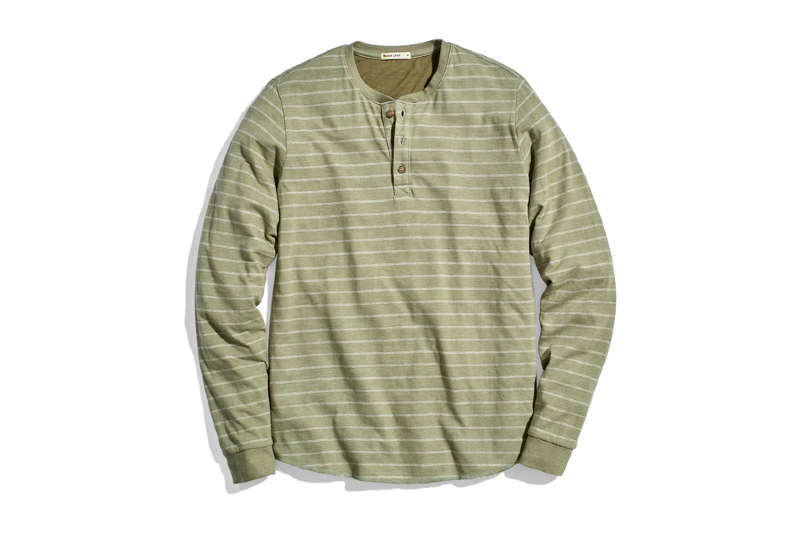 We're all about cool colors like Olive this season and beyond, which is a shade that pairs up nicely with dark blue denim or even tan chinos. Here, Marine Layer uses a cotton-poly-rayon blend for a soft finish and plenty of all-day comfort.
Goodlife Sunfaded Scallop Hem Henley
Bring a bit of the beach, or a bit of the "good life," to your layering rotation with this expertly faded henley. It'll look, fit and feel like you've had it for years, and that's weekend-ready comfort we can get behind.
Arc'teryx Sirrus Henley Shirt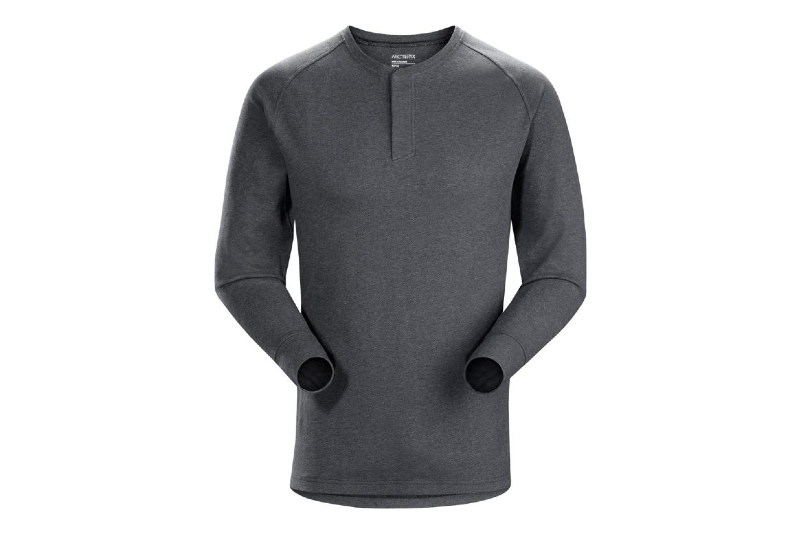 Arc'teryx specializes in technical fabrics and styles that are as at home on the trail as they are cruising around the city. This sleek stretch henley shirt, available in neutral colors, also features a covered button placket for a super-clean finish.
Editors' Recommendations