Here we are, smack dab in the middle of the cold, wet winter. While you are undoubtedly trying to stay in and avoid the frigid temperatures in your neck of the woods, there are some instances when you must emerge from your blanket cocoon and venture outdoors.
When you do need to go out, you pile on the layers that end with a stellar overcoat that keeps you warm, dry, and stylish. Luckily you have already chosen the best men's overcoat for you; now you just need the finer details to help you wear it confidently and keep you looking great. even if you're eager to rush home and get back under the covers for the next Netflix binge.
Here is our starting point for wearing the overcoat the way it was intended.
Check the fit
What you have in the closet is what we'll work with. Hopefully, you checked out our guide to buying an overcoat and got the right fit for yourself. Maybe you even got a stylish men's wool overcoat. Regardless of what you picked, the size that you got will determine what you can wear underneath your coat.
For instance, you want the coat to be longer than your suit jacket and, most often, end above your knees. The sleeves should reach the first knuckle of your thumb — long enough to cover the sleeves of your jacket or sweater you have underneath it. Remember that the thicker your layers, the shorter the sleeves of your overcoat will be, making the size important.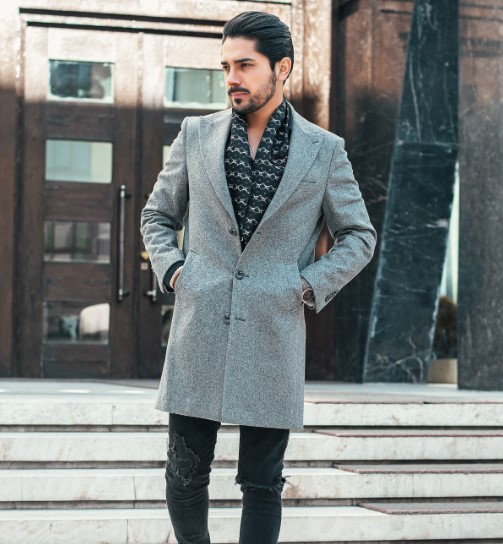 Single breasted
If you picked up a single-breasted overcoat, you have an outerwear garment that can range from formal over your best suits to something more casual. It's a bit of an elevated style, so the ultra-casual looks won't always work best with this coat. A single-breasted overcoat is known for the single column of buttons down the middle and usually a skinnier lapel, similar to your best suits.
When dressing this coat up, make sure you button up the front and pair it with the right scarf, gloves, and hat to complete a look. The most stylish ensembles will make sure the coat and accessories complement the outfit underneath.
To dress this coat down, keep it open and pair it with a sweater and denim. If you wear a scarf, let it drape instead of knotting it around your neck.

Double breasted
If you chose a double-breasted overcoat, you are the pinnacle of class and style. This is the most traditional overcoat and is meant to elevate anything you wear with it. It's known for its wider lapels and two columns of buttons, usually six buttons in total. The first thing to always keep in mind is that this coat is always designed to be worn buttoned up with the bottom button left open, exactly like your double-breasted suits.
There's no need to attempt to dress this coat up; the job is done for you. Wear your suits underneath and jazz them up with the best accessories. Some of these coats have breast pockets, so if you're feeling sassy, you can wear a pocket square just like you would with your suits.
If you're trying to dress this coat down, don't. A peacoat is a more casual double-breasted coat, but if you really want to wear this coat, we wouldn't recommend wearing it with anything more casual than dress pants and a button-up.

Duffle
If the duffle coat is your choice, you value variety and versatility. This coat ranges from ultra-casual to elevated dress ensembles better than any other on this list. This single-breasted coat is known primarily for the wooden toggle buttons. It's casual enough to work with just about any look, but the coat's military history helps it elevate everything in your closet.
When dressing this coat up, remember that it spans a wide range of uses. That means it's just under the double-breasted coats in formality. If possible, remove the hood to keep it understated.
Just like it falls just below the double-breasted coat in formality, it sits just above the peacoat in casual attire. Keep the hood on and unbutton the coat to show off your simple sweater or henley underneath.

Mackintosh
If you chose the Mackintosh as your overcoat, there are two reasons. One, you live in a place like the Pacific Northwest that sees a fair amount of rain, and you need the waterproof feature. Two, you really love the movie Casablanca. This coat features a waxed outer layer that keeps you dry in even the heaviest of downpours and a belt that keeps the coat nice and tight around your body in heavy storm winds.
Dressing this coat up consists of simply protecting your more formal outfits, such as your suit and ties. If it's raining, the best practice is to ditch the scarf and button this coat up to your neck to keep your clothes underneath clean and dry.
While this coat will work with anything and is more for function than fashion, you could swap this out with more of a puffy or quilted jacket to protect your casual ensembles.

Peacoat
This is perhaps the most casual overcoat on this list, and that's likely because it isn't precisely an overcoat. A peacoat is generally cut much shorter than the rest of these overcoats, sitting about mid-thigh or higher. Because of this, it is best kept away from more formal events. As a matter of fact, if you like the double-breasted look, keeping a double-breasted overcoat for your formal looks and a peacoat for your informal looks isn't a bad idea.
To dress this one up, you can wear it over a turtleneck for a classy look. If you want to show off a contemporary look, wear dark dress denim with a button-down collared shirt and a knit tie for a stylish and elevated casual outfit.
There's no need to dress down the peacoat as it's already a casual coat. If you want to create a classy casual look, though, reach back to the nautical history of the coat and wear it with navy chinos and a white T-shirt the way sailors wore it when these coats first appeared on the boats.
Editors' Recommendations