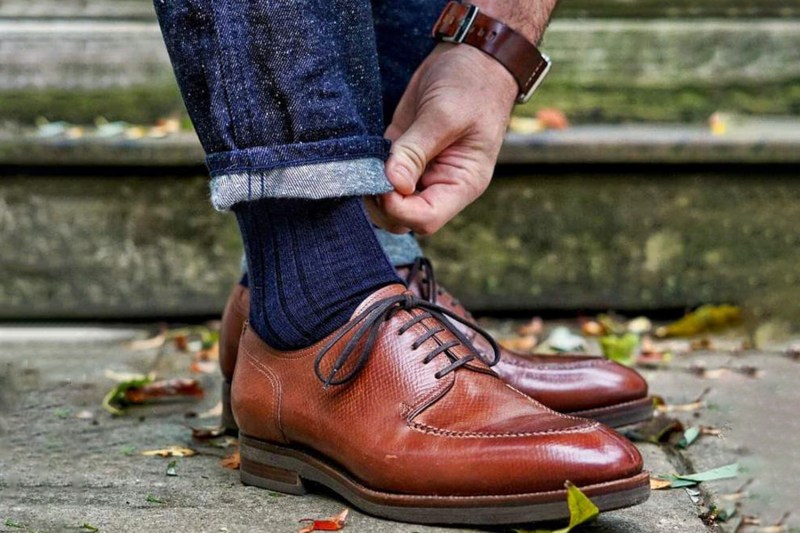 If you've put plenty of care into curating a thoughtful wardrobe of tailored wear, then why not put that same care and attention to detail into your accessories? Socks can be easily relegated to your low-priority list when completing your outfit, especially if it's a formal look. They may not be the standout part of the outfit, but dress socks play a functional role in your overall comfort and confidence.
The best dress socks act as an anchor for your attire, conveying serious style while injecting just a bit of personality into your look via subtle patterns. They're also crafted from the finest materials, engineered specifically to suit your needs at the best price possible. Here, we rounded up over 10 of the best dress socks to pair with your favorite dress shoes and to keep your feet warm in cold weather.
The Tie Bar Solid Black Dress Socks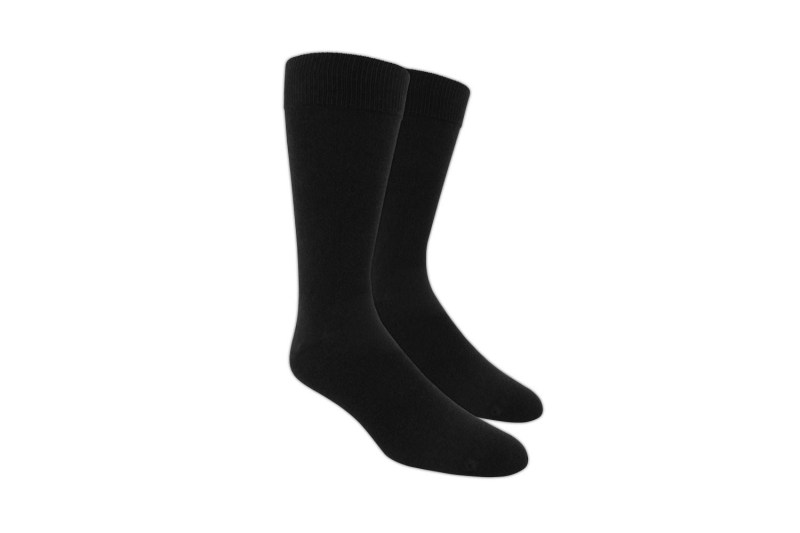 Yes, the brand that makes some of the most affordable men's ties (and dress shirts) on the market is now crafting a pair of simple yet stylish dress socks, with color options for everyone (and every style situation and every pair of dress pants at that).
Bombas Men's Classic Marled Socks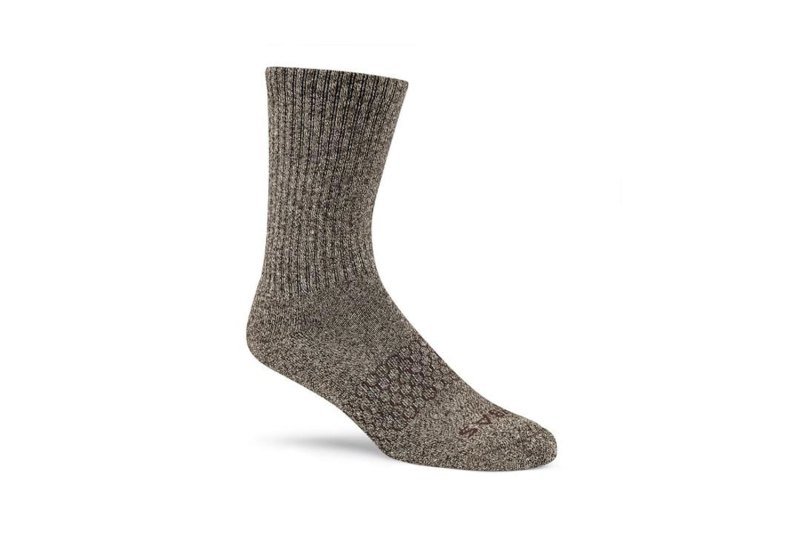 The best men's dress socks offer comfort and style as well as a unique take on what you might normally expect from dress socks. These marled socks from Bombas have enough heft to stand out visually with wool trousers or winter suiting. Plus, the use of long-staple cotton provides plenty of soft comfort for your feet.
Allen Edmonds Poly-Tencel Dress Socks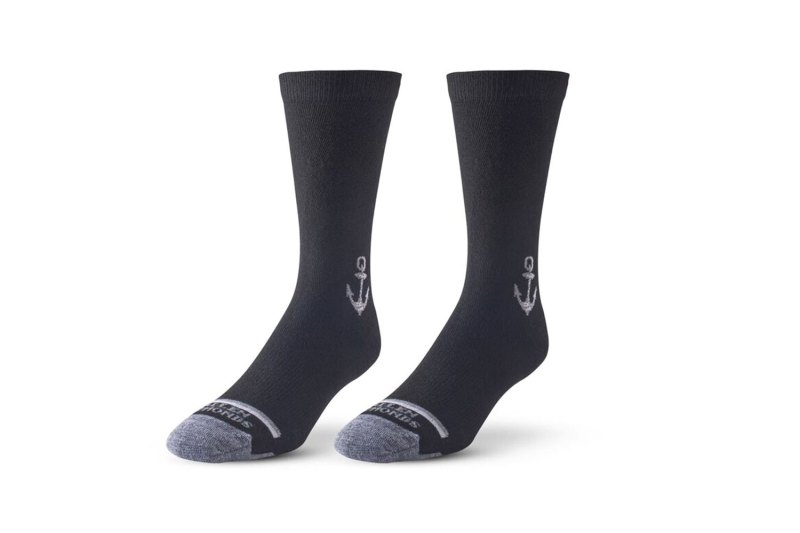 It should come as no surprise that the makers of some of the very best men's dress shoes are also making quite the pair of refined socks to wear with said leather wingtips or lace-ups. Allen Edmonds has quite the one-two punch going.
Bonobos Cotton Blend Dress Socks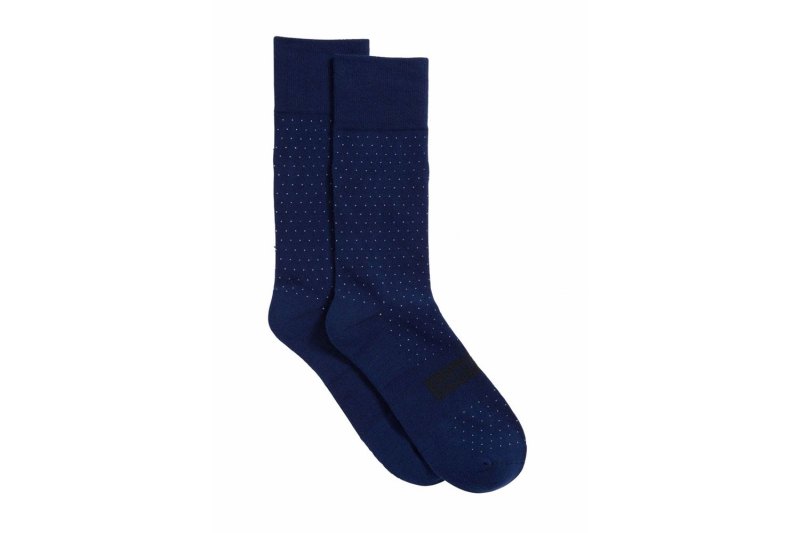 Like we keep saying, you can find some of the best men's dress socks if you know where to look. For the kind of socks that look as cool as can be peeking out from underneath your slim Bonobos chinos, you might as well go for a pair from that same brand.
Boardroom Socks Navy Merino Wool Over the Calf Dress Socks
Made in the USA, Boardroom Socks Navy Merino Wool Over the Calf Dress Socks undoubtedly belong on our list. Not only does fine merino wool feel amazing, but the material is also breathable to keep your feet dry, comfortable, and happy. The classic ribbed style goes well with just about anything, whether you're dressing down or up. Moreover, the brilliant navy color offers an elegant feel and they certainly stand out, even when paired with gorgeous footwear. The reinforced heel and toe add durability for reliable and long-lasting wear.
Brooks Brothers Egyptian Cotton Socks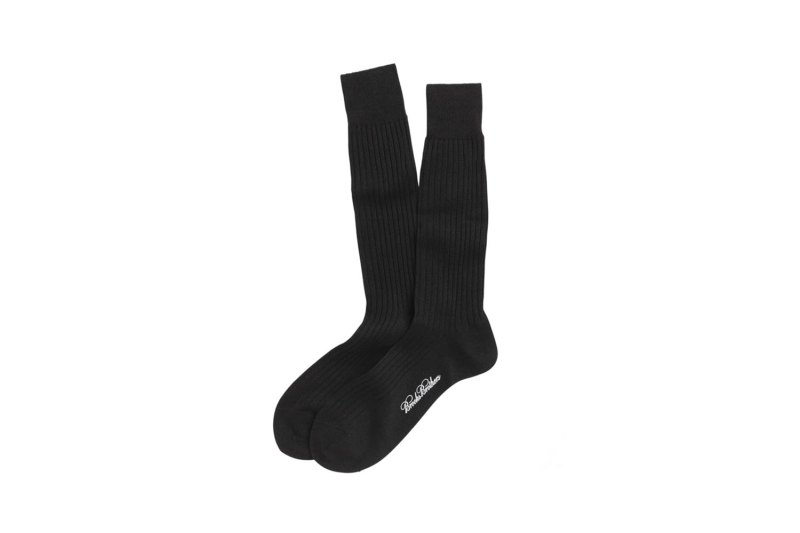 The all-American style purveyors at Brooks Brothers have been making timeless Oxford shirts, classic chinos, and the like for decades, so it only makes sense that you should turn to them for a perfectly complimentary pair of excellent, high-quality dress socks, right? Right.
Neiman Marcus
Men's Over-Calf Silk Dress Socks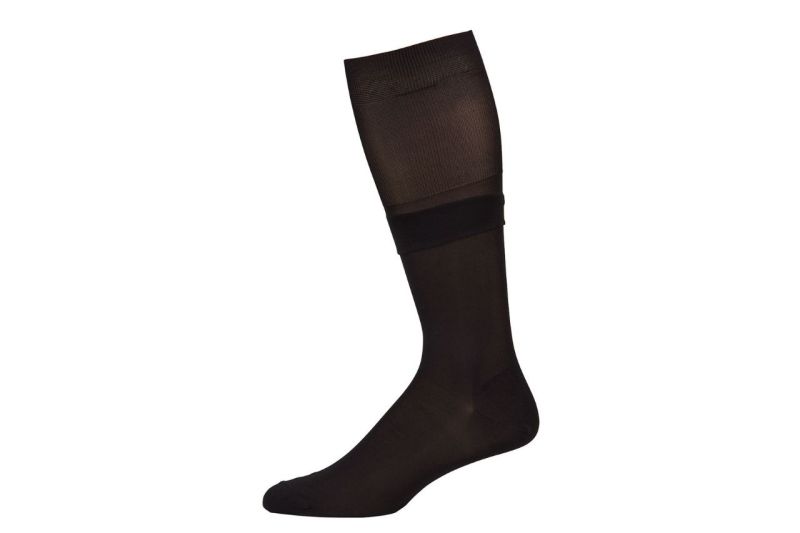 This silk sock is perfect for those hectic errand days, as the breathable fabric is lightweight and airy for ultimate comfort.
Dockers Men's 4-Pack Patterned Dress Socks
Can't decide on one pattern? Get both plus two solids for a steal! This variety pack is perfect if you want to keep it simple but have options.
Amazon
Premium Ribbed Silky Soft Dress Socks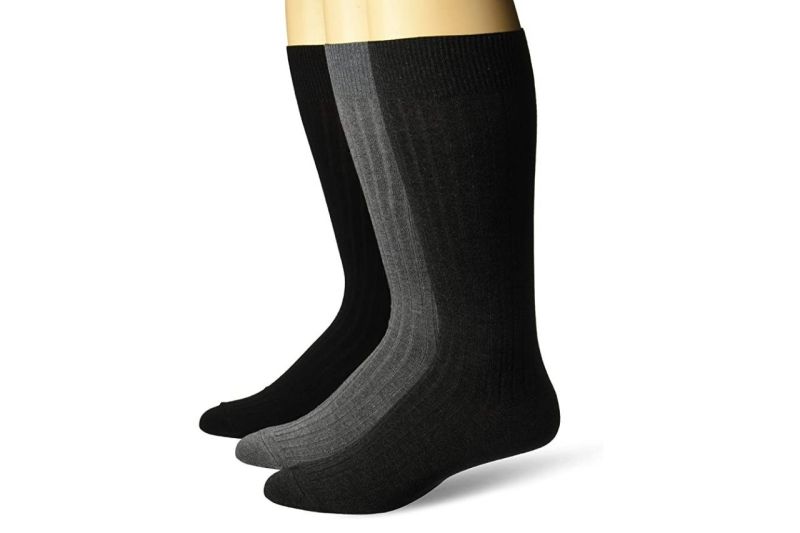 If there's one thing that annoys me about over-the-calf socks is when they roll down. You won't have to worry about that with these socks — they have nylon reinforcement to keep snug to your calves.
Gold Toe Men's Harrington Crew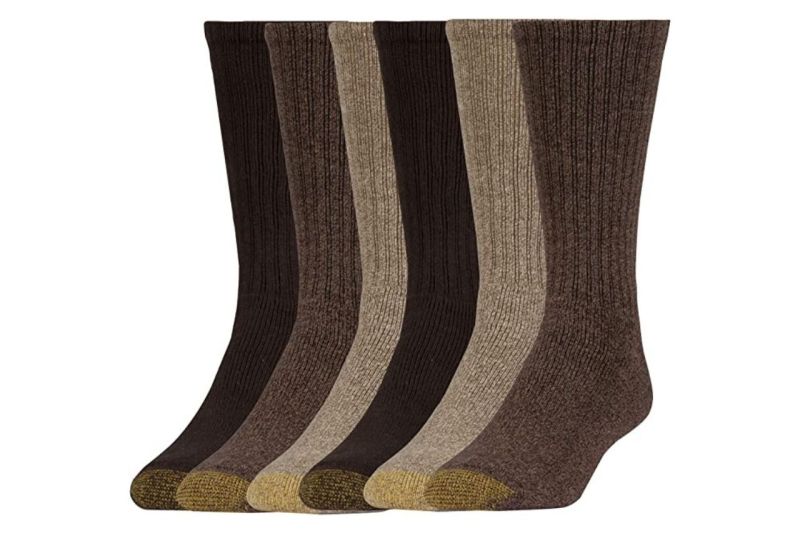 These extra thick socks will be sure to keep your feet warm! They also have an extra cushion in the toe area for added comfort.
Happy Socks Dressed Coffee Legs Crew Socks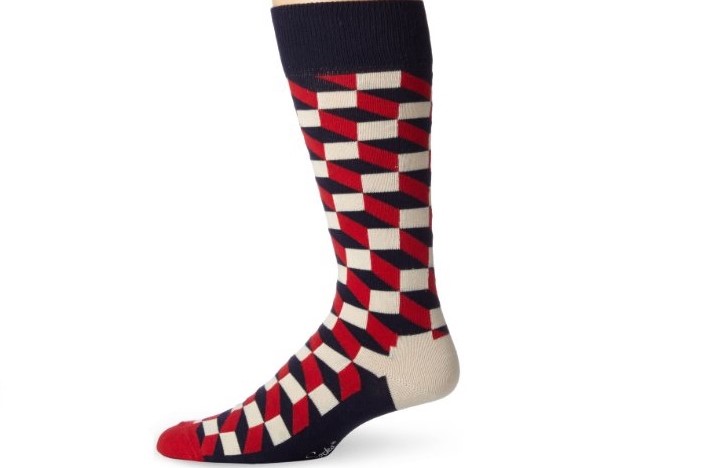 Happy Socks will bring some of your personality down to your feet with fun, kitschy patterns. They feature various patterns specifically designed to your preferences while keeping your feet wrapped in comfort. With a huge range of colors and designs to choose from, you'll find the perfect pair for every occasion.
Nike Performance Cushion Crew Socks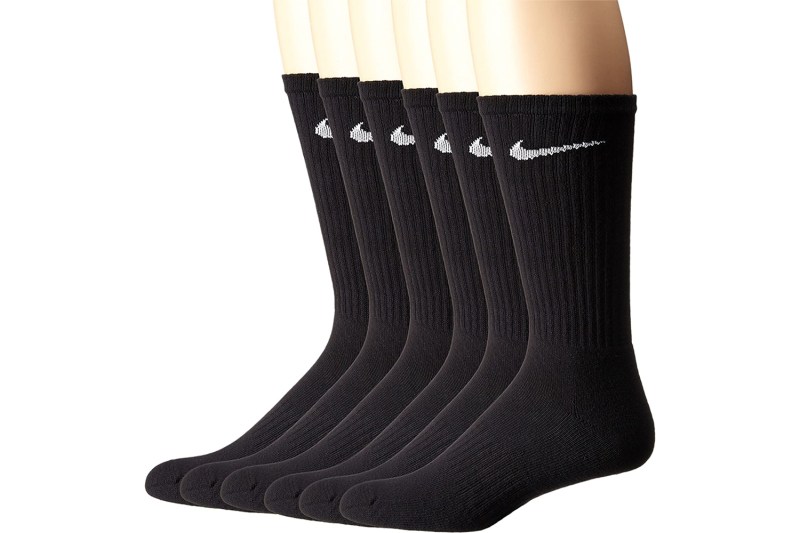 These Cushion Crew Socks mimic an upgraded version of your standard socks. They feature reinforced heels and toes for enhanced durability while providing maximum comfort with their soft premium fabric blend. 
CDLP Five-Pack Black Bamboo Socks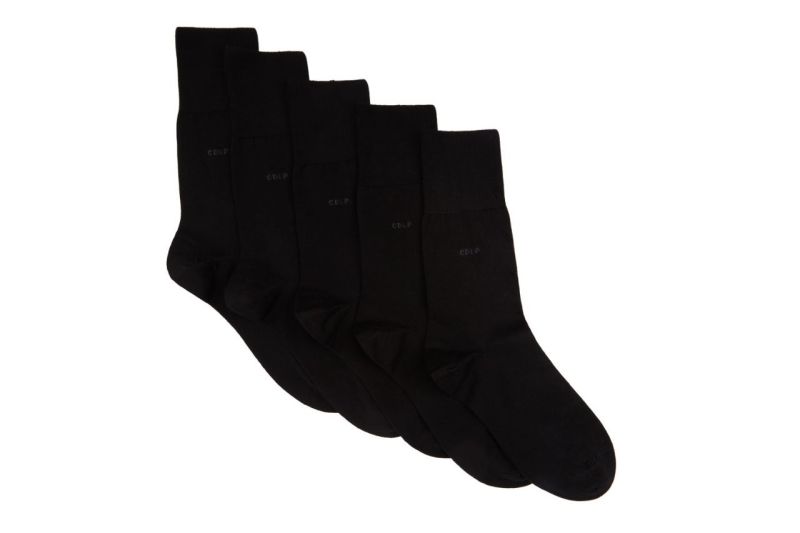 Made with bamboo viscose (yes, you heard that right), these socks add extra sturdiness and comfort for easy and relaxed wear.
Tabio Power Fit Cotton Short Crew Socks
A short crew dress option in a wide array of colors. Pairs perfectly with loafers to still show a little leg.
Calvin Klein 3-Pack Combed Flat Knit Socks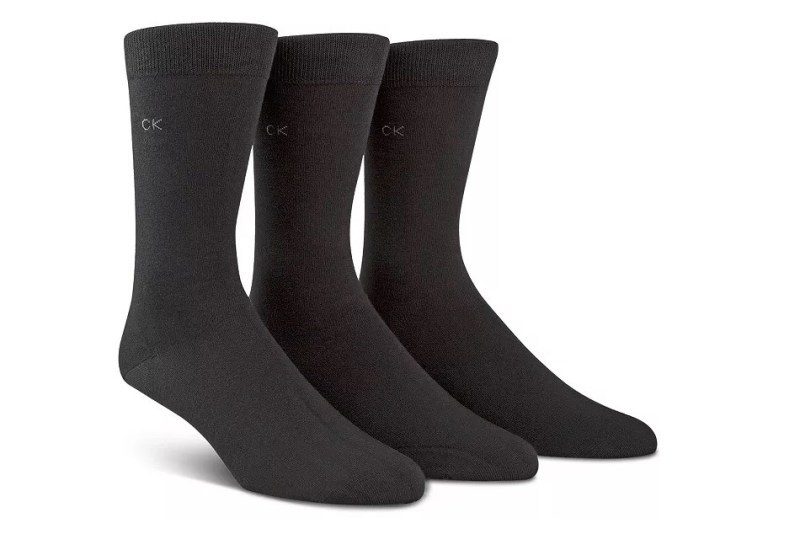 Calvin Klein not only makes high-quality underwear; the brand also makes top-notch socks. This combed flat knit sock may be your new favorite, as it is comfortable, durable, and will last for years. You also need not worry about indent marks once you change into your workout shorts because they don't cinch your legs.
Maggie's Organic 3-Pack Cotton Crew Socks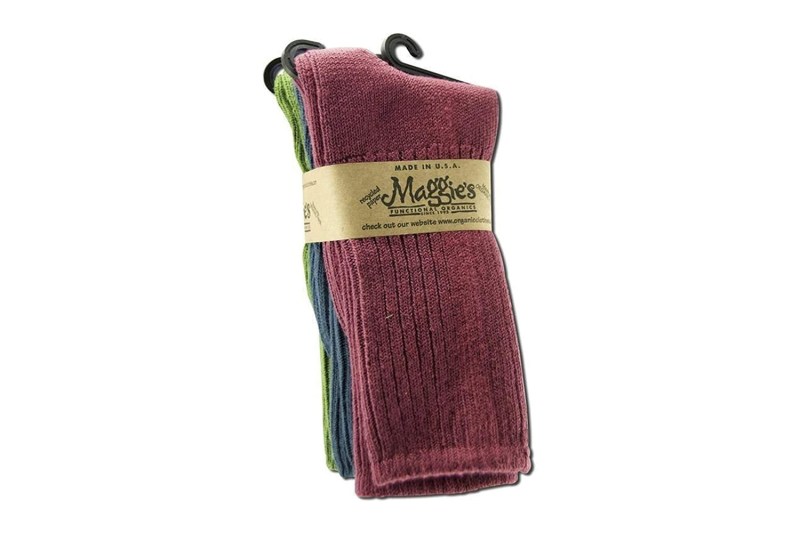 Available in three lively colors, these mid-calf cotton crew socks are made from 100% organic materials. This pair is extra soft to keep those feet comfortable, and you can wear them for formal or casual dress all year round.
Gold Toe Men's Multi-pairs Cotton Crew Athletic Socks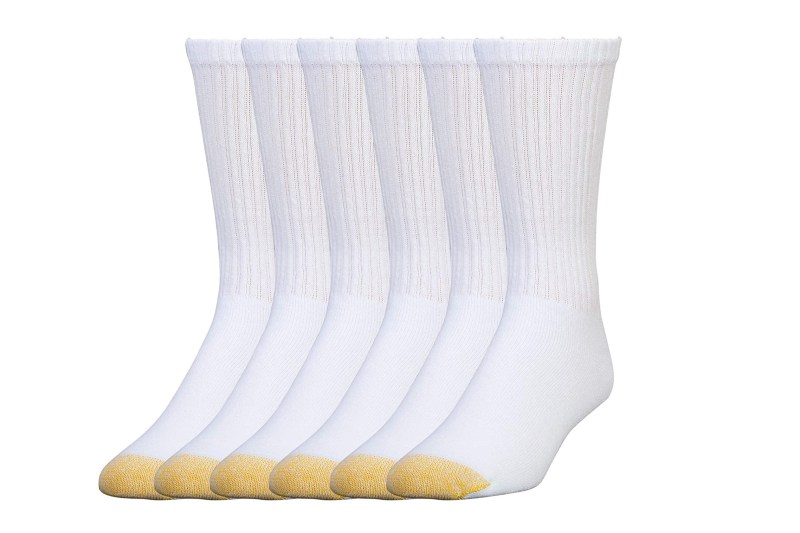 Whether you're at home or on the go, these cotton crew athletic socks from Gold Toe will surely keep you cozy. They are specifically designed to provide long-term comfort with a full cushioned foot, super-soft cotton with stretch, and a smooth toe seam.
Easton Marlowe 6-Pack Men's Dress Socks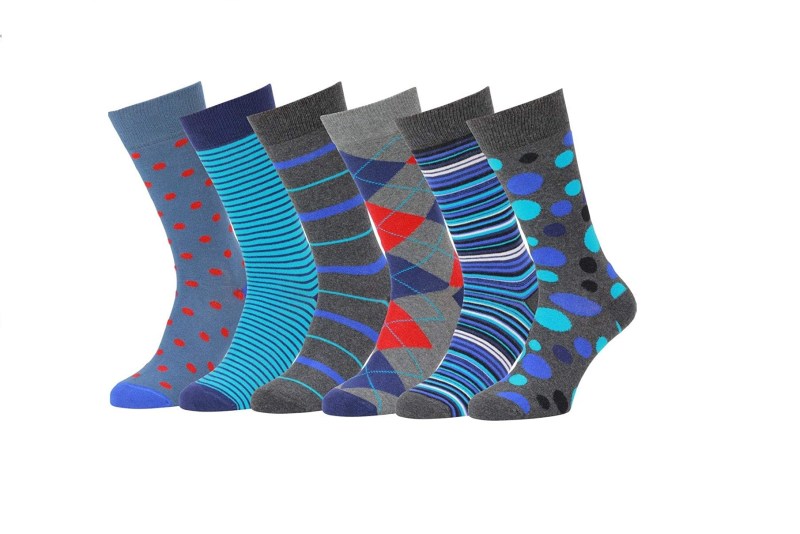 Elevate your casual look with these colorful socks from Easton Marlowe. They are made from quality materials such as fine combed cotton and durable nylon to ensure your overall comfort. It's the thoughtful use of colors and fun patterns of these socks that will surely set you apart from anyone.
Editors' Recommendations