Smartwatches are the newest innovation in wrist-adorned timekeeping, and they have done a lot to both elevate and upset the watch industry. While they can do everything (almost) that your phone can do, they have also relegated your "dumb watch" to the shelf, where it only comes out on special occasions. Of course, Apple leads the way with the most popular smartwatches on the market, but there is a downside to wearing your Apple watch every day.
Apple watches are about function over fashion. For a long time, we traded in the fashionable side of our favorite watches to be in tune with our bodies and get our messages and notifications without pulling out our phones. But you can bridge the gap between function and fashion in two ways: the watch band and the watch face. The best thing about Apple watches is that both of these aspects are easy to change for a great look every day. There are a lot of options out there, but here are the best Apple watch bands for men to spruce up your smartwatch.
Brown leather dress
The trick with a dress watch is that it has to look like it belongs without standing out. If the watch is too noticeable, it distracts from the rest of the look and becomes the centerpiece. There is a place for that (more on that later). One of the most essential Apple watch straps you will have in your collection will be your brown leather band.
There are a lot of different shades of brown that you can choose from, which can feel overwhelming when you begin to shop. The rule of thumb is to match your leathers. Your dress shoes and your belt should already match, which means you have a guide on the leather Apple watch band you should be shopping for. This Apple watch band is going to work best when you're dressing for the office in your suit and tie or chinos and dress shoes.
The best Apple watch faces to make this watch look like many of the brown leather dress options on the market will be to stick to white elegant faces or lighter colors like silver and light blue.
Black leather dress
You have your go-to office watch with the brown leather band; now, you need to step it up with the black leather band. Men's watches are designed to work in any situation, and the more formal situations are no exception. You have a little more leeway on the black leather band than you do with the brown. While there are many shades of brown, there is really only one black. Of course, different textures can cause them to appear lighter or darker, but as long as you use a black strap, it will complement your black dress shoes and black belt wonderfully.
An excellent black leather band isn't exclusive to formal events. Anytime you are sporting your black dress shoes, even in a casual affair with jeans or chinos. This option from Bullstrap gives you the texture that provides a great mix between casual and dress. The best Apple watch faces that will complement this watch combination will be simple and elegant; think minimalism.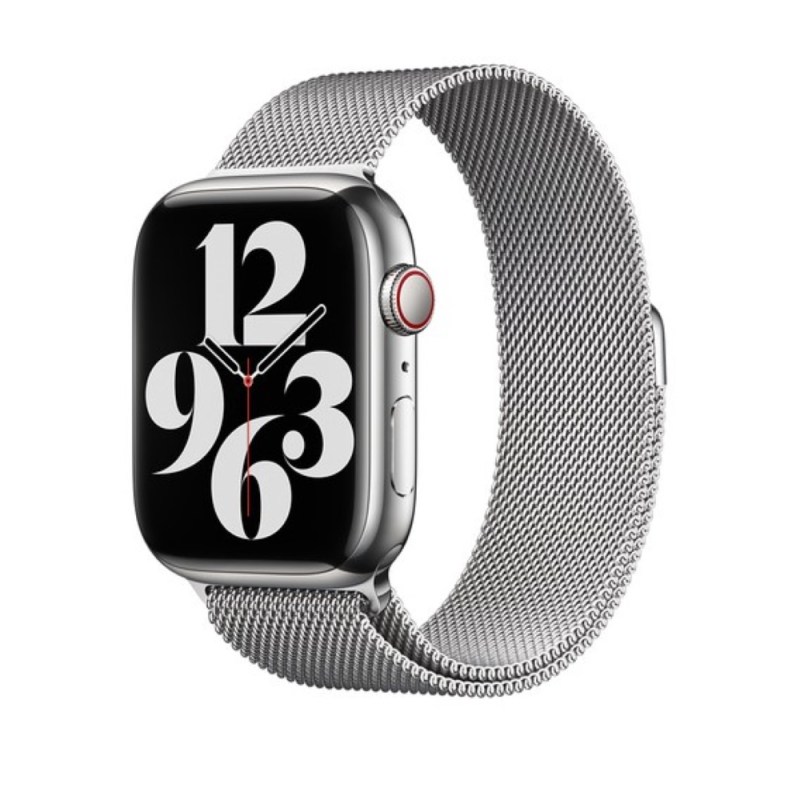 Silver bracelet
Once you have picked up your two leather options, it's time to branch out from the leather to grab something with a bit of classic style. Some of the world's most iconic men's watches, from the Rolex Submariner to James Bond's Omega Seamaster, have silver bracelets. If you're just starting out with an Apple watch, you can consider grabbing a silver bracelet for your dress moments because this look goes with virtually everything.
From your suit wardrobe to your jeans and a T-shirt, this silver Apple watch band bracelet will finish off the look. Apple provides this mesh silver bracelet as an alternative to your run-of-the-mill silver bracelet. Something that will elevate and update the classic. When choosing the right watch face to combine with this, consider downloading vibrant, solid colors to complement whatever outfit you are wearing.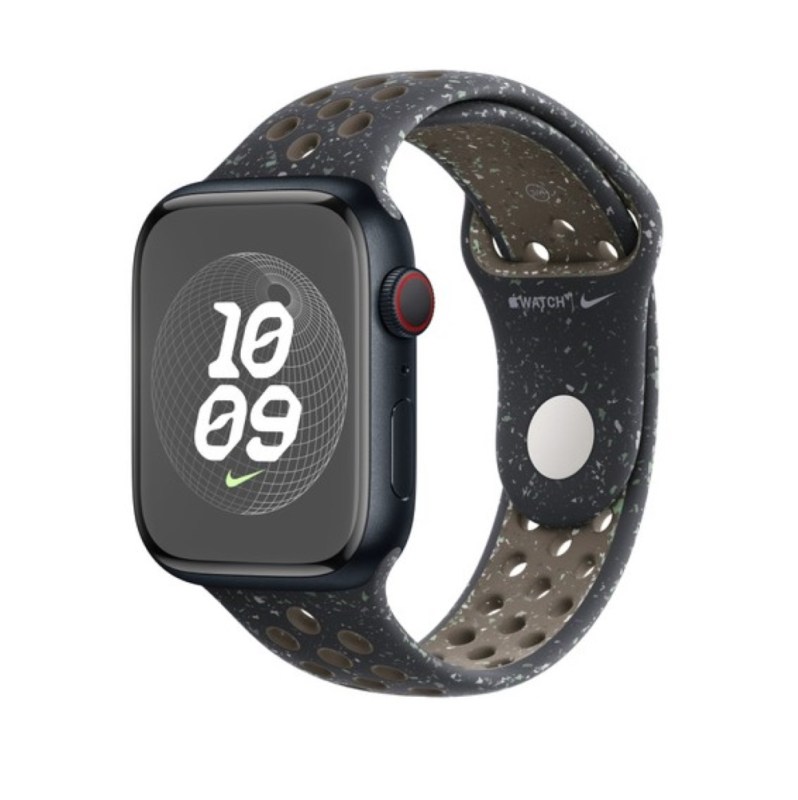 Fitness band
At the end of the day, Apple watches are the functional watches in your collection. They give you everything you want to know about your health that can be told without X-rays. Because you want to know what your heart and your blood pressure are doing when working out or hiking (not to mention tracking your steps), you will want a watch band that can hold up to the task. Whether you choose one of the many options provided by your favorite fitness brands like Nike Apple watch bands, Under Armor, or others, silicone bands go everywhere.
Of course, there is nothing like an original. Apple provides a long list of options for silicone bands that can stand up to whatever your life has in store. While running your morning mile or climbing your weekend mountain, keep your Apple watch face on your vitals to ensure you get home safe.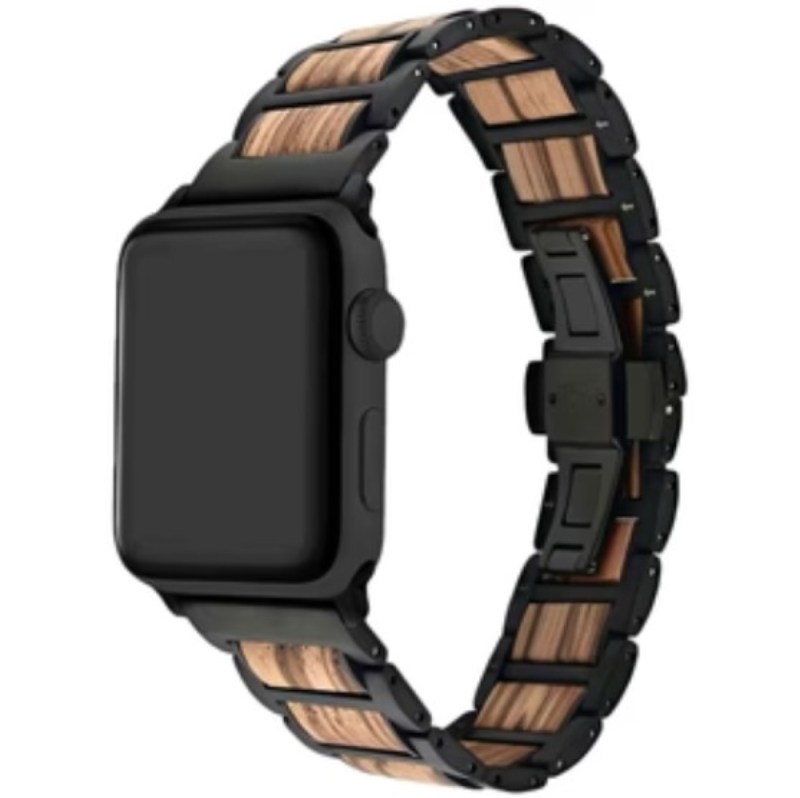 Casual or expressive
We have covered all the stuffy options. Your leather dress watches and your classic silver bracelets, but now it is time to have some fun. Remember when we said there is a time and place for your watch to speak out on its own? Now is that time. While a more expressive band can feel garish and too loud, your watch can stand out if you wear neutrals and tone down the rest of the look.
This wood and metal watch band from Epic Watch Bands is an excellent example of subtlety in the casual and more expressive watch band market. This will look great with virtually every outfit you wear on the street or in the backyard, and it can also work with the right suit outfit.
Editors' Recommendations