The Apple Watch Ultra is designed to be the company's most rugged smartwatch. It may be the most rugged smartwatch on the market. It is intended to reach the highest peaks or the deepest depths. It can withstand the most sweltering heat and the blustering freezes without losing its ability to function. Apple boasts that every explorer has a packing list of essentials they need to survive whatever comes their way, and they have done what they can to strap as many as possible to your wrist. But of course, you can't pack for the adventure without the right strap.
With the release of the Apple Watch Ultra, the company had to develop a new line of bands that could also withstand the same environments and temperatures as the watch. What they came up with was an innovative trilogy of bands that can stand with the watch whether you are climbing Mount Everest, traversing the Sahara, trekking the Amazon, on exploring the deepest parts of the ocean. Our favorite of the three is the Alpine Loop, made specifically for the literal peak of exploration on a mountaintop.
What makes the Alpine Loop the best?
No matter how sturdy and durable your watch is, it won't do you any good whatsoever if the watch band isn't up to the task of keeping it fastened to your wrist. The Alpine Loop is constructed with two textile layers woven together into one continuous piece without stitching, lessening the areas where it can come apart with wear. High-density yarns are used on the top loops as well as a corrosive-resistant hook to lock it into place and keep it secure for the life of the watch.
The continuous loop design makes the Alpine Loop band more comfortable than others on the market. The rugged appearance adds to the look and feel of the strap, making it the must-have band for your Apple Watch Ultra. Whether you are endeavoring to climb Mount Everest or going on a leisurely climb of Mount Hood, this band will last just as long as the watch will, keeping it in place and useful.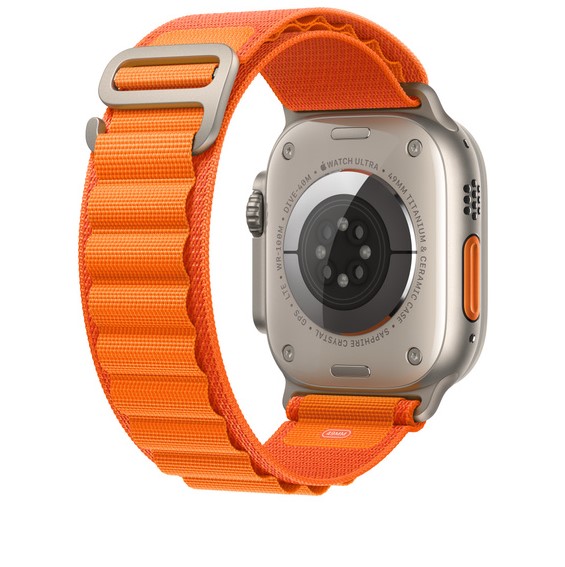 Best of three
The Alpine Loop isn't the only choice for the Apple Watch Ultra. The Trail Loop is the watch band intended to pair with the watch if you are looking to disappear into the jungle or trek across the desert. The Ocean Loop is designed to strap to your Apple Watch Ultra and brave the deepest parts of the ocean. Apple has gone to great lengths to create the perfect watch bands.
Out of the three that they provide for the Apple Watch Ultra, we don't think you can go wrong with the Alpine, either summiting the peaks or strolling Central Park.
Editors' Recommendations