If you thought your wrist couldn't get any more stylish, think again. Alsta, a respected brand in the world of watches since 1946, is back with a vengeance. It's a sight to behold as they bring back their legendary Nautoscaph timepiece in three stunning new colors. Prepare to be immersed in the world of luxury men's watches as we investigate Alsta's latest products, which combine classic appeal with modern performance.
Before we delve into the stunning new colors, let's take a moment to appreciate the legacy of Alsta. This company has a long history of producing watches for scuba divers, explorers, and adventurers. Their timepieces were worn by brave souls who dared to explore the ocean's depths. Alsta pays homage to its legacy with the Nautoscaph while catering to the modern man's demand for flair and functionality.
3 bold new colors
First up is the All-Red Nautoscaph, an Alsta watch that demands attention. Inspired by vintage Italian sports cars, this signature colorway is a bold statement on your wrist. In a world of monotony, this All-Red beauty is a rare and exciting addition to any watch collection. It's not just a timepiece; it's a conversation starter. And let's be honest, who wouldn't want a watch that matches the intensity of their passion?
Of course, not everyone is into such bold statements; thus, Alsta brings two more variants in hi-grade CuSn8 bronze to the table. The Bronze Black and Bronze Silver are the epitome of sporty elegance and understated class. The bronze cases of these watches are of the highest quality, and they develop a subtle dark patina over time, giving them a unique character that evolves right along with you.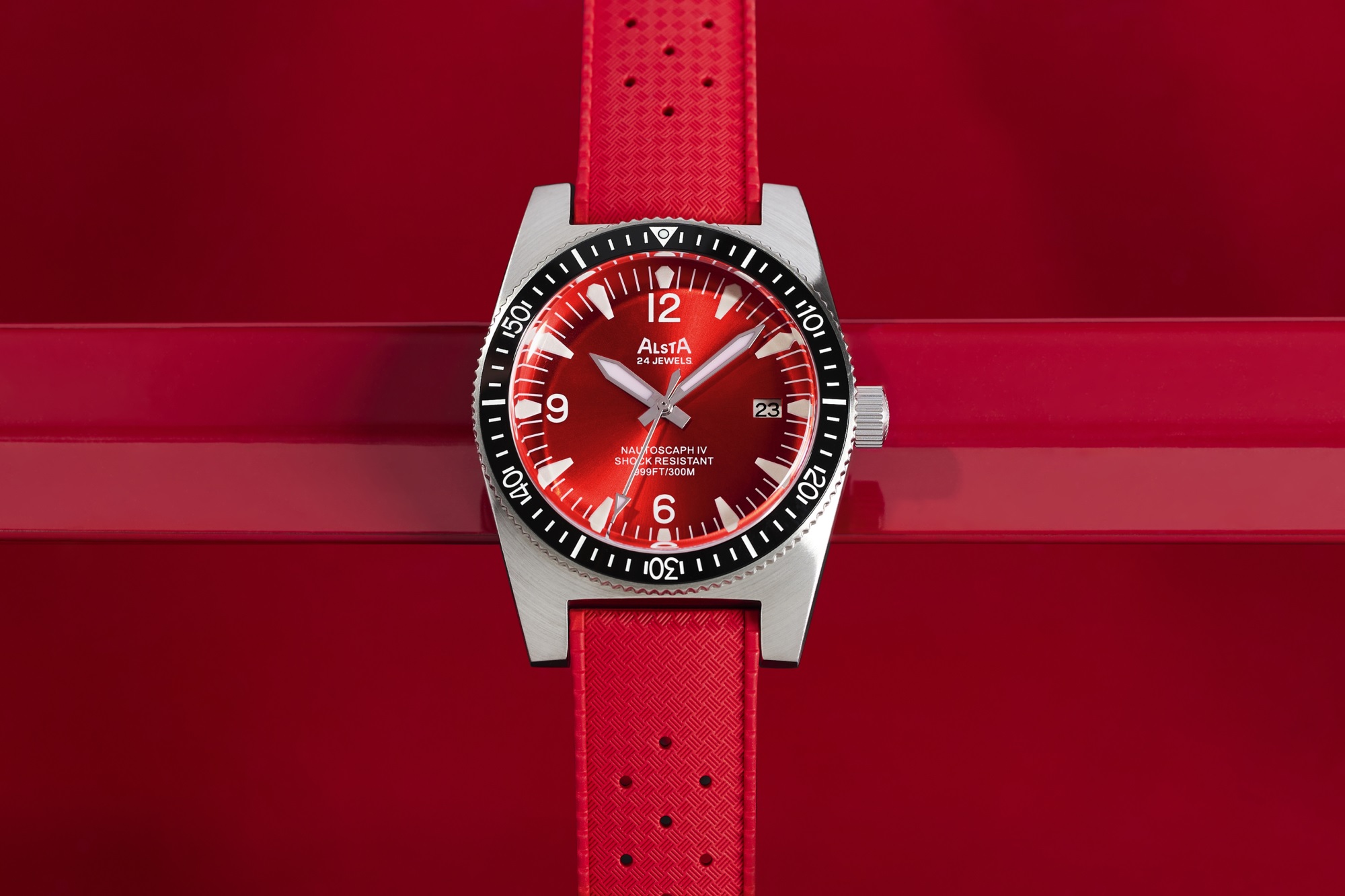 What sets the Nautoscaph apart
Firstly, the Alsta Nautoscaph watch embraces the classic skin diver case shape, a design that has earned a special place in the hearts of divers and collectors alike, showcasing a timeless and enduring aesthetic. The dials of the Nautoscaph are more than just functional; they exude elegance with their radially brushed finish, and we feel this is a great complement to the watch's otherwise rugged character.
In terms of performance, Alsta understands the demands of adventurous men today, engineering every component of the Nautoscaph to exceed contemporary dive watch standards. It's a timepiece designed to withstand the harshest underwater conditions — and even if you plan on keeping your feet on land, with watches, it's the thought that counts.
Furthermore, the Nautoscaph holds the prestigious ISO 6425 certification, surpassing stringent international dive watch specifications. This certification underscores its reliability and durability, affirming that it's not just a fashion statement but a trustworthy tool for the most extreme environments. Even for men who may not be taking a dive into these harsh conditions anytime soon, it will feel like a statement to the world that if you wanted to, you could.
Technical specifications
The Alsta Nautoscaph watch boasts impressive technical specifications that elevate it to a league of its own. With dimensions of 40mm in diameter, 51.3mm lug-to-lug, and a thickness of 16.2mm (including the crystal), it strikes a perfect balance between presence and wearability. The watch features a robust rubber strap for comfort and durability, while the screw-down crown enhances water resistance, allowing it to withstand depths of up to 300 meters. Anti-magnetism is a key feature, complying with ISO 764 standards, while luminescence is provided by C3 Super-LumiNova for excellent readability in low-light conditions.
Powering this timepiece is the reliable Seiko NH35A automatic movement, providing both timekeeping accuracy and a date function. The watch is protected by a sapphire crystal, known for its scratch resistance and clarity. In summary, the Alsta Nautoscaph Superautomatic's technical prowess combines with its striking design to create a watch that's as functional as it is stylish.
Availability and pricing
The new Alsta Nautoscaph will be available exclusively on Alsta's website starting Wednesday, October 11th. The All-Red variant will retail for $625, while the Bronze Editions will be priced at $825.
Editors' Recommendations