Las Vegas has been overtaken by F1 this week. As the city braces for its first F1 race after a problematic practice session and successful qualifying laps, it's becoming apparent the race itself is the tentpole supporting a massive array of ancillary activities.
I'm lucky to be on the ground this week at the inaugural F1 event in Las Vegas. It's a bewildering series of tents, events, add-ons, and experiences. It's also expensive, but that's just Las Vegas for you!
This event is also just the start. F1 and Las Vegas aren't trialing anything; this first race might be a proof of concept, but it's the start of something more. Something that will only balloon into something bigger and better each year.
In typical Las Vegas style, every hotel and large company seems to have something to offer, an attempt to capture your imagination and intent. Again, it's just a lot – so I set out to make sense of it all for you.
Learn from my experience, but mostly my mistakes. Here's how to eat, rest, watch the race, and get around Las Vegas smartly.
Get tickets to F1 Las Vegas Grand Prix in advance – or take a chance
F1 Las Vegas Grand Prix tickets were quickly snapped up by resellers, with tickets landing on platforms like StubHub.
This year, ticket prices plummeted just before practice and qualifying began but were still more expensive than buying directly from F1. I advise getting your tickets as early as possible, directly from F1. You could wait, but getting around Las Vegas during an F1 event is maddening.
Bring comfortable shoes
The roads around the Las Vegas Strip are a mess. Most are closed, and those that are open routinely redirect traffic. I sat in a Lyft for 45 minutes this week and ended up no closer to my destination because of road closures and traffic redirection. Ultimately, my driver conceded it would be better for me to walk.
Plan on walking if you're in Las Vegas for the F1 race. A lot. I'm logging 20k steps per day, simply walking around town and getting to and from the venue proper.
Forget style – comfort reigns supreme this week.
Do not plan on using Uber, Lyft, or taxi service
I've been in Las Vegas all week and have seen driver numbers dwindle. In many spots, drivers can't pick you up where you are; you have to walk a half mile or more to a designated pickup spot the city of Las Vegas established for taxis and rideshare services.
As I walked through the exterior front entrance of a hotel, next to a cab stand, the bellman told a man wanting a taxi to another hotel he couldn't get there via taxi. There was one taxi in line. I asked the bellman if this was normal (one taxi waiting in line), and he told me they often have dozens waiting to take guests places. Because of the aforementioned traffic issues, far fewer transportation services were available.
Several Lyft drivers I chatted up early in the week told me their various Facebook groups were bursting with posts about not working during race week or close to race times. Most complained the city offered no communication about traffic during or leading into the races. Bottom line: Lyft and Uber drivers planned on staying home.
Get an AmEx radio
American Express has an outsized presence at the F1 Las Vegas Grand Prix and has radios available for cardholders (or purchase). It's a small radio with wired earbuds that broadcast race info as the race is happening. It's that old-school "bring your radio to the baseball game" vibe, and I love it.
The race is also remarkably loud. A radio playing in your ears may be better than roaring F1 engines if the noise bothers you.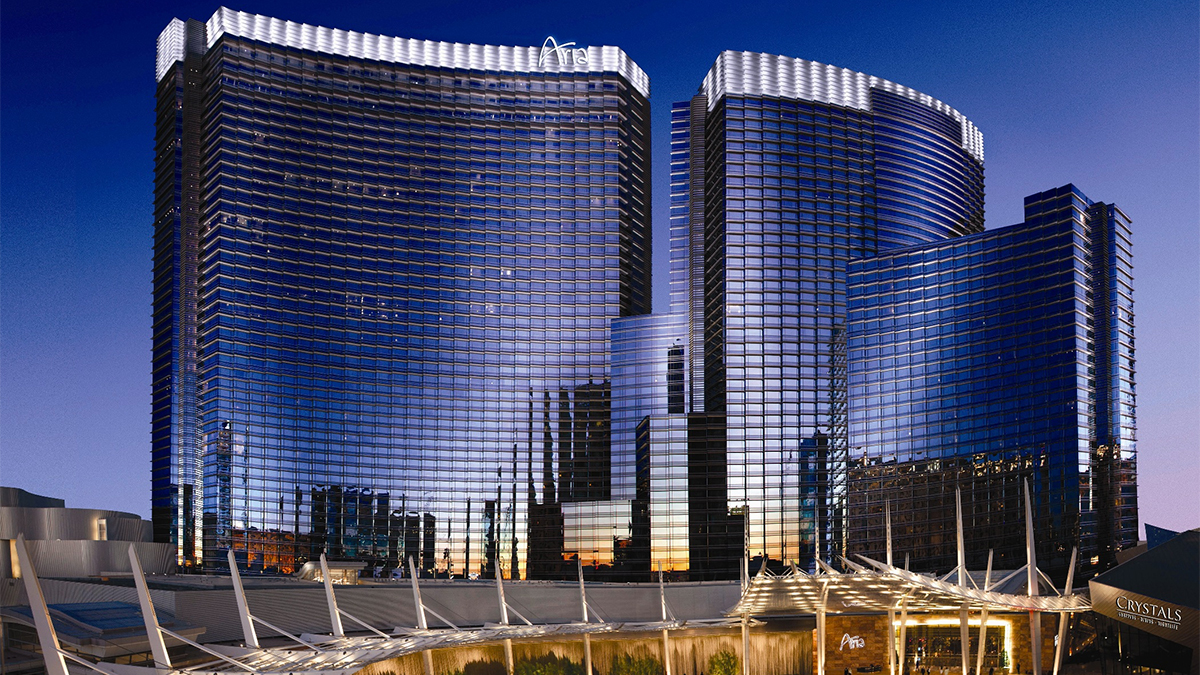 Where to stay during F1 Las Vegas Grand Prix week: The smart option
You have many options for where to stay while in Las Vegas for the Las Vegas Grand Prix, but I think I've found the best option: The Aria. Here's why:
Aria is a 20-25 minute walk to the F1 grounds (or 17 minutes if you walk like me)
There's a shuttle to take you to Park MGM or The Bellagio
Aria has a dedicated, quiet rideshare pickup zone; if you're in town for the entire week, this matters earlier in the week
Great restaurants. I suggest Bardot Brasserie for brunch – and get the pain perdue; it's got the "wow" factor
You can get rooms overlooking a chicane, which drivers had some issues with in qualifying. It's also a great vantage to see them maneuver those tight turns, then take off down the straight
You're right next to The Shops at Crystals if you're into high-end fashion
There's a 24-hour patisserie on-site
Aria is part of MGM Group, which has one of the better rewards programs in Las Vegas
Pro tip: Cut through The shops at Crystals and over to The Cosmopolitan – but before you go into The Cosmopolitan, turn right to the bridge to cross the street. This is the best way to get across The Strip during race week when roads and pedestrian walkways are routinely shut down.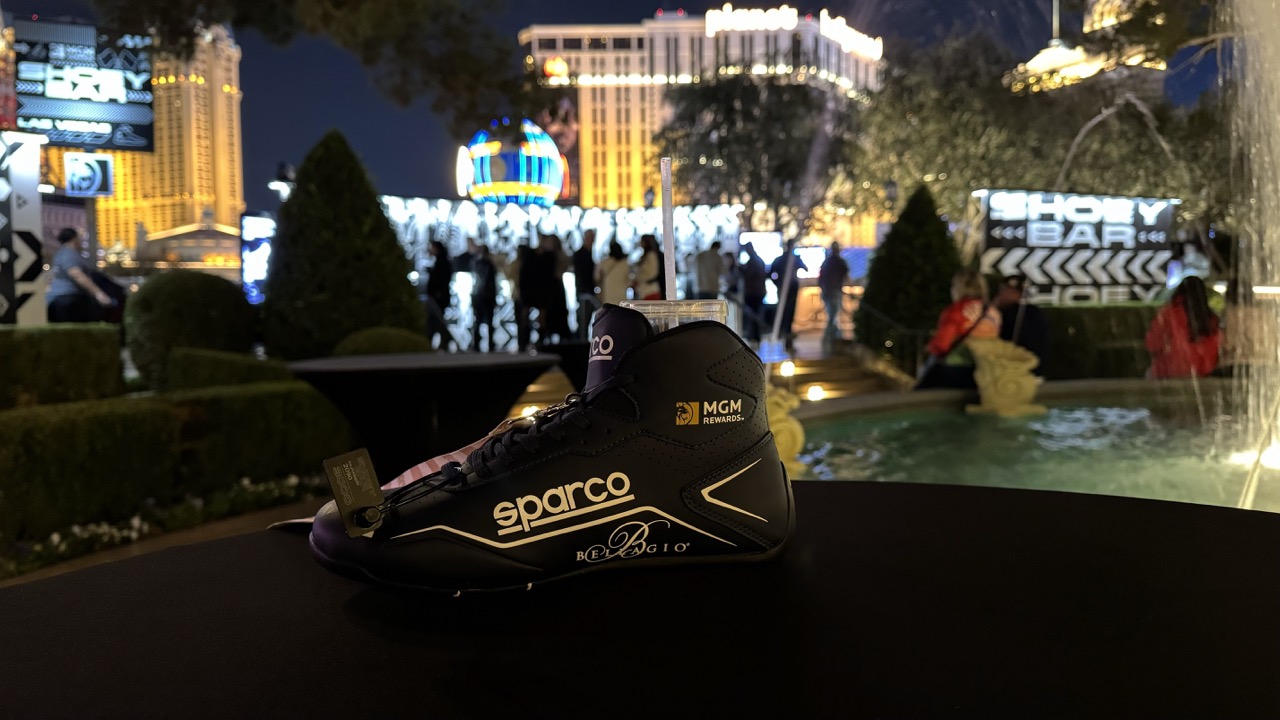 Do a shoey at Shoey Bar
Outside The Bellagio is the Shoey Bar, which recreates the experience of drinking out of a shoe. Shoeys are popular in many sports, including F1.
If drinking out of a worn shoe grosses you out, the Shoey Bar has clean acrylic shoe-shaped glasses from which you can do a shoey. Shoey Bar also has limited-edition replica F1 boots (with plastic inserts to hold the drink) that you can purchase for $135. It is one of the coolest souvenirs I've seen this week – and it has a lanyard so you can wear it like Flavor Flav wears clocks.
Heineken House and Bellagio Fountain Club are both worth the spend
Everywhere you'd want to watch the F1 Las Vegas Grand Prix falls into two main categories: free and not worth it or expensive.
You can't hang out on the street and watch the race. Some barriers block your view. On overpasses, there are either obstructions or police urging you to keep moving so as not to stop the flow of foot traffic.
Every restaurant on The Strip has made their veranda or balcony areas viewing zones you have to pay for. Many aren't worth it; you don't get an open seat, you get access, and seeing the race means elbowing your way to the front or getting there early and camping out.
Some hotels also have their own viewing zones, which are typically more of a party zone than a place to watch the race. The Cosmopolitan has a lively, stylish viewing area, but the views of the race aren't great, and there's limited space to peer over the edge down onto the track. If you prefer a vibe more than a race, The Cosmopolitan has you covered.
If you want to watch the race and enjoy amenities, there are only two options in our book: The Bellagio Fountain Club and the Heineken House. These two options are very similar in amenities; you get superb food, plenty of seating at both locations and a trackside view of the F1 Las Vegas Grand Prix.
Heineken House and Bellagio Fountain Club compared
The Bellagio Fountain Club has celebrity chefs appearing through the week for cooking demos and the like, and is a bit more "posh" than the Heineken House. Inside seating is reserved, but be warned you may be sharing your table with strangers, as most seating is for larger groups. If you're a two-top, chances are you'll be part of a communal table.
Heineken House feels far more attuned to race fandom. It has plenty of great food and seating galore, but something about it feels less fussy and focuses your attention on the race itself.
Both are on straights; the Bellagio Fountain Club is on The Strip proper, and Heineken House is on the straight just after drivers exit turns and head toward the MGM Sphere. And this is where you get to decide what kind of racing you want to see: aggressive or strategic.
The Bellagio Fountain Club spans the entire length of the Bellagio Fountain, and drivers head down the straight and into a 90-degree left turn. You'll see drivers zoom by, of course, but they'll also be braking for the turn ahead just after they pass the Fountain Club.
I watched qualifying from the Heineken House (which has TVs throughout to keep you up to speed – pun intended – on the race itself). I saw much more aggressive maneuvering as drivers exited the almost 180-degree turn and sped toward the MGM Sphere.
Do you want to see drivers overtake or plot their line into tight turns?
Do you want to spend $8,000 on Heineken House or $11,000-plus (we think?) for The Fountain Club?
There's no wrong choice. I like both spots a lot. The Bellagio Fountain Club has incredible track views, more grandstand-style seating, and the famous Bellagio Fountains behind you. It straddles the line between the posh Las Vegas experience and race-watching well.
If you're the type of race fan who wants a friendly server to bring them Heinekens (there are plenty of drink options, but give a Heineken 0.0 a shot) and great food while they obsess about the race from the front-row seats, go with Heineken House. There's not as much grandstand-style seating as Fountain Club, but you can't get a poor view from anywhere on the veranda. I tried. Your view of the track is a bit less "sexy" than The Fountain Club, there's no doubt about that, but I prefer it to Fountain Club due to its placement on the track and what that asks drivers to do, and its more relaxed atmosphere. It felt like Heineken House had more race fans than people there simply because F1 is an extraordinary event, too.
Wherever you watch the race from, get there early and enjoy the vibe and amenities. Both spots are fantastic.
Final tip: Be patient
This is the first year for the F1 Las Vegas Grand Prix. I encountered a lot of confusion with staff and representatives this week. Several questions went unanswered. Streets were randomly blocked, walkways were shut down for no apparent reason, and there are just a lot of people in town for the event.
Those working the event gave me the same line when my question couldn't be answered, or the issue couldn't be solved easily: It's the first year, and we're all still figuring it out.
I doubt all issues will be "figured out" by next year. If you're reading this and plotting your visit for the 2024 Las Vegas Grand Prix, know staff are doing their best and don't have all the answers. The F1 Las Vegas Grand Prix has been a dizzying mix of entities doing their best and not constantly communicating effectively. This is a massive event that came together fairly quickly. Allow those working it some grace. They're doing their best.
Editors' Recommendations