This week, F1 descends on Las Vegas for the first-ever Las Vegas Grand Prix, a race encompassing a large swathe of the famous Las Vegas Strip with four turns around the new, iconic MGM Sphere. The vent promises to be absolutely incredible; the backdrop of Las Vegas alone is reason to be here – but how much will it cost you?
It depends how much you want to dole out for a weekend of racing and Las Vegas-brand liveliness. But keep in mind this is Las Vegas. You won't escape without making a dent in your bank account.
Admission to the F1 Las Vegas Grand Prix
There are several ticket prices for the Las Vegas Grand Prix, varying from $500 to $2,500. Keep in mind these are just for admission. If you want more than entry, we'll get into that soon enough.
One of the best features for all general admission tickets is food and beverage are included. All admission tickets last the full race weekend (three days).
General admission – $500
For $500, you gain access to the MSG Sphere zone, a standing-room-only area surrounding the race area. You will have catering from Wolfgang Puck catering and non-alcoholic drinks available, included with admission.
West Harmon Zone Grandstand – $1,500
You'll have an assigned seat in the West Harmon Zone Grandstand area, food, and non-alcoholic beverages. This is the most affordable option for those who want to watch the race in-person. Keep in mind the general admission ticket only gets you into the area surrounding the track, not a seat to watch the race.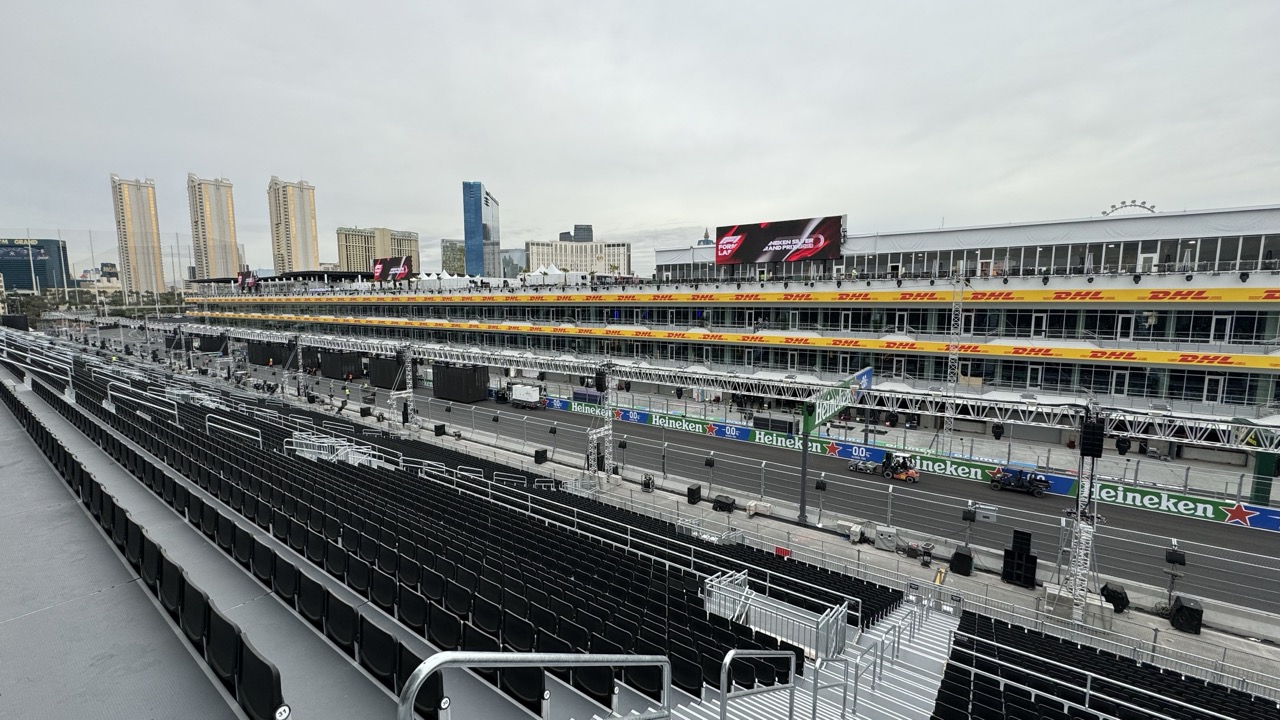 MSG Sphere Zone Grandstand – $2,000
You'll have a seat at the MSG Sphere Zone Grandstand area, as well as the aforementioned food and non-alcoholic beverages. Keep in mind all grandstands are open seating and not covered.
East Harmon Zone Grandstand – $2,500
You guessed it – a seat in East Harmon Zone Grandstand, non-alcoholic drinks, and food.
Main Grandstand – $2,500
With this ticket, you'll have four full days to enjoy the F1 Las Vegas Grand Prix, including access to the opening ceremonies and a seat in the East Harmon Zone Grandstand.
Koval Hospitality – $8,000 (+LET, or "live entertainment tax," and fees per person)
This option is a bit confusing, but we'll help make sense of it all. You will either have access to the North or South Koval Zone for three days, a dedicated service manager (like a mix between a server and a concierge), and food and beverage service.
There are two options to choose from: Neon – which is now known as Heineken House – or Legacy.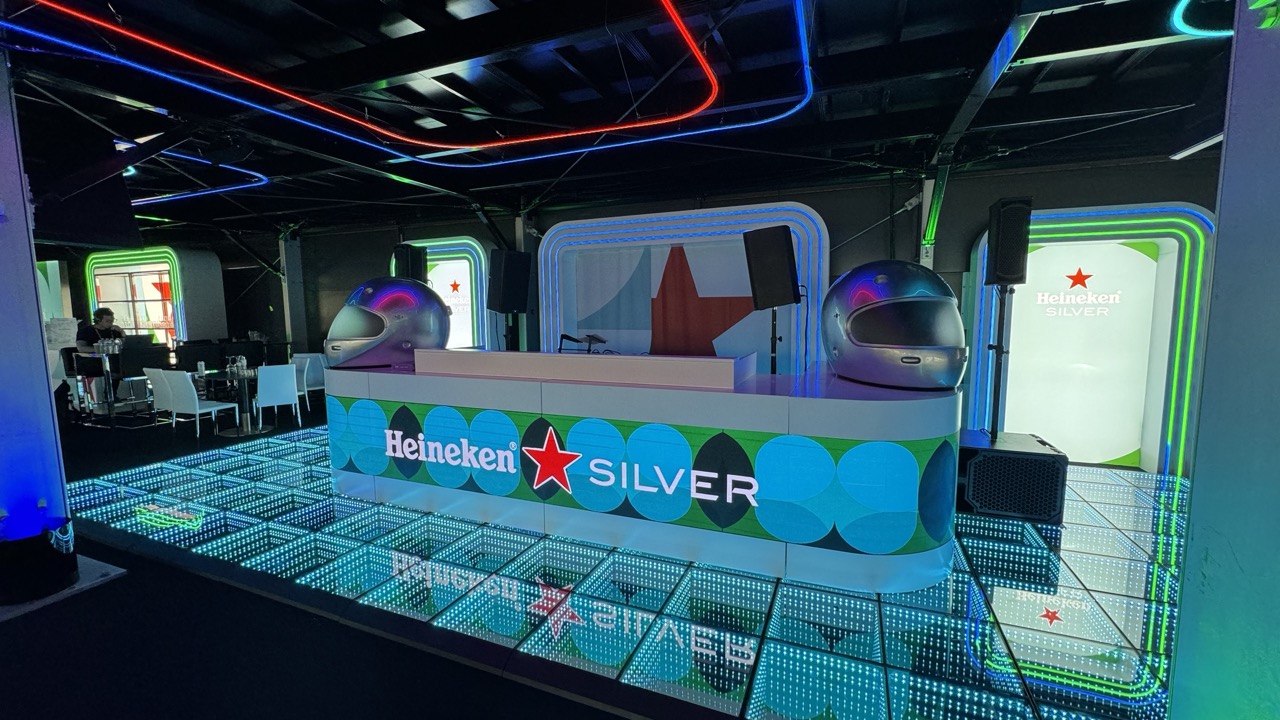 Heineken House (Neon)
This option is for those in town to party and have fun. F1 says Heineken House is "the ultimate F1 party equipped with live entertainment, over-the-top cocktail presentations, and more."
Heineken House has seats so close to the track your body will rattle as cars roar by. Heineken tells us it will rotate notable DJs and other notable artists through your three days in its zone, and is leaning into Heineken Silver as its beverage of choice for F1 Las Vegas.
This three-level zone is absolutely worth your spend. To us, it feels as good as some more expensive options – just on the other side of the track.
Legacy
Legacy was created with race fans in mind. F1 is a bit cagey about some aspects of the Legacy option, but says you will have "premium views of the track, access exclusive opportunities with F1 legends and explore unique and interactive activations."
Skybox – $10,000
Views of the start and finish like are earned with the Skybox option, which resides above the grandstand. Skybox was inspired by old Las Vegas with rat-pack vibes throughout. Handcrafted cocktails and live music are also available with this four-day ticket, where you'll also have a dedicated service manager as well as food and drink included with your ticket price.
Paddock Club – $15,000
We've seen all the options first-hand, and Paddock Club is easily worth the money. This is the most all-inclusive option, earning you:
Five days of access to the Paddock Zone and club
Opening ceremony
"Exclusive F1 experiences"
Concierge services
Transportation
A commemorative ticket box
All-inclusive food and beverage menu
Club SI – $7,000 (+LET, or "live entertainment tax," and fees per person)
From F1:
Sports Illustrated's Club SI will host an immersive three-day experience on-track complete with views of the high-speed action on Las Vegas Boulevard, located at Flamingo Las Vegas Hotel & Casino. The ticket includes a full slate of programming with highlights ranging from celebrity guest appearances, popular DJ performances, and panels. SI's exceptional hospitality offerings include two exclusive VIP areas, a bountiful culinary experience complete with passed hors d'oeuvres, food stations and top-shelf cocktails.
Club Paris – $5,500 (+LET, or "live entertainment tax," and fees per person)
Loathed at Paris Hotel and Casino (naturally), this option spans Alexxa's, Beer Park, and Chateau Nightclub & Gardens, and gives you prime views of F1 driving right on the Las Vegas Strip. This three-day ticket earns you food from Alexxa's, access to various food trucks on-site, interactive games, street food options, and beer, wine, or cocktails at Beer Park. A lounge at Chateau with DJs and passed food options rounds out your experience.
Bellagio Fountain Club – $11,000 (or more?)
We will note that when we finally saw the Bellagio Fountain Club first-hand, it had been sold out for months. And we can see why; the North and South halls span the entire width of the Bellagion fountain, which is about three football fields long. It has a north and south hall sandwiching the main F1 stage, which we're told is where drivers will head just after the race ends – and before they hit the winner's podium.
The Bellagio Fountain Club gives you a full view of the Strip from just about any seat in the house. Reserved seating inside is meant for dining, and there are grandstand seats outside that are open seating.
The Fountain Club website doesn't detail pricing, and the last info we could locate said tickets were selling for just over $11,000. This option seems to have sold out quickly, so we expect pricing will go up slightly next year.
And you do get some of the best views of the famous Bellagio fountains you'll ever have.
Should you go to F1 Las Vegas?
Keep this in mind: Every brand that has a presence here is selling access to their area, and pricing is sometimes opaque. Some of those areas,like Heineken House or the Bellagio Fountain Club, offer you the ability to watch the race, so an admission ticket is not necessary.
But buying access to Heineken House (as an example) does not grant you access to all tiers below this option. You wouldn't be able to saunter over to a different grandstand, or grab food from the general admission area concessions.
You can, realistically, spend a solid $20,000 for two to enjoy this week of racing. And if you want to splurge a bit, you should. The thrill of racing coupled with the extravagance of Las Vegas is an emulsion that has to be experienced to be appreciated.
Editors' Recommendations