On Sunday, Daniel Ricciardo takes the Bahrain Grand Prix circuit to open the Formula 1 season. But this year, more than his past nine seasons, will feel different. It's not the crowds or lack thereof. And it won't be the change of teams, from his former Renault to his debut in 2021 for McLaren. No, what feels different is the car itself, as the machine is essentially built around the driver, and at nearly six feet, the Italian-Australian is one of F1's tallest. "I've got some wide hips so they had to modify the seat itself, thankfully not the car," Ricciardo, 31, tells The Manual.
Related Guides
But Ricciardo, 31, is not just molding cars to his body, but the world itself around him. Until recently, F1 was considered a "worldwide" sport, a euphemism meant to read as popular everywhere besides the United States. But over recent years it's made inroads across the pond thanks to the Netflix docu-reality show Formula 1: Drive to Survive. Even non-motorsports aficionados have watched enraptured as they get a cockpit's view of one of the world's most elite sports contested in some of its most affluent and exotic locations, and Ricciardo has featured prominently in its three seasons, the most recent of which dropped on March 19. Doubling down on his newfound American fame, he's also making his presence felt domestically through a curated Amazon Auto Storefront , where curiosity seekers can outfit themselves with some of the driver's essentials.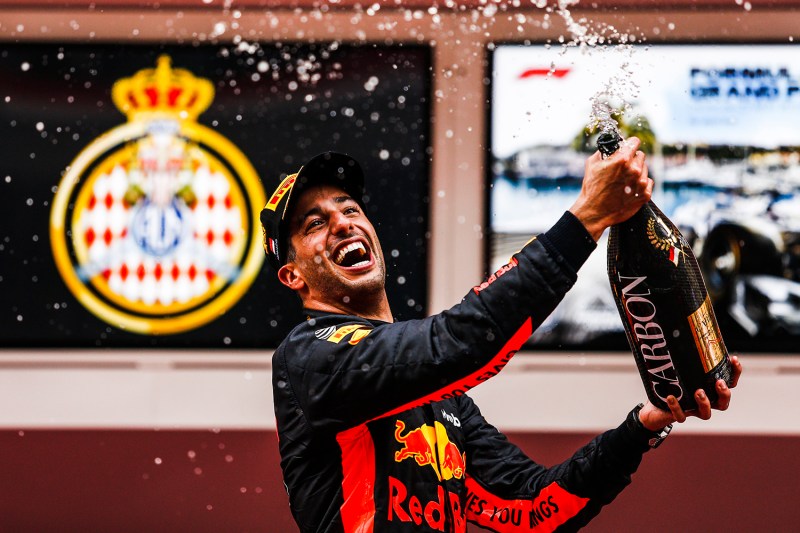 But while you can pick up tail lights and jump-start kits, don't expect Ricciardo to give you any pointers. "I just picked up a truck bed extender, but to be honest, after that all I really know about a car is keeping it clean," he says, laughing.
Yeah, you'll find a spray bottle of auto shine in Ricciardo's possession, but few other tools; his business, after all, is not under the hood or inside a soapy bucket, but behind the wheel. On race day, he's bumping everything from post-hardcore and modern hip-hop to vintage Blink-182 and Wu-Tang Clan to focus on the task at hand. He'll even go ambient if the mood strikes. "One of my all-time favorite shows is Friday Night Lights, and a song from that, by Explosions in The Sky, is just a beautiful piece of music," he says. "Sometimes I'll just listen to that on the grid and it'll get me in the zone."
The pace of race weekend is frantic; the attention, never-ending. It's why this year, for real this time, Ricciardo is trying to unplug and relax between races, shooting schedules, press junkets, and the unblinking eye of the camera. (Even most people's distraction of Netflix is impossible when, flipping it on, his own face is staring back. "Seeing myself is weird," he says.) He's trying to read more, thumbing through Tools Of Titans by Tim Ferris and other books. "I'm always impatient and too fidgety to sit down and read something at length," he says, "but for me now it's just great to get some quiet time, a bit of headspace, and to educate myself." When he does watch a movie, he keeps it light: classic Adam Sandler and Jim Carrey, with a newer Tom Segura stand-up special thrown in for a bit of current events.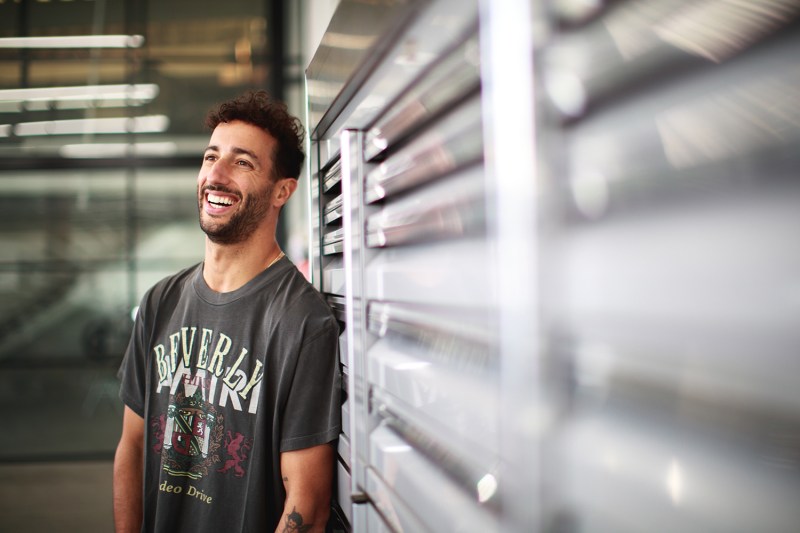 Of course, there's a lot riding on the new F1 season generally and on Ricciardo's shoulders specifically. Millions are invested in his performance, but results are what keeps him in the driver's seat. The challenge of adapting to McLaren is like translating to a new but similar language, akin to using your high school French to communicate in Madrid. Any driver can be dropped into any car and tease 90 percent of its capacity out immediately. Finding that last bit is the trick, made trickier by an infinite number of new, proprietary details. "Even things like the mirrors and the aerodynamic devices attached to them can impact your visibility," he says, "so adjusting to those and how your perception or vision has to adjust [takes time]."
Will all the kinks be worked out by Sunday? We'll know soon enough, and then over the impending season. Even the most dialed-in racer, as Ricciardo and the Netflix show have proved, needs a little luck on the day to achieve his best. So he's going into it in earnest, the leader and face of his team, with 19 other drivers squarely targeting his rear bumper. But right now, he's not thinking of that. The Amazon driver has pulled up with today's package, an inflatable unicorn for his pool. "It's actually for my nephew," he says. But we're not buying it. "I use Amazon way too much," he says with a laugh, giving away his final piece to unplugging from the track. "I'm always ordering a bunch of things."
Editors' Recommendations