For some nature-loving travelers, pitching a basic camping tent in the woods is adventurous enough. Others are willing to pay handsomely to travel halfway around the world for their first African safari experience. If you crave even more — if you fancy sleeping with some of the world's greatest predators — this one-of-a-kind glamping experience might be for you.
Waking up in the woods amid a pack of gawking, hungry wolves is not something most of us would pay for. But Canada's Parc Omega Wolf Cabin isn't a typical hotel or camping experience. The wildlife park features twin cabins with one-of-a-kind overnight stays. Both of its Wolf Cabins, aptly named Alpha and Omega, are the first in North America with panoramic, floor-to-ceiling windows overlooking the park's gray wolf enclosure. Throughout their stay, cabin guests can sleep, eat, and relax mere feet from the pack. With only a thin glass pane separating them from a pack of near-perfect killing machines, it's certainly a wild and bucket-list-worthy experience.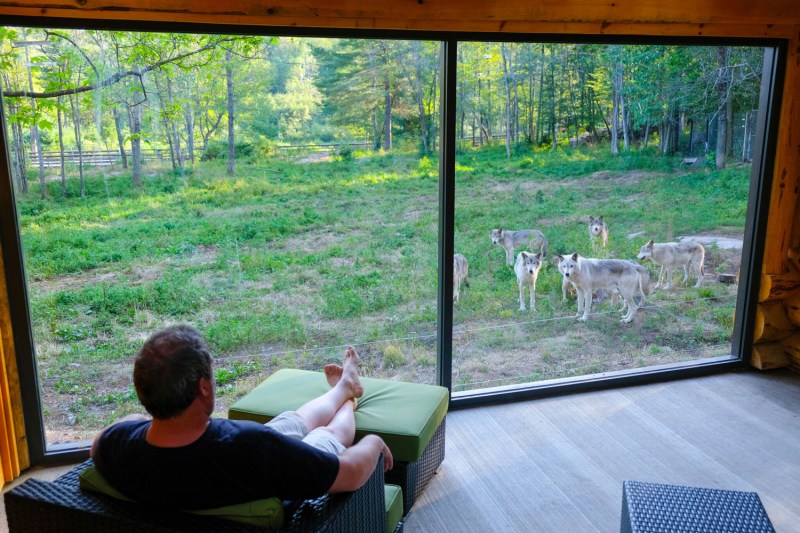 As the park's flagship accommodations, the Wolf Cabins straddle the line between traditional hotel room and semi-luxe glamping experience. The rustic, nature-inspired decor is awash with raw shingle walls, chunky wood furnishings, and antler chandeliers. Up to four guests in each 570-square-foot cabin enjoy many of the comforts of home, including two fireplaces, a wood-burning stove, a mini-fridge, and a full en-suite bathroom with shower.
Wolf Cabin guests also gain unlimited access to the 2,200-acre Parc Omega wildlife park, as well as an exclusive private boardwalk with views of the park's bear and wolf populations, where they're free to roam and explore throughout their stay. There's even a gourmet lakefront restaurant onsite, Omegabon, so they never have to leave the park grounds.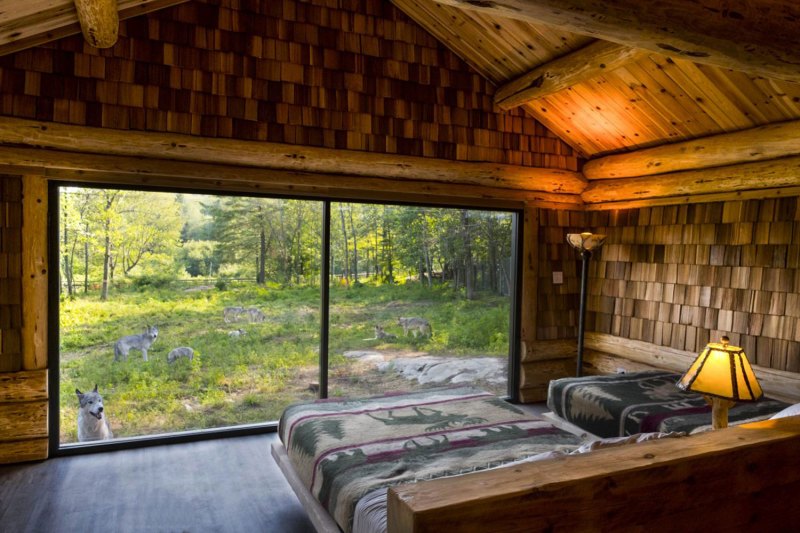 Located an hour outside the capital city of Ottawa, the Quebec-based wildlife park is spread across five ecologically unique areas — forest, meadow, lake, mountain, and boreal region — all worth exploring on a day trip, even if you're not planning to overnight at the Parc Omega Wolf Cabin. Together, these areas represent Canada's diverse geography and terrain. Visitors who drive through all five can spot tons of native wildlife, including bison, moose, dear, two species of wild bears, and, of course, wolves. It's only within the last few years that the park began catering to glampers with fully immersive overnight nature experiences in traditional tipis, wi-tents, and luxury cabins.
Rates for Parc Omega's Wolf Cabins start at $559 Canadian dollars (approximately $410) for up to four guests, although the cabins ideally sleep two. Just be sure to book early, as the Wolf Cabins often fill up months in advance.
Other amazing wildlife hotels
Of course, the Parc Omega Wolf Cabins aren't the only hotel in the world to sleep among wildlife.
Kenya's Giraffe Manor, for example, is one of the oldest hotels offering intimate wildlife encounters.
At Sydney's Taronga Zoo, the onsite Wildlife Retreat allows overnight guests the privilege of sleeping mere feet from many of Australia's most iconic critters, including koalas, kangaroos, and exotic birds — all amid the backdrop of Sydney Harbor.
If you're more of a cat person or wolves just aren't adventurous enough, England's Tiger Lodge is a similarly unique boutique glamping experience with overnight stays inside a live tiger den.