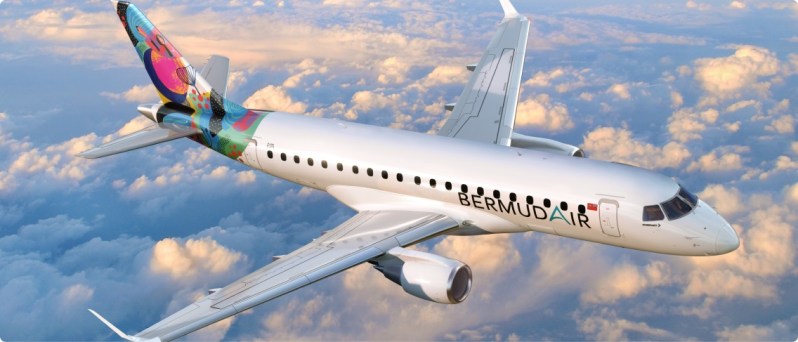 From not wanting to have a dreaded space hog as your seatmate to praying your elbow doesn't get banged on the drink cart during the flight — we all wish we could have the space those in business class have all of the time when flying. Sure, there are airlines that give regular folk in coach more space than others, but for the majority, business class is the only seating that gives passengers any luxury. Until now. Newcomer airline BermudAir wants everyone to feel like a million bucks when flying by only having business class seating on their planes, and we are here for it.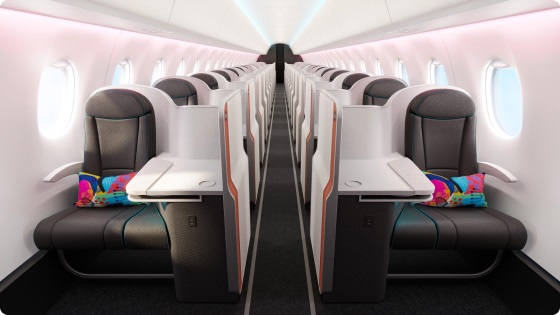 The new airline getting down to business
Yes, you could upgrade or purchase a business class ticket for almost any airline, but you still have to share your row with other people. Thanks to founder Adam Scott, airline BermudAir offers straight business class seats aboard their planes, with no worries no matter where your seat lands.
The layout
Only one seat per side of the aisle.

Each seat has a privacy wall to further block people out.

No overhead compartment gives each seat an airy feel.
The inside looks like a swanky, boutique private plane more than the packed sardine can we are used to when flying. There is only one seat on each side of the aisle, with a total of 30 seats per flight (the initial launch will see 44 seats per flight until November).
To really make sure you feel alone on the plane, each spot has a wall to keep things extra cozy and private. Since there are fewer people on the flight, there isn't a need for the bulky overhead compartments for luggage, so say hello to a loft-like feel.
The price to feel classy
All seats are known as Aisle Class.

The price range is for perks only.
Okay, but what about the price? Since every seat is essentially the same, with all seating called Aisle Class, the price difference goes toward how many bags you could bring, whether or not you'll be able to change your flight, and if you could refund your ticket.
There's no way to give an exact price range for the actual ticket, but by messing around, there was a flight for less than $600 but also for over $1,200. In that essence, it is the same as searching for any other flight.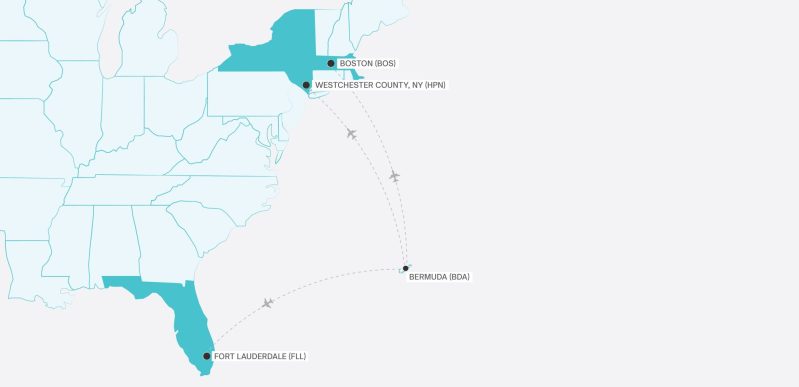 There is a small catch
Yes, there is a catch. As it is a new airline, there are only select places to fly in and out of. The name of the airline should have given it away, but all flights go in and out of Bermuda.
The stops
Bermuda

Westchester, New York

Boston, Massachusetts

Fort Lauderdale, Florida
But don't worry, they plan to expand in the U.S. and even into Canada eventually. They've started their soft launch, and will ramp things up in the fall, so there is only room to grow. Right now, this may be another perk of living that East Coast life, but if things go well, the rest of the country will get to fly in style in business class with this airline that just gets it.
Editors' Recommendations