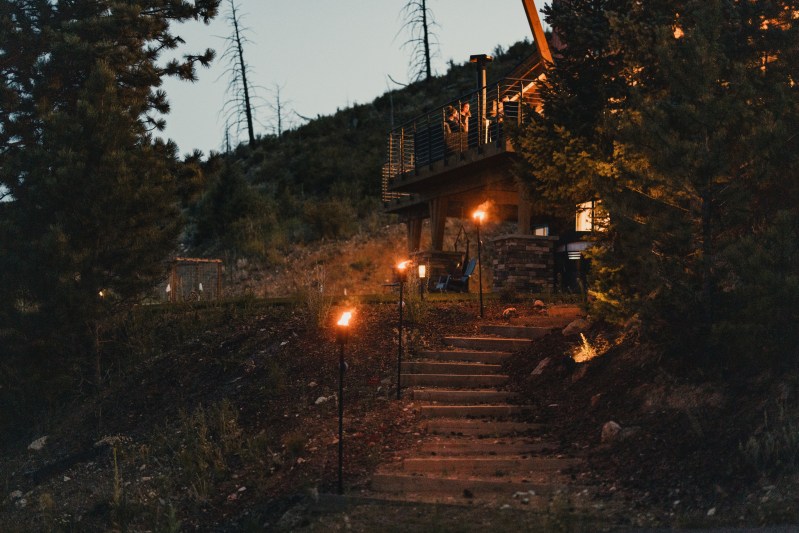 It's the perfect time of year for backyard barbecues and parties — it's still plenty warm for a night out under the stars, and even as the weeks grow slowly chillier, nighttime dips in the pool or lake will give way to making s'mores in the firepit, cup of hot chocolate or mulled wine in hand.
The world of lighting just got a major upgrade as Solo Stove, renowned for its innovative fire pits and outdoor accessories, expands its modern fire experience to a whole new category with the launch of the Solo Stove Mesa Torch. This addition to the tiki torch industry promises to illuminate your backyard with a huge flickering flame, adding a touch of excitement to your outdoor experience.
All about the Solo Stove Mesa Torch
A sleek and functional design
The Solo Stove Mesa Torch is not your average backyard torch. It's crafted from cold-rolled steel and finished with a sleek black powder coating. The 3-piece shaft can be adjusted to two different heights, giving you the flexibility to customize your backyard lighting to suit any occasion.
Effortless fueling
One of the standout features of the Solo Stove Mesa Torch is its versatility when it comes to fuel. This torch can be fueled by any type of Torch Oil. That said, Solo Stove also will be offering its own brand of Torch Fuel. The integrated fuel canister is designed for an extra-large flame pattern, ensuring that your outdoor space is beautifully illuminated.
Safe and convenient operation
Safety and convenience are paramount when it comes to outdoor lighting, and Solo Stove has taken this into account with the Torch. The detachable snuffer, complete with an integrated holder, allows you to easily extinguish the flame when the party's over or when it's time to call it a night. No need to worry about smoldering wicks.
Impressive burn time
Imagine enjoying the warm glow of your Solo Stove Mesa Torch for hours on end. With an approximate 5-hour burn time, it should last the length of your party. No need to constantly fuss with refueling or worry about the flame flickering out unexpectedly.
Durability
As with all Solo Stove products, the Torch is built to last. Its cold-rolled steel construction, black powder coating, and heavy-duty stake ensure that it can withstand the rigors of outdoor use. Solo Stove stands behind the quality of their products, and the Torch is no exception. It comes with a lifetime manufacturer's warranty.
The Solo Stove Mesa Torch is available in two options: You can purchase a single Torch for $69.99 or opt for the value-packed 3-pack at $199.99.
Editors' Recommendations