Why camp near a lake when you can drift into peaceful slumber floating over the water? That's right, Shoal Tent was designed to be used on the water, under the stars. Can you think of a cooler camping experience? Neither can we.
Logistics wise, Shoal is an inflatable floating raft with a tent topper that functions like any other tent you'd use — except you'll set it up on a farm pond, saltwater flat, spring creek, or lake.
"The world is your waterbed," says SmithFly, the masterminds behind the concept.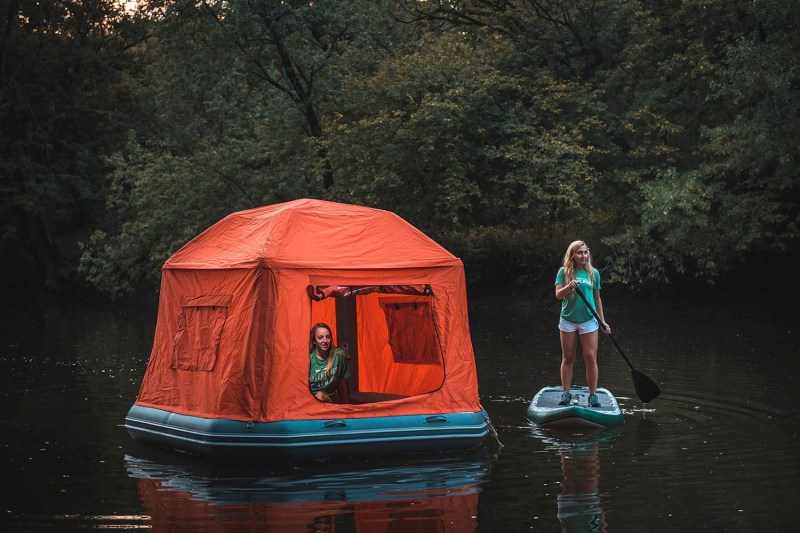 SmithFly's founder Ethan Smith started the company in 2010, combining his passions for design and fly fishing. However, you don't need to be a fly fisher to justify getting this floating palace.
Coming in at $1,999, Shoal Tent is roughly 130 pounds but packs down into a burrito-roll style carry and storage bag. (The full kit includes a storage bag, patch kit, and manual foot pump.) This makes Shoal super portable, or at least comparably so to a traditional tent (minus the poles). The reason you won't find any poles in Shoal is the overall structure is completely inflatable.
That being said, your tent won't be waving like an inflatable AirDancer. Shoal stands up to high winds with no problem. The raft body has three separate air chambers, utilizing a design system much like gnarly tents made for extreme temperatures, making Shoal easy to repair if it tears.
The tent fabric itself is also super heavy-duty, waterproof, and sealed with durable zippers. Each of the tent sides is attachable and detachable using heavy duty hooks and loops. Translation: It's easy to get in and out, which means if your pocket knife sends your tent Titanic-ing, you can jump ship ASAP.
Last of all, the bottom of the tent is a 6-inch-thick, stitched, high-pressure floor that doubles as an air mattress. You're welcome, princess.
Standing room accounts for up to 6'3″ in the middle, but more importantly, the inside perimeter allows for dudes up to 6'3" to lay down comfortably. "Taller than that you can rest your head on the tubes or sleep diagonally," Shoal says.
OK, where the hell do I get this tent in time for summer camping? Delivery time takes up to six weeks due to demand, so order as soon as possible.
Article originally published July 5, 2018.
Editors' Recommendations