As kids, fun looked like inflatable bouncy castles and slides. Now, as adults, it's the inflatable tent, Heimplanet Mavericks, we're eager to play in.
A Mavericks tent is as architecturally advanced as it is cool-looking. With an astounding 142 square feet of ground area — it can house up to 10 explorers (or just you and a shit ton of gear) — you'd think it would take a small village to pitch this beast. Au contraire. Intuitive and extremely quick, Mavericks use an intuititve One-Pump System allowing set-up with one pair of hands and a simple, quick procedure: roll out, inflate, finished.
Modular, double-layer air beams enable this easy and quick set-up, which could make all the difference between getting frostbite and staying warm at basecamp. These inflatable tubes stand up to the elements thanks to a resistant double-layer construction comprising of an extra airtight thermoplastic polyurethane bladder that keeps the inflated air inside for an extended time. (Nothing like that dinky inflatable pad you're sleeping on that sags during the night. Why aren't you using Klymit Sleeping Pads?) Meanwhile, the simplistic outer jacket uses tried and true high-tenacity polyester fabric. What more could you really want.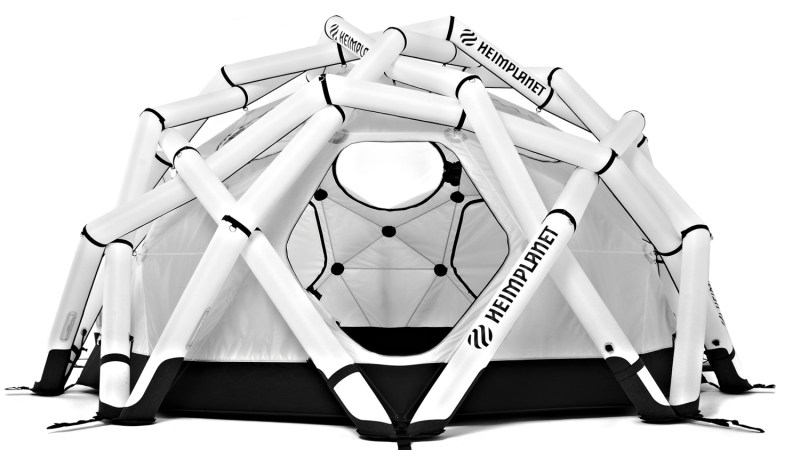 While the air beams get all the acclaim, the true hero of the Mavericks design is the shape. The Heimplanet Mavericks is a geodesic dome— a design you'd ordinarily see used for greenhouses. These domes use triangular elements to distribute structural stress, allowing the tent to handle extremely heavy loads for its moderate size.
The American Institute of Architects calls the geodesic dome "the strongest, lightest, and most efficient means of enclosing space known to man." This material-to-volume ratio appealed to Heimplanet, and, as a result, the brand invented the Inflatable Diamond Grid (IDG) of air beams seen in the Mavericks.
This design also protects itself against collapse. Let's say your ordinary tent gets a tear. The rest of your structure is therefore screwed. This isn't the case for the Mavericks. A patented Multi-Chamber Safety System enables you to divide the airframe into separate chambers in the event that any part becomes damaged. (i.e. if one air beam is accidentally torn, the rest won't go down with it.) You can then localize the defective part and easily repair it, keeping everyone dry and out of the cold. However, a teat is unlikely because the Mavericks is built t withstand winds over 111 miles per hour.
Anyone else suddenly itching for an Arctic road trip?
To be frank, we're not Arctic (or Antarctic) explorers and would probably never need a $6,500 tent … but on the other hand, the aesthetics of the Mavericks alone are deserving of exhibition. We love backyard camping in the summer, so why not Mavericks-up and pitch a tent during the next winter storm.
Editors' Recommendations