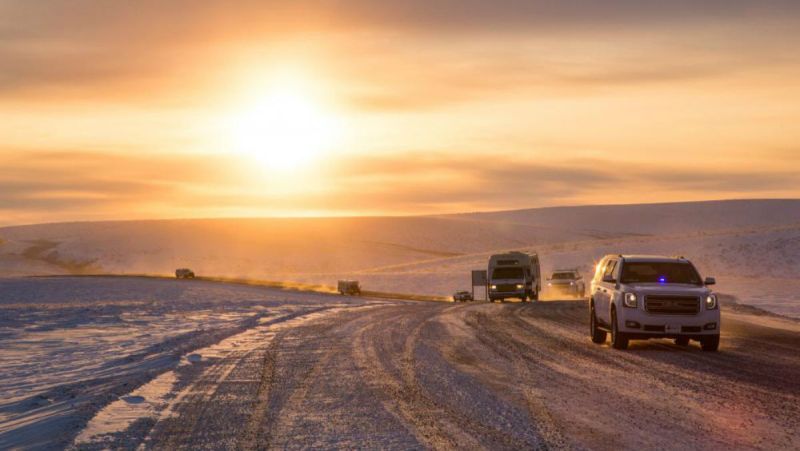 Amid its 150th anniversary in 2017, Canada made a big push to let foreigners know the country has a lot more to offer than just Vancouver, Montreal, and Toronto. The latest announcement is an exciting one for travelers in general, and for road-trippers in particular. For the first time ever, it's now possible to drive to the Arctic coast — to the top of Canada — year-round.
The so-called "Road to the Top of the World" (aka the Mackenzie Valley Highway) completes a final stretch of street that connects two tiny, remote communities in the Northwest Territories. It stretches 80 miles from Inuvik in the south to Tuktoyaktuk ("Tuk" to locals) on the edge of Canada's "third coast" — the Arctic Ocean — in the north. The rolling tundra landscape against which the $300-million road is set is stark, unforgiving, and eerily beautiful. It's the perfect backdrop for road-trippers seeking a new and adventurous overland journey in the country's often unreachable northernmost outposts.
For example, from Chicago, drivers will need to traverse more than 3,700 miles, passing through the Yukon Territory via Canada's legendary Dempster Highway before reaching the Arctic coast. To drive through hundreds or thousands of miles of tundra and boreal forest, over bridges and pristine streams, and reach the world's most remote ocean by car is a truly memorable journey.
First whispers of the road began making the rounds of Canada's Northwest Territories more than half a century ago. The road is both sorely needed and wanted by the remote region's residents. Until now, Tuk was largely isolated from the rest of the country for all but four months out of the year. During this time, a fragile ice road was the town's only lifeline for supplies and overland transport. Travelers on the road often shared space with more polar bears and snowmobiles than with other automobile traffic. Due to climate change, the season for the ice road has shrunk considerably. In warmer months, expensive charter flights were the only viable way in or out.
Since the road's construction was confirmed in 2014, many locals spent years preparing by bolstering the area's tourist infrastructure. The town committed substantial resources to pretty up park benches, traffic signs, public facilities, and to develop better facilities for recreational vehicles. The only bed and breakfast in town even added new rooms to welcome travelers. Needless to say, they're excited.
The Road to the Top of the World officially opened on November 15, 2017, amid a ribbon-cutting ceremony in Inuvik.
Image courtesy of the Government of Northwest Territories.
Editors' Recommendations