Even with more than seven billion people occupying our planet, there are still remote places left to explore.
Antarctica is fast becoming a hot cruise destination that requires little in the way of adventure travel experience. These days, if you want remote adventure, it's all about going north — way north. The Arctic Circle and the North Pole remain largely pristine and untouched by today's standards of civilization. For travelers looking to explore one of the world's most breathtaking and northernmost regions, here are three ways to get there.
Arctic Expedition Cruises (G Adventures)
G Adventures has long recognized that the best way to cruise is to make the trip more about the destination than the ship itself. Its fleet of small ships is outfitted with plenty of creature comforts, but you won't find comedy theaters, all-night chocolate buffets, and bowling alleys aboard. Instead, the focus is about getting off the ship as much as possible for kayaking, fjord hiking, and exploring subarctic islands in search of wildlife. Their Arctic Expedition Cruise itineraries offer intimate exploration of Norwegian Fjords, the islands of Scotland, and the waters of the Arctic Circle.
Related: Bucket List Travel: Five Once-in-a-lifetime African Adventures
Cruise the North Pole (Polar Cruises)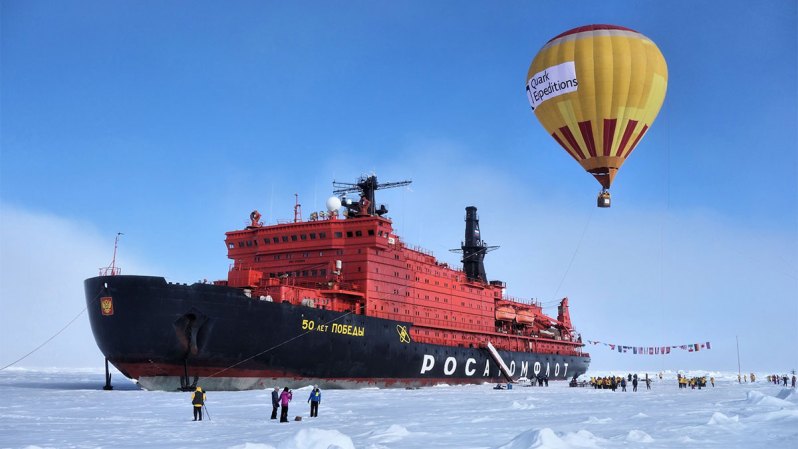 Until commercial moon flights begin launching on the daily, it's difficult to imagine a more wild, more remote, bucket list-worthy destination than the North Pole. But, adventurous travelers with a cool $30,000 (which, frankly, seems like a bargain to us) can book a one-of-a-kind expedition with Polar Cruises aboard the patriotically named 50 Years of Victory — the world's largest nuclear-powered icebreaker. The two-week journey begins in Helsinki before flying to Murmansk, then venturing out for a full week in the Arctic Ocean. Travelers spend almost every day spotting polar bears, exploring arctic bird colonies by Zodiac, and helicoptering at the top of the world. The trip peaks with a barbecue and champagne toast at 90° North, plus optional polar plunges and a hot air balloon ride over The North Pole.
Do a North Pole "Flyover" (Polar Explorers)
For travelers who lack the time or conviction to invest in a full expedition to the North Pole, Polar Explorers offers a condensed, no-frills solution. The three-day whirlwind trip begins with an overnight stay in Longyearbyen — a tiny, picturesque Norwegian village deep inside the Arctic Circle on the island of Svalbard. Visitors then hop a two-and-a-half-hour charter flight to Barneo Ice Camp — a floating research outpost approximately 50 miles south of the geographic North Pole. The final leg of the journey requires a brief flight aboard a Soviet military helicopter before touching down as close to the North Pole as the weather allows. After a Champagne toast, a flurry of photos, and a call to family from the top of the world, visitors return to Barneo for an optional overnight stay.
Editors' Recommendations