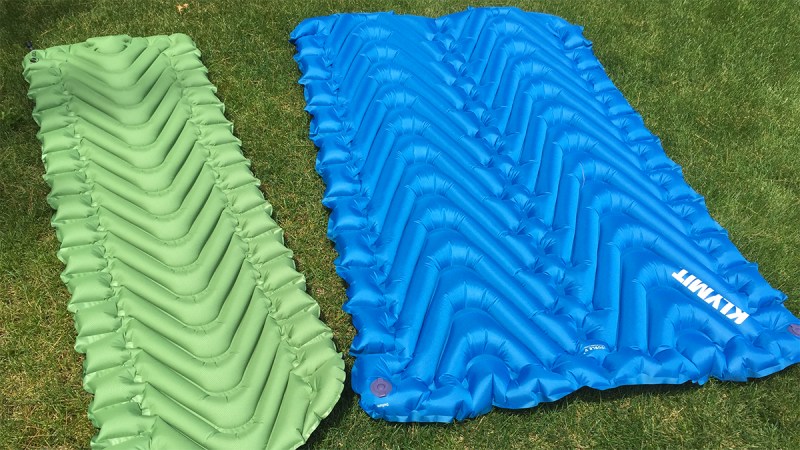 A few years back, I pitched a tent near the start of the Whitney Trail, inflated my sleeping pad, rolled out my sleeping bag, and lay down intent on a night of good sleep before the following day's ascent to the 14,500 foot summit of Mt. Whitney. I awoke sometime in the middle of the night to find out that my pad had a slow leak. I was essentially lying atop a bunch of rocks and roots, and the night that should have been spent storing up reserves of rest was instead spent simmering with discontent.
A year after that, I was back on Mt. Whitney (and later that year Mr. Rainier and Mt. San Gorgonio and maybe another that's slipping my mind, this is five years back now) with a new sleeping pad. This one did not deflate during use, but it was about the size three loaves of bread stacked end to end even when deflated and rolled as tightly as I could muster. It was comfortable, yes, but it also robbed me of a good 35% of my pack space and weighed easily twice as much as I would have liked.
Guess what company made those two sleeping pads? Well, actually, I'm not going to be a jerk and call them out, but here's the point: they were not made by Klymit. Klymit sleeping pads are lightweight, ergonomically sound, and impressively durable. If you're headed into the backwoods for an extended expedition and you value your sleep, then Klymit is a brand to consider.
I have two different Klymit sleeping pads, though I'll admit that one of them spends a lot more time in the closet than in a tent. My wife isn't as much of an outdoors type as me, so there's just no reason for a double pad on most expeditions. That said, I can still see a reason why I might bring a Klymit Double V sleeping pad on certain solo treks. We'll get to that, well… pretty much right now.
The Klymit Double V 2-Person Sleeping Pad
As for comfort, the Double V is above reproach. It's comfortable whether you are on your own side as you respect your partner's space or sleeping solo in the middle like the king of the campsite. It's fabricated from rugged 75D polyester and is tear- and puncture-resistant, so don't worry about using it right on the ground if the weather is mild and you want to sleep under a ceiling of stars. Or sit around on the sidewalk as you wait for tickets to see a popular alternative rock band.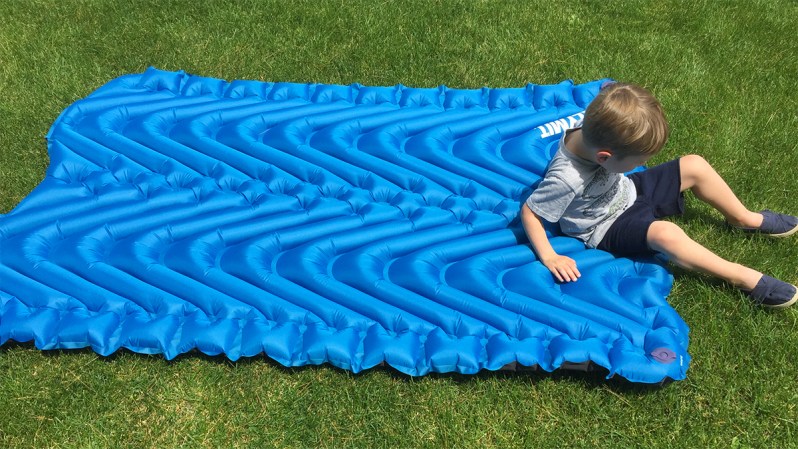 Now, as I mentioned earlier, I can see one very good reason why I would use this large pad on a solo trek: rain and/or cold. By essentially filling the floor of your tent, this pad creates an elevated and insulated floor. That's an invaluable asset should the ground beneath you be freezing cold or soaking wet. Almost any tent will allow in some moisture (or will permit abject buckets of water to rain down on your goddamn head if you're me and you're setting up camp in the Colombian rain forest), and cold ground will quickly impart its chill to your bones. By getting you up above the ground and/or the sodden bottom of your tent, this pad can keep you and your gear warmer and drier in any conditions, and that's worth an extra pound or two any day.
The Klymit Static V Sleeping Pad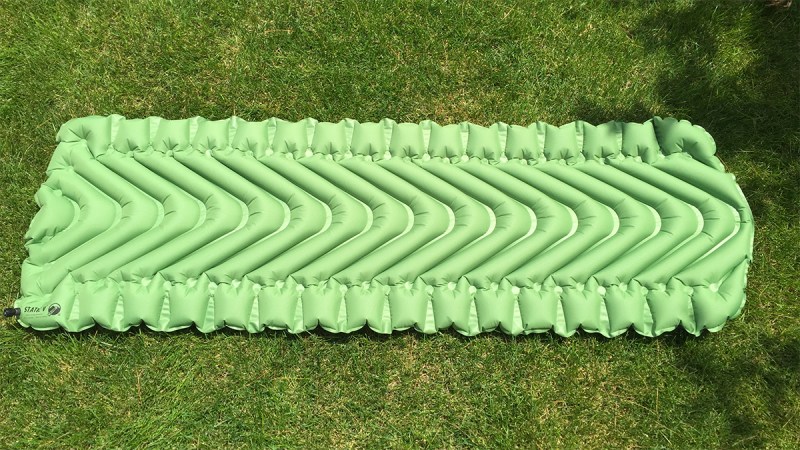 If you're a frequent camper/mountaineer/backpacker who needs a good sleeping pad and you don't feel like doing any further research, just go ahead and buy the $65 Klymit Stativc V air mattress. There are pads out there that are a few bucks cheaper, there are options that weigh an ounce or two less, and there are options that are more compact in layout, but as a generally lightweight, affordable, and highly comfortable sleeping pad, this one gets my sincere double thumbs up and/or a wink and a finger gun. I can give these hand gestures and winks because, including the mats mentioned earlier, I have been through six or seven sleeping pads in my day (including those damn egg crate style mats, a simple foam pad, and so forth).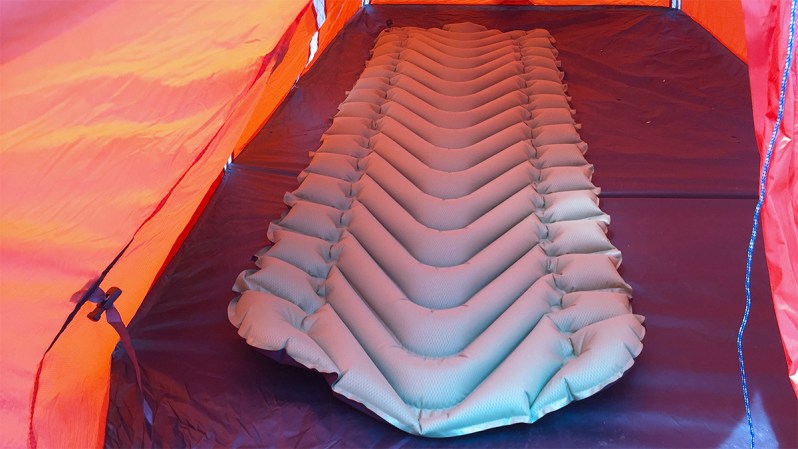 The Klymit Stativ V uses a chevon pattern (thus the "V" name) of air pockets to help keep your weight evenly distributed. You can lie on your stomach, back, or even your side and still be pretty comfy on this thing. It weighs 16.3 ounces (so… one pound) which is 2.4 ounces more than the other pad I often use, a Sea to Summit UltraLight Mat. But here's the thing: the Klymit Static V is a full two inches wider than the other pad, and it's also fully rectangular in shape, whereas the Sea to Summit tapers to a thinner end. So while the Static V is slightly heavier, it also offers a lot more real estate, as it were. That's a good trade if ever I've seen one, and I have: it was in Dances with Wolves. (Anyone? Obscure reference much.) The Static V also packs down small enough to fit in any backpack, summit bag included.
Also, the brand says the Klymit Static V inflates with ten to fifteen breaths, but I get mine filled with seven breaths easily. Granted I'm pretty lightheaded for a while afterward, but whatever.