Iconic cooler company Igloo just flexed its eco-muscle by releasing a biodegradable cooler that should replace the need for single-use foam coolers. The Igloo Recool is made of 100-percent molded pulp. While the 16-quart cooler may look like its molded from prehistoric mud and bark, the actual result is wildly futuristic. Igloo calls it "the world's first eco-sensitive cooler." And they should know; they've been in the business since 1947 (back when gas cost 15 cents a gallon).
We were thrilled to hear about the biodegradable cooler concept when Igloo teased the news at Outdoor Retailer, but when we finally got our hands on one, we were even more excited to test it. After all, we're always looking for ways to make our weekend camping trips and beach days more environmentally-conscious. The perfect cooler has to stand up to ice, beer, Jagermeister Coolpacks, and more.
Here's how Recool performs:
Size
Recool has a 20-can max capacity but that's pushing it. As a modest 16-quart cooler, Recool performs its best with about 12 cans or bottles. It's not a behemoth, but it does the job. Hosting a big bash? Recool isn't right for the job. We took Recool successively to a friendly game of neighborhood baseball, a rooftop pool hang, and to the park for Frisbee.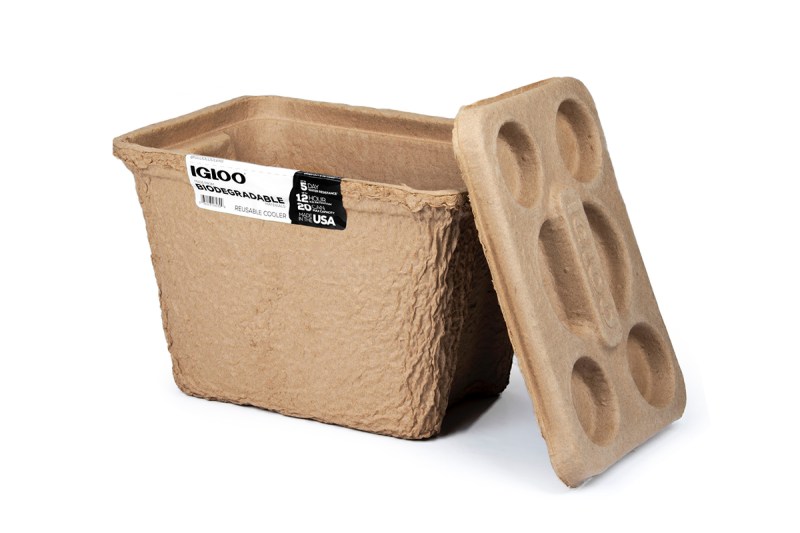 It held enough beers, ciders, and Topo Chico to get through each day without running out or having excess to carry back to the car. Any larger and Recool would be a schlep; the cooler is made of a cardboard-like pulp (remember your old paper mache art projects from school?) and doesn't have any handles.
Ice Retention
This was our first experiment. Igloo says Recool retains ice for 12 hours. And they aren't lying. Recool does a phenomenal job for a cooler that isn't bomb-shelter insulated like those insane bear-proof beasts. Once the ice turned to water, we dumped it out and let Recool dry for reuse. We were expecting the cooler to get soggy and weak, but no such devolution occurred. Igloo says Recool can hold water without leaking for up to five full days. We didn't test that claim because we found ourselves reusing Recool at the end of every day. It's perfect for a weekend, but not your go-to for long camping trips.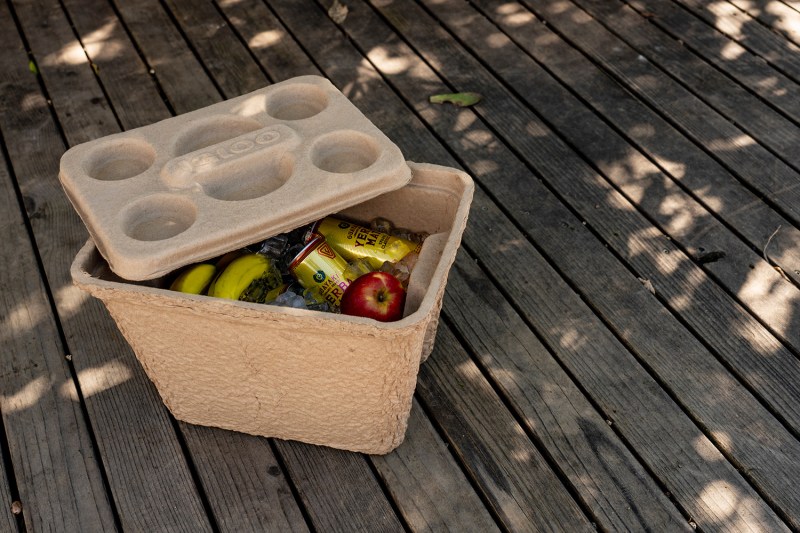 Durability
Nothing ruins an outdoor hang faster than a foam cooler that has been compromised (chipped edge, punctured side, etc.). Recool doesn't bend or break— a feature we were surprised with considering biodegradable materials often get a reputation for being flimsy. In fact, Recool can hold up to 75 pounds, which we tested with an actual dumbbell. We did drop the cooler "in the field" (see: tipsy after Frisbee) and it didn't gain so much as a dent. The top, which is also made of molded pulp, fit snugly on the top without being too difficult to pry open. Bonus: No skin-crawling foam screeching.
At the end of our testing, we came out as avid Recool believers. The cooler is made in the United States, relatively cheap at $10, and isn't going to rot our planet with waste. Thousands of progressive municipalities have already banned the sale of foam coolers and that should tell you something. If you do most of your boozing inside or at rooftop bars, Recool is a summer essential for park, river, and backyard days.
Editors' Recommendations