A dishwasher is the ultimate daily luxury. Washing dishes by hand is tricky to do properly and actually wastes more water than using a dishwasher. However, for those who lack the space for a full-size unit, or who crave the time-saving sudsy power of a second unit, the countertop dishwasher is the perfect solution. Whether your home bar boasts a sink or not, the HAVA R01 is an ultra-compact option to get your best barware and utensils sparkling clean. Here, we'll review the HAVA R01 model and run through its strengths and weaknesses, both as a stand-alone dishwasher and as a convenient addition to your wet bar.
A mini or countertop dishwasher is a free-standing electric appliance that hooks up to a kitchen faucet or fills with clean water manually and drains the dirty water into the sink. Because there's no plumbing to alter and the machine simply plugs in like other appliances, it is easy to move or store as needed. This makes it one of the most flexible yet hard-working appliances you can buy.
Stats
16.86 inches long, 16.75 inches wide, 18.05 inches high
29 pounds
5 liters of water consumed per cycle
5 wash cycle options
110-120 volts/60 hertz
Compatible with all dishwasher detergents
12-month warranty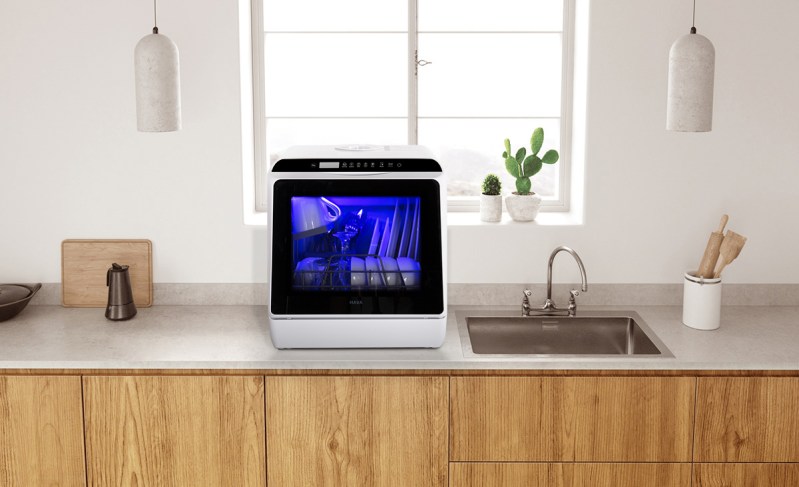 Size and scale
At slightly less than 30 pounds, the R01 is one of the lightest countertop dishwashers on the market, making it much easier to maneuver than many of its competitors. It can hold up to four full place settings and is recommended for households of one to two people maximum, or for use of specialty items, such as glassware or baby and toddler dishes. The R01's normal wash cycle is a little over an hour, with an additional hour for the dry mode, and it offers other wash settings, such as quick wash, which cuts the time in half. The HAVA R01 even offers a dedicated setting to wash fruit.
Setting up
The R01 is bulky but, as we mentioned, very light, and you have a couple of installation options. You can fill the tank with water by hooking a hose (included) up to your kitchen faucet, or pour a couple of pitchers (also included) full of water into a mesh opening on the top. The pouring option is also nice for those looking to keep their R01 somewhere other than right next to the sink. When it's time to drain it, you can place a hose in the sink or other watertight container. The drain hose is 61 inches long, giving you even more potential flexibility when deciding where to keep it.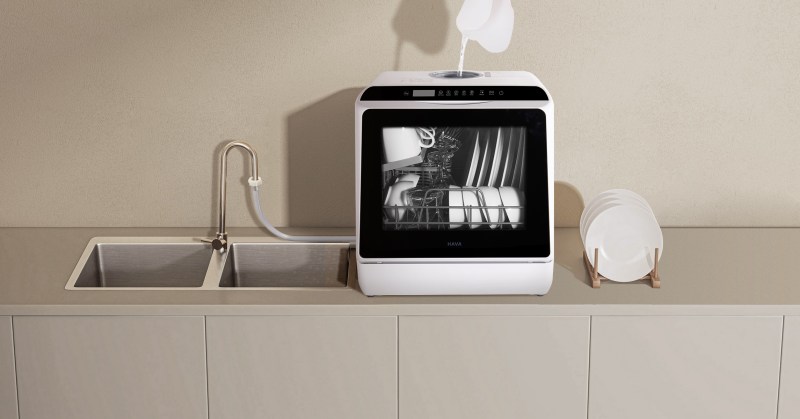 Operating
After turning on the R01, you are greeted by a little electronic song and a blue-violet light. Once you load it and add soap to it, a dedicated compartment in the top accepts water until the R01 says to stop with six gentle dinging noises.
It's worth noting that the detailed instructions for loading and use are permanently mounted on the top. The churning sound produced by wash cycles is mid-level, neither jarring nor whisper quiet. The clear door helps reduce the visual bulk of the machine and watching the dishes get clean is frankly a delight.
The R01 can hold quite a bit and has just the right amount of prongs to support dishes of many different shapes without getting in the way. The small gridded plastic rack in the upper left is extremely useful, holding extra silverware and other small items while allowing for a thorough cleaning. You can fold this rack as needed.
When the dishes are done, the R01 sings another little song, and if you've selected the "dry" function, it automatically begins the drying process. As with full-size dishwashers, the drying function can only do so much to evaporate the remaining water, and many items will still be wet. Curiously, when the drying countdown is complete, the screen shows what looks like a "b" or a "6." This can be a little confusing, and it also doesn't automatically turn off at this point.
Does it pass the squeak test?
The HAVA R01 can take on all kinds of spills and smears on many different shaped and sized dishes and utensils. It does a particularly great job with glassware and can tackle the sticky, sugary messes often generated when one is making cocktails at home. The result is as hot and squeaky clean as in a professional kitchen.
The R01 does struggle a little when faced with the two notorious foes, peanut butter and raw egg, but we have rarely seen it falter. It's an absolute champ when up against oil, grease, and sugary residue. The "normal" wash setting is adequate for most loads of dishes, but the "baby care/heavy" is quite tough.
Pros and cons
Pros
Powerful cleaning and draining capability
Simple interface
Versatile to install and easy to move
Quality parts and accessories
Blue light, clear door, and music add to the experience
Energy efficient
Cons
Long cycle to wash and dry relatively small amounts of dishes
At the end of the drying cycle, it doesn't shut off
Can't remove the loading instructions mounted on the top of the machine
When filling, water often splashes off of the mesh in the top opening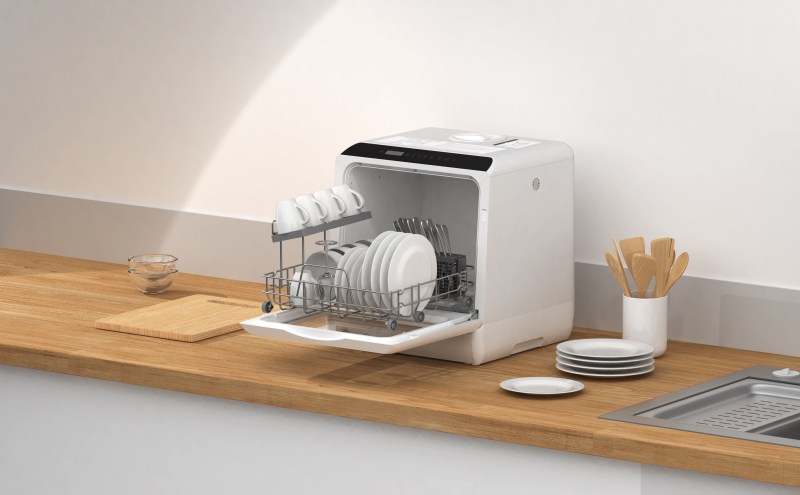 Takeaways
The R01 is mini but mighty, cutting down on electricity and water use, as well as halving the cleanup time after hosting friends for cocktails. It can easily transition from use in the home bar to helping out with the extra dishes generated by holiday gatherings and does an excellent job every time. While it has the same limitations that most dishwashers come up against, it's tough enough to earn a spot in your home. It currently sells for $300, making it a relatively budget-friendly yet impactful addition to your wet bar or kitchen.
Editors' Recommendations