Clear ice is one of the easiest ways to make your drink stand out.
Cocktail or mocktail
, a big cube or sphere of clear ice enhances its visual appeal without detracting from the drink recipe's brilliance.
There are a lot of methods for making clear ice; some are incredibly cheap and unreliable, while others are expensive and require a pseudo degree in chemistry. Ice Designer sits between these two extremes. It's not as kitschy as boiling water (which can affect the durability of the ice you get) but isn't nearly as touchy as other products we've come across that expect you to have access to chemical enhancers to make clear ice. Yikes.
After going hands-on with Ice Designer, these are our thoughts.
Ghost Ice and Ice Designer review notes
Clear ice is not a must-have; it's a nice-to-have for at-home drink-making. If you're making drinks for friends and family, clear ice just makes the drink pop a bit more. It's flashy and fun.
Clear ice sets a tone. Clear ice tells whoever is drinking from the glass a clear ice cube is in that the drink (and the alcohol it's made with) should be respected. When you want to level up a gathering, clear ice can help.
You'll have to invest some time in the results. It takes a long time to make ice, and you'll have to be mindful of the time spent making designs so as not to over-melt ice.
Have space to store items. The Ghost Ice system is about the size of a small cooler, so you'll want to have a spot to store it when it's not in use. It's probably too large to keep in a freezer long-term.
Brass plates are heavy. You could damage a countertop if you're not careful. Be careful, and be sure you have a spot to keep the plates as well. Remember to store them upside down to avoid water staining or pitting your plate.
You can't control ice. Water freezes how it freezes. Sometimes the surface is a bit wonky. We found ourselves shaving ice down a few times with a microplane to get a perfectly smooth, flat surface to melt designs into.
The clear ice isn't a "cube" per se. The silicon molds have a pyramid shape at the bottom with three holes. When you unmold them, that shape persists.
Non-cube ice can be cool. The pyramid at the bottom forces the face of the cube to point up, so those with a drink don't have to crane their neck to see the design.
The silicon mold doesn't quite fit the cooler. The silicon ice mold has to be wedged into the cooler, which caused the sides of some squares to ripple. This was the main cause of not-so-square ice cubes.
There will be plenty of "regular" ice, too. The non-clear ice at the bottom of the cooler can be used; you just have to cut or break it up.
How to make clear ice with the Ghost Ice system
If you can fill an IGLOO cooler with water, you can use a
Ghost Ice system
. It's essentially a tote cooler with a silicon insert. Clear ice is made inside the silicon molds. As clear water rises, the silicon mold traps it, producing clear ice. It's subtle, but smart.
If you're expecting clear ice in a hurry, this isn't the system for you. It uses a lot more water than the ice it produces, and requires that you allow the water to freeze, which is an overnight affair. From there, you have to let the chest rest on the counter for 10-15 minutes before unmolding the silicon mold and clear ice.
All told, you're in this for two full days to get a dozen clear ice cubes.
That's great for casual at-home use. If you want to use clear ice for a party, you'll want to plan ahead, maybe weeks ahead.
The cooler needs to be frozen, so you'll also need a deep freezer. My bottom-drawer freezer worked just fine, but the system does take up half of the deep bottom well. Those with packed freezers might find the space the system takes up frustrating.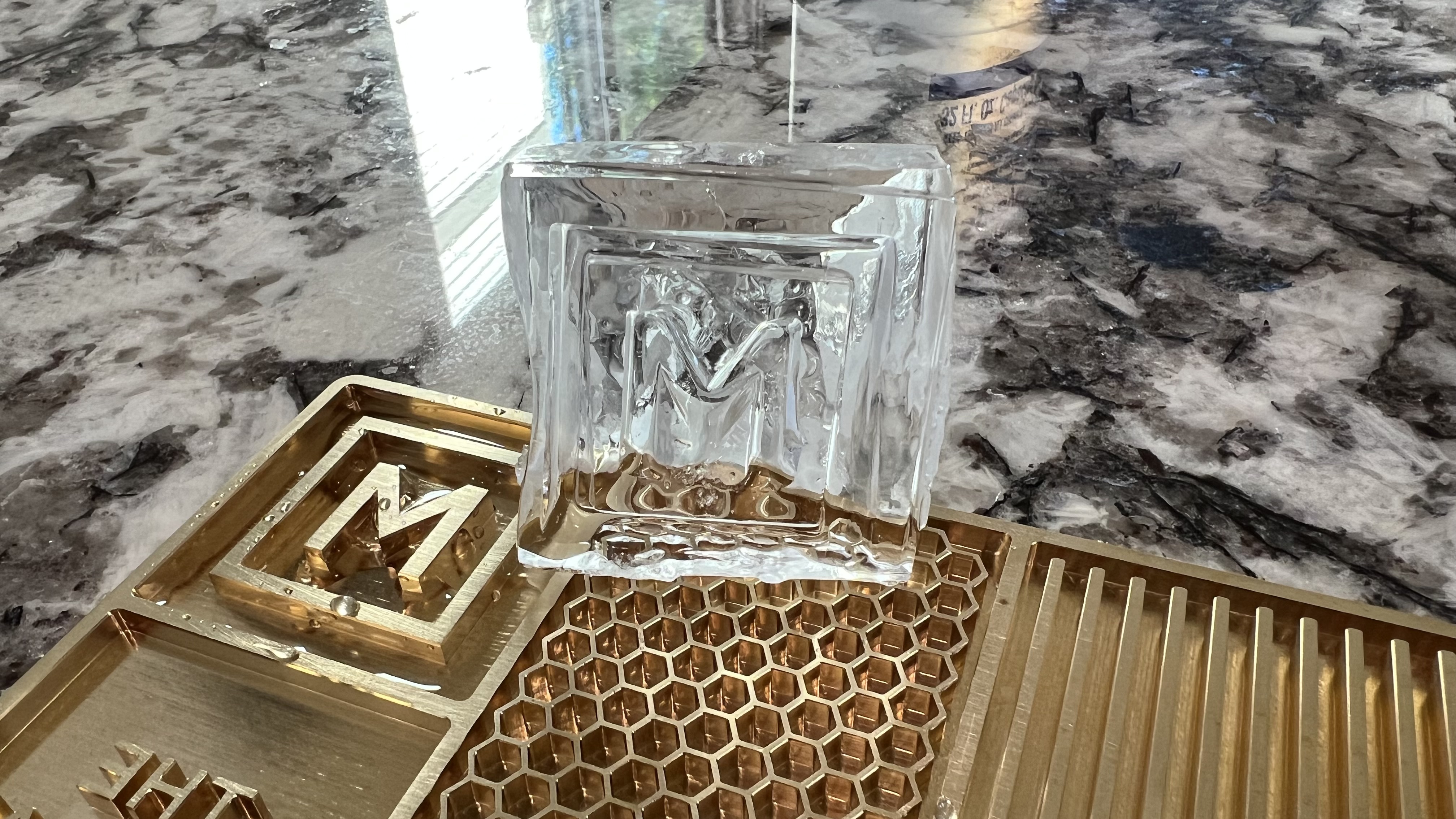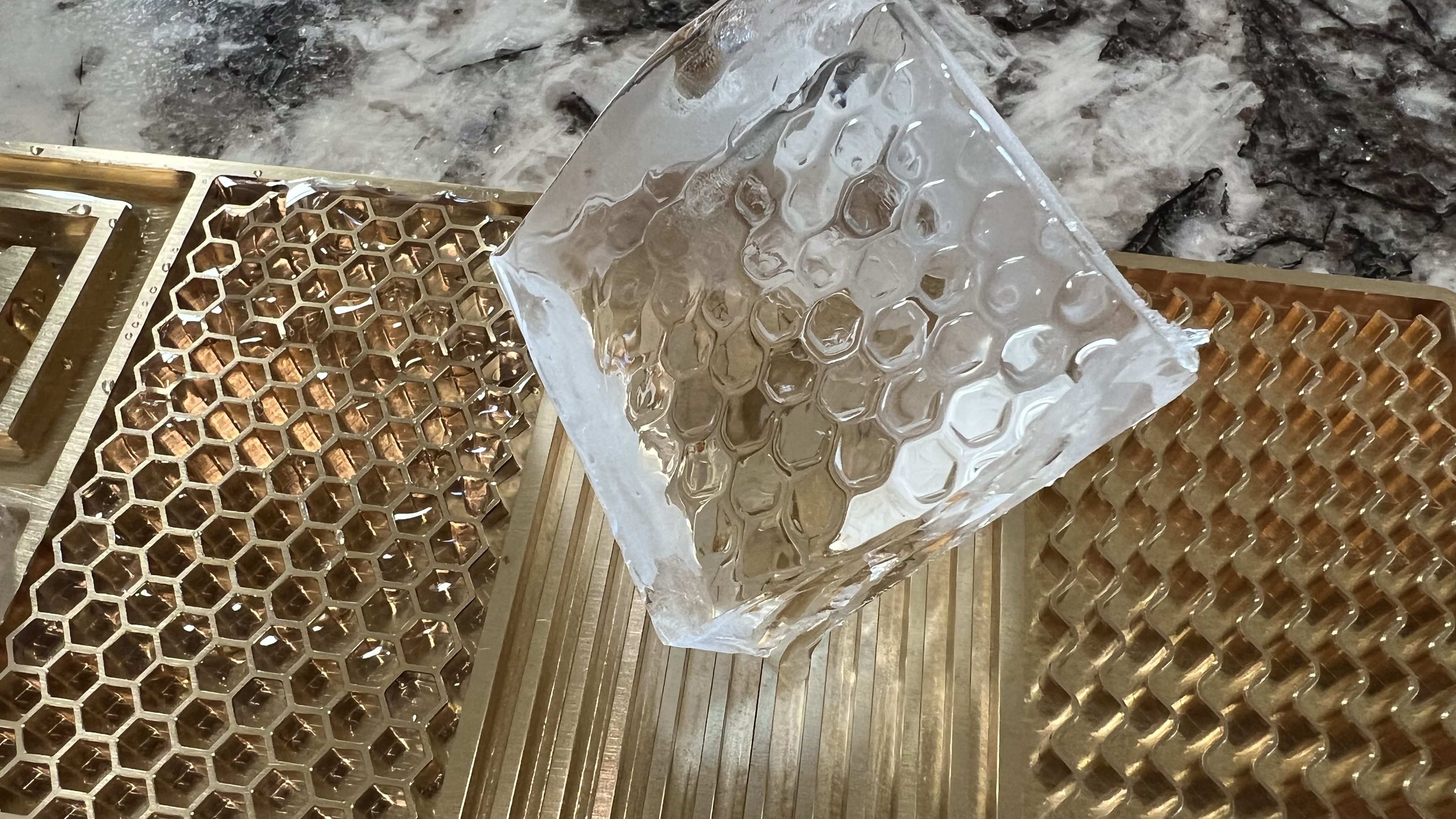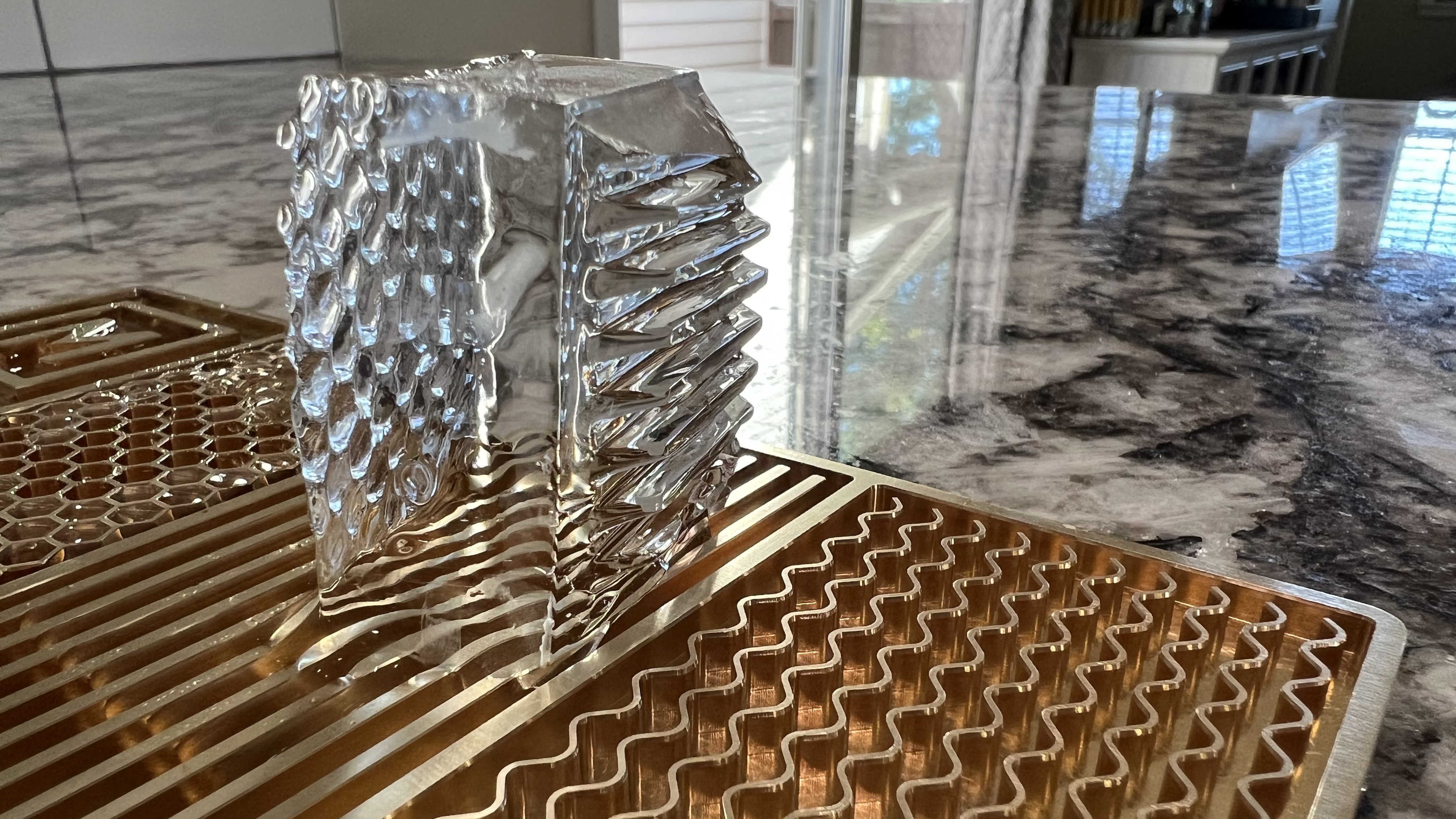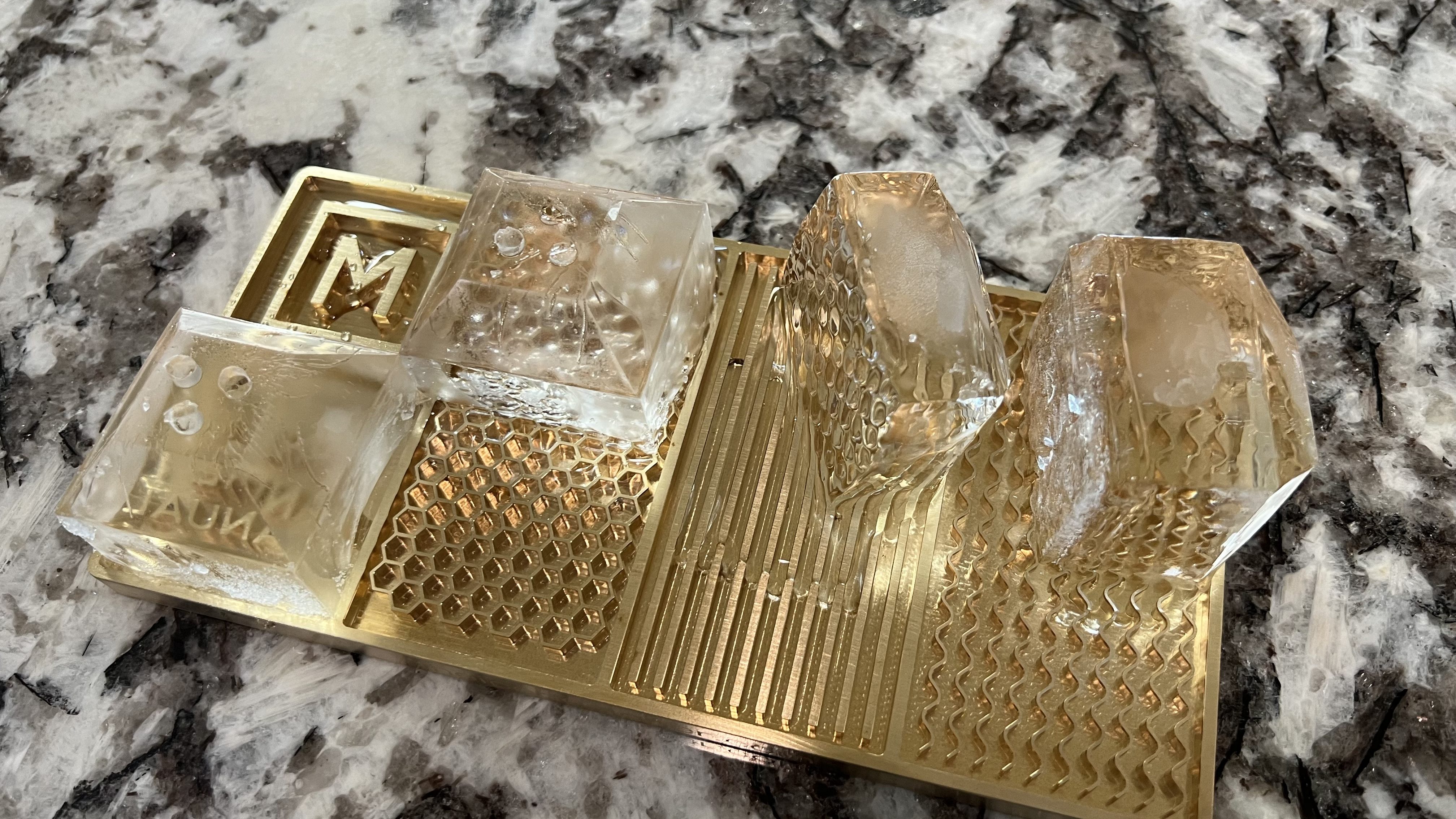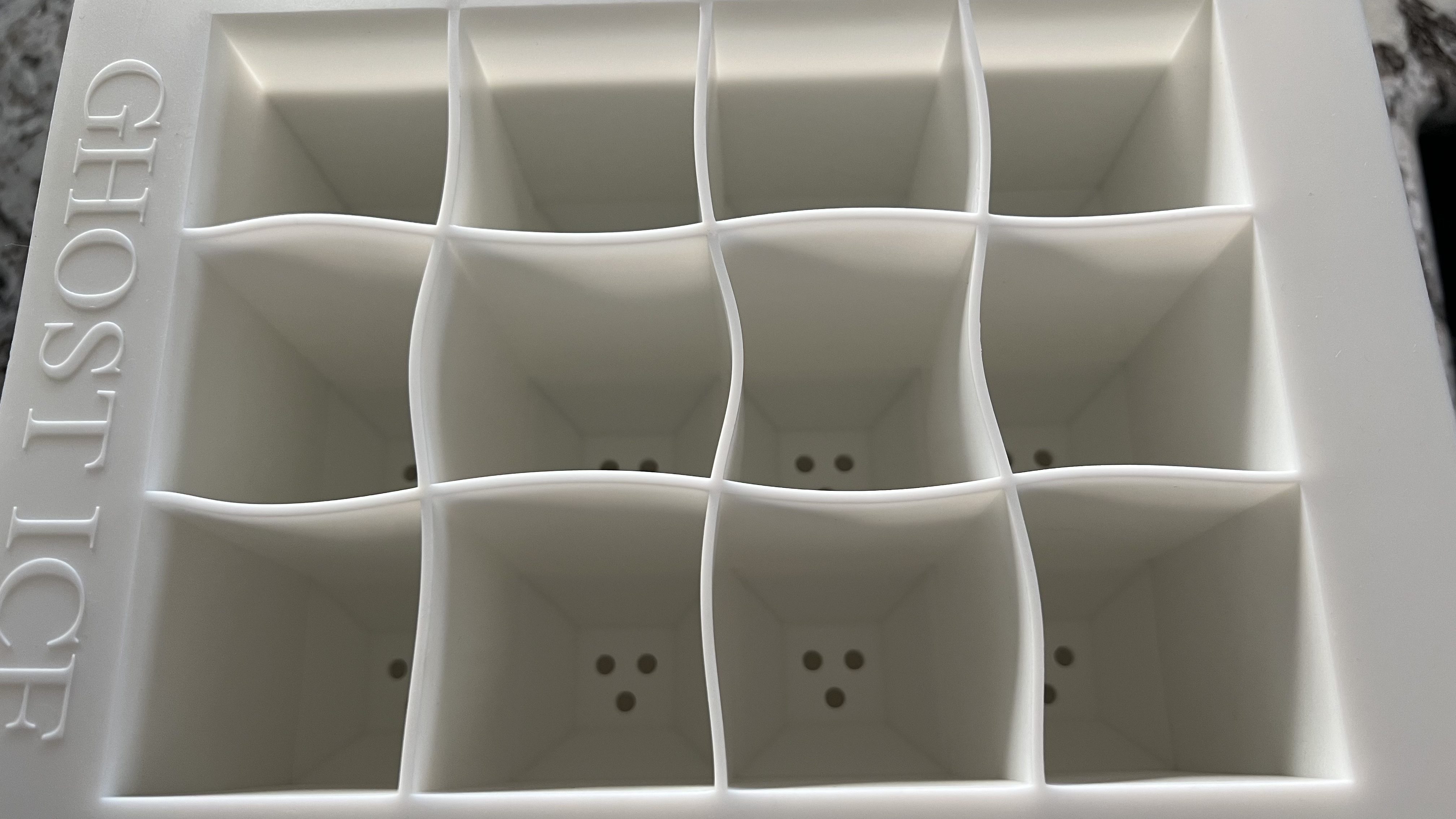 How Ice Designer works
Ice Designer
is, quite simply, a brass plate with some patterns milled into the face. Brass conducts heat well, and the weight of the cube creates an "etching" into the clear cube.
This creates a really nice design that doesn't look "forced." Though Ice Designer takes a bit of time – you have to wait for the weight and ambient heat in the brass to do their thing, it's a nice system. The company's guidance tells you it will take five to 10 minutes for the brass plates to etch ice, but we found it to work in seconds. Once we set cubes on the brass plates, the cubes started melting immediately.
One thing we really like about Ice Designer is you can get custom plates. A logo, words, you name it, they can do it. This is a sensational option for an event (like a wedding).
Final verdict on Ghost Ice and Ice Designer
Because Ghost Ice and Ice Designer are both analog systems, you'll need to be mindful of the time you're investing. You will have to monitor for fully-frozen clear cubes, watch how long the full cooler has been out of the freezer, and how long each clear cube has been sitting on the Ice Designer tray.
You can freeze pre-designed cubes to make a party run much smoother. Freezing after "designing" the ice makes the design pop a bit more when you pour a liquid into the glass, but it's not as nice to look at on its own. Designed clear ice is gorgeous; re-freezing clouds it a bit on the outside, which disappears when you add liquid to the glass the ice is in and seems to "set" the design a bit better. We do prefer etching cubes right in front of people, though. It's just a cool touch.
We especially like to store clear ice cubes for parties, and etching is a svelte way to "tag" a drink. Keeping one ice design reserved for a specific party guest lets everyone know a drink is theirs without those fussy (and often ugly) drink/glass tags or labels. You could also reserve specific designs for specific drinks, so you know what to make someone without them asking. Again, clear ice adds a touch of class.
This may not be an everyday item to use, but it's an easy and relatively inexpensive way to get clear ice with classy designs.
Ghost Ice System
The Ice Designer
Editors' Recommendations