Making sure you are prepared for anything the trail may throw at you the next time you go mountain biking is essential before you walk out the door. Having that extra snack or spare tube packed away may be the difference between a good and lousy ride.
When we think about all the mountain biking gear we need—a quality helmet, flat tire kit, snacks, and hydration—we can often look over what we wear. I mean, can't I just ride in the jeans and shirt I was already wearing?
While you certainly can do that, you may find that you won't be the most comfortable. Mountain biking has come a long way from the days of wearing ripped jeans and cut-off motocross pants. Bikes have gotten more modern, and so have mountain biking gear and apparel.
Mountain biking clothing that is both stylish and functional has been growing in popularity over the past several years. Evo certainly lands squarely in the stylish and functional clothing category when it comes to mountain biking gear. Our friends at Evo were kind enough to send The Manual some of their more popular mountain biking apparel, and I was excited to try it.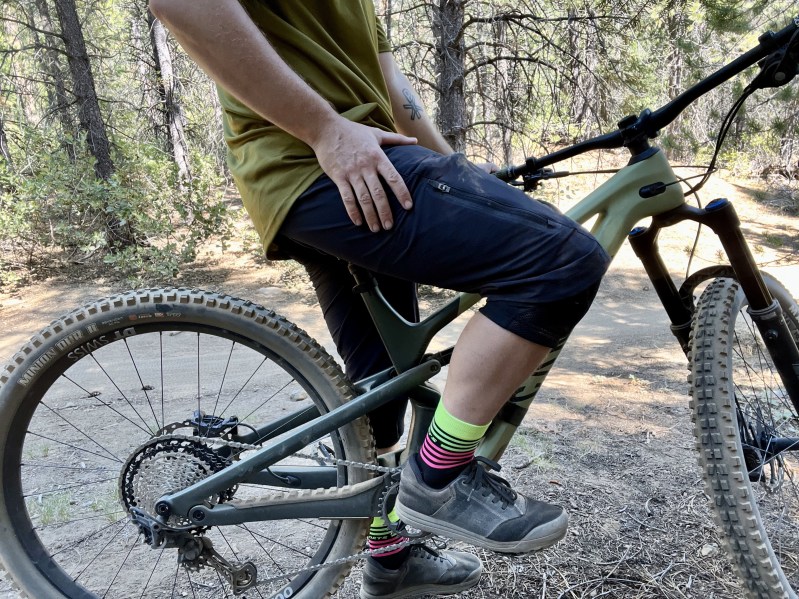 Evo Bike Shorts
First in Evo's box of mountain biking goodies were their mountain bike-specific shorts. These shorts are only available in black and come in sizes S-XXL.
It's nice when shorts, like the Evo Bike Shorts, come designed with mountain biking in mind. The shorts are especially comfortable with fit and design features, such as gusseted seams and the shape of the legs, made for sitting on a bike.
A water-repellant material allows for breathability while letting water runoff. I splashed through a few creek crossings and can attest to the repellant nature. I also liked that the material was thicker than some other shorts. While I haven't used these for years (obviously), I think they'll last as long.
Belt loops are paired with velcro waist adjustment. While the velcro does the job, I always prefer mountain biking bottoms to have belt loops for the eventuality that the built-in adjustment fails.
While the shorts have good pocket options, they lack back pockets. This doesn't matter while I'm on my bike, but I like to throw my wallet back there for post-ride brewery trips. Also, the shorts are a little long for my liking. (I'm unsure if it's a knock on Evo or me for only being 5'8″.)
At $129.95, the Evo Bike Shorts are priced fairly when compared to similar shorts.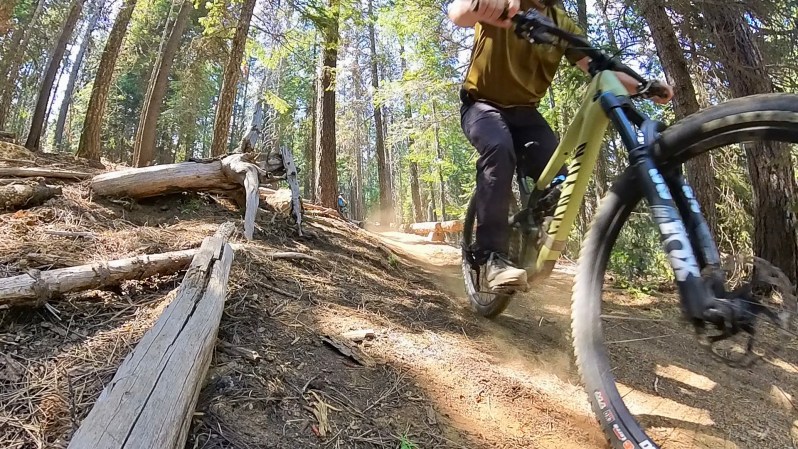 Evo Bike Pants
Mountain biking in pants is an everyday occurrence for me during winter riding. However, few know the benefits of wearing mountain biking pants while riding bike park in the summer. Temps are cooler in the mountains, and with chairlifts taking the climbs away, you actually stay comfortable in the added protection of pants.
The Evo Bike Pants are the long-legged version of their bike shorts. Same water-wicking yet breathable technology, but in a tapered fit that keeps the pants out of your chain. The fit still left plenty of room for my knee pads underneath.
Despite a thicker material, which I appreciate, the pants didn't overheat. Like the shorts, the Evo Bike Pants also have integrated velcro adjustments paired with belt loops. A zipper at the ankle opens the legs by an inch or so if you're feeling claustrophobic.
Like many mountain biking pants, however, I was annoyed with the length. For measurement's sake, I'm short, with a 36″ waist and 30″ inseam. Since most mountain biking pants come in sizes S, M, L, and so on, a size large tends to have at least a 32″ inseam. This was no different on the Evo Bike Pants. To remedy this, I rolled the bottom of the pants under where they seemed to stay put fine.
I'm specific about my mountain biking pants, so due to these length issues, the Evo Bike Pants won't be for me. But, if the height gods have blessed you, they're a good option to check out.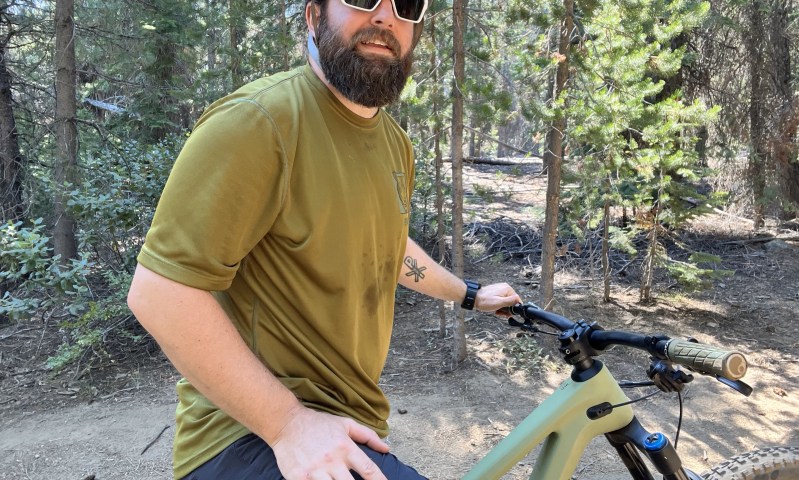 Evo Short-Sleeve Bike Jersey
The Evo Short-Sleeve Bike Jersey changed my mind about mountain biking jerseys. Jerseys tend to be loud and obnoxious, which isn't usually what I'm looking for. The Short-Sleeve Bike Jersey by Evo is subtle, functional, and fashionable.
The polyester mesh jersey is incredibly lightweight and breathable, all in a standard fit. The cut length is a tad longer than a regular shirt, which can be expected with mountain biking jerseys.
Evo's jersey also features a zippered pocket above the left hip. While I do like the functionality of a pocket such as this—it can be great for storing a bike park lift pass—I always ride with a hip pack. I found the pocket to be a bit uncomfortable under the pack, but I made it work with some adjustments.
At just under $50, but often on sale, the Evo Short-Sleeve Bike Jersey is for sure a win.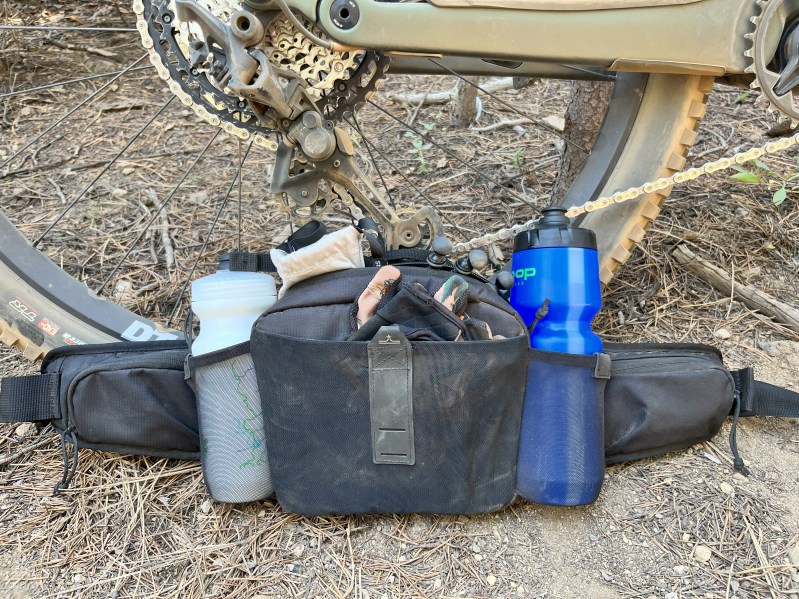 Evo Enduro Hip Pack
I consider two factors when using a hip pack while mountain biking: comfort and functionality. If the hip pack isn't functional, meaning it doesn't hold everything I need it to, then it doesn't really matter how comfortable it is. If it isn't comfortable, well, I'm just not going to wear it.
The Evo Enduro Hip Pack checks both of those boxes. A surprisingly slim 2.6 liters didn't seem like much, but the hip pack easily fit all I needed. A large main pocket contains several separate compartments to organize keys, phones, snacks, wallets, etc. The hip pack holds two water bottles and has two additional zippered belt pockets.
Comfort is really where the Enduro Hip Pack shined. A breathable mesh back panel helps with airflow and is incredibly comfortable against my back. The wide back panel tapers into a slightly narrower hip belt, easily locking the hip pack in place.
Overall, the Evo Enduro Hip Pack is the best hip pack I've used mountain biking. It holds everything I need without being too bulky. Plus, if anything goes wrong, Evo backs the Enduro Hip Pack up with a one-year warranty.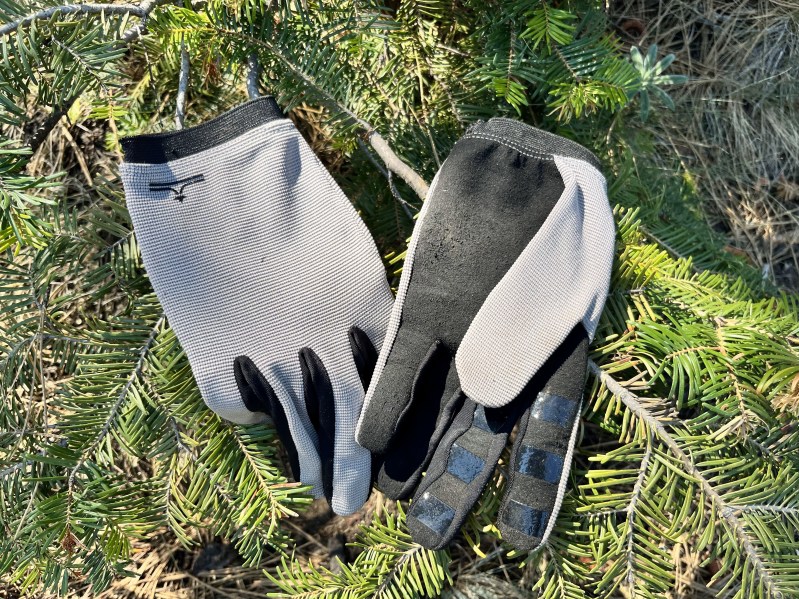 Evo Peeler Bike Gloves
Of all the mountain biking gear that Evo sent, the Peeler Bike Gloves were the thing that just really didn't work for me. Performance-wise, they did just fine, as expected. It was the fit that didn't work for me.
I like my mountain biking gloves to have a snug fit. A size large in the Peeler Bike Gloves fit well until I got to the fingers. The fingers were loose, which affected my overall grip. I think I would have had a tough time getting my hand into a size medium.
We're all different, with different mountain biking gloves fitting different hands. The Evo Peelers didn't match my hands, but that doesn't mean they won't work for you.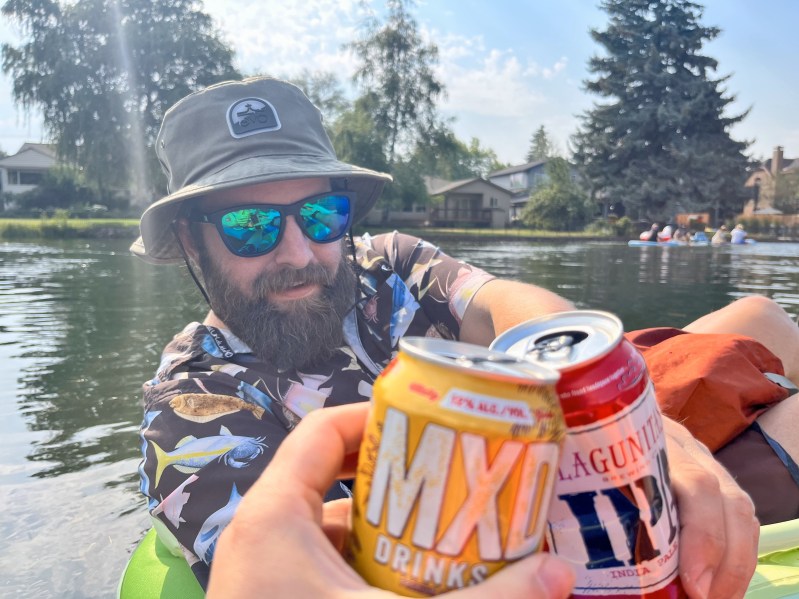 Bonus swag
Evo was kind enough to throw a few bonus hats in my box of goodies. While they may not necessarily correspond to mountain biking, they work well when grabbing a post-ride beer at the trailhead or floating the river.
Evo makes some quality mountain biking gear. They run great sales and have rewards programs for members. Plus, 2% of every Evo brand purchase goes back to youth charities. Evo has given $2,000,000 since 2001.
Swing by Evo's website, get outfitted in some excellent mountain biking apparel, and help out a charity. Win-win.
Editors' Recommendations