Even the strongest person can only get a line so tight by heaving on it, and in the outdoor world, there are any number of situations where tight lines are imperative. Whether you're tying a ridgeline for your tarp, setting up a washing line in camp, or using rope to attach your new kayak to the roof of your car, the trucker's hitch knot gives you the edge to get your line taut. Unlike traditional outdoor knots, this hitch isn't about securing or attaching ropes but creating a mechanical advantage using the rope.
A trucker's hitch is a midline knot used between two objects — in this instance, trees — to tighten the line. In theory, the trucker's hitch creates a system giving you a 3:1 mechanical advantage, giving you three times as much pull on your line. The friction from the rope limits this a little, but this knot is the best way to create a tight line without having to carry pulleys or ratchets into camp with you. Here's how to tie a trucker's hitch knot in four easy steps.
How to tie a trucker's hitch knot
Step 1
Attach one end of your rope securely to the first tree using a bowline knot or similar.
Then tie a midline knot a couple of feet short of tree two.
The midline knot we have chosen is a directional figure-eight knot — a traditional figure-eight tied with a bight of rope rather than a tail — tied with the loop towards tree two. You could replace this with an alpine butterfly knot or a bowline knot on a bight. You may have seen the trucker's hitch tied using a simple slip knot, but when the rope tightens, it can clamp and become extremely difficult to untie.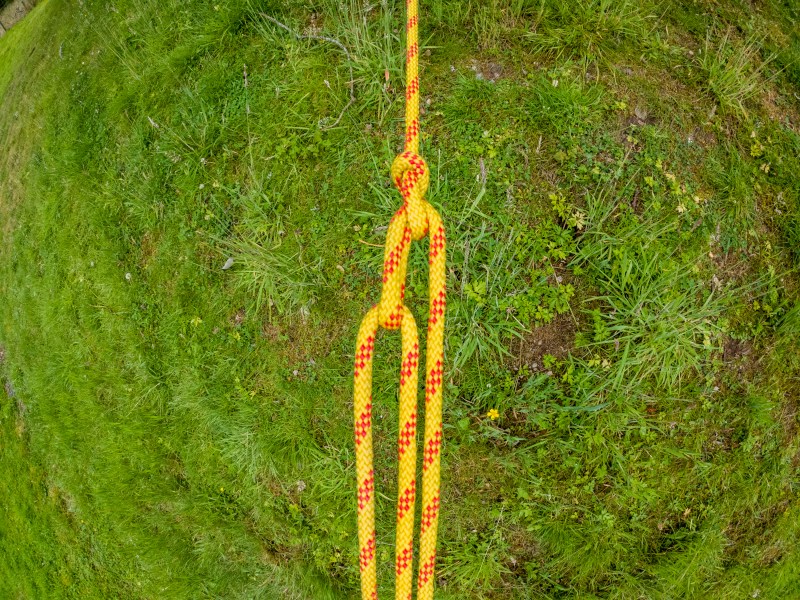 Step 2
Take the clean end from your figure-eight knot and run it around tree two, then back to your knot.
Loop this working end through the loop that is leaving your figure-eight.
Pull this rope until your line is tight. You may have to redress and adjust your knot to prevent the loop from becoming too large to work with, and you may also have to move or re-tie the knot if it pulls to tree two.
Step 3
Secure your trucker's hitch in place with two half-hitches. Use one hand to retain the tension on your rope and lay the loose rope over the top of the two lines going to tree two.
Take that working end up through your created loop and pull it towards your trucker's hitch knot.
Top tip: pinch the trucker's hitch loop while you tighten your half hitches to prevent losing tension.
Step 4
Depending on how much rope you have left, it may be easier to tie these half-hitches on a bight rather than pulling the whole tail through. Tie your first half hitch with a long enough bight to tie a second with the entire loop, then leave the tail trailing towards tree two. These half hitches and the trucker's hitch should easily untie, no matter how much tension you put on it.
Editors' Recommendations