Hydro Flasks are all the rage, thanks to their top-tier insulation that keeps your drinks hot or cold for a long period of time. They're also lightweight, so you can easily bring yours anywhere, whether you're hitting the gym or going for a hike. With the Hydro Flask as part of your daily routine, you'll want to keep it as clean as possible. If you're wondering how to keep your Hydro Flask squeaky clean, you came to the right place.
What you need to clean your Hydro Flask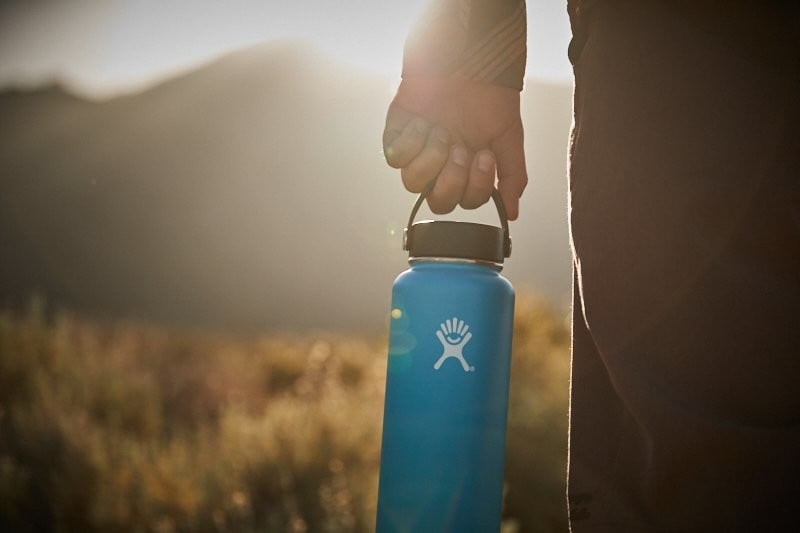 Whether you only drink water or you sip on other beverages with your Hydro Flask, it is essential to clean it regularly, especially if you want it to last for years. Before getting into the nitty-gritty of cleaning your Hydro Flask, you will need a clean bottle brush. A bottle brush helps you target all the spots that require extensive and deep cleaning (and that are hard to reach) — it's not enough to just rinse it with soap and water.
How to clean your Hydro Flask
You can start by cleaning your Hydro Flask with household items like vinegar, lemon, and baking soda. Distilled white vinegar is perfect if you want to give your bottle a deep clean. Pour the vinegar inside the bottle, and swish it around to cover the entire interior. You can leave it to sit for five minutes before rinsing it out. Repeat this process until all discoloration and stains disappear. If you don't want to use vinegar, lemon juice is a great alternative. Lemon is a great cleanser with a good anti-microbial agent that is safe to use on items that come in contact with your drinks. All you need to do is squeeze half a lemon into the Hydro Flask and fill the rest with warm water. Leave it to sit for half an hour, rinse it clean (getting rid of all residue), then let it dry.
For tough stains, use baking soda. You'll need 2 to 3 tablespoons of baking soda, plus warm water. Start with a small amount of water and add as needed. Mix the baking soda and water to form a paste. Dip your bottle brush in the paste, and scrub your Hydro Flask until the stain is removed. Once it's gone, use fresh warm water to rinse the bottle clean, removing all remnants of the paste.
What to avoid when using and cleaning your Hydro Flask
If you want to keep your Hydro Flask in great condition, you need to know the best way to handle it. First of all, never store your Hydro Flask inside the freezer. Instead of cooling your drink, it will deteriorate the condition of the bottle. This is because the double-wall vacuum insulation of the Hydro Flask protects the temperature on the inside. If you want colder drinks, put some ice cubes in it instead — you'll be surprised that they barely melt even after a lot of time has passed.
Another important thing is that when you clean the cap, no matter what type of cap you have (flex, wide-flat, stainless steel flap, or loop), you should avoid putting it in the dishwasher. Dishwasher soap can easily get stuck in the cap's smaller areas, which can lead to mold or simply affect how your beverages taste. To clean your cap properly, hand-washing is still preferred. Use hot, soapy water, rinse the cap thoroughly, then let it air dry. You should also avoid using chlorine or bleach when cleaning your Hydro Flask because it can affect the bottle's stainless steel. Hydro Flasks, when properly cleaned and maintained, can last for a long time.
With a sparkly clean Hydro Flask, you can stay hydrated without health risks.
If you enjoy fitness-related topics, we have laid out everything you need to know about CrossFit – so that you may decide which of these two demanding routines suit you best.
Editors' Recommendations