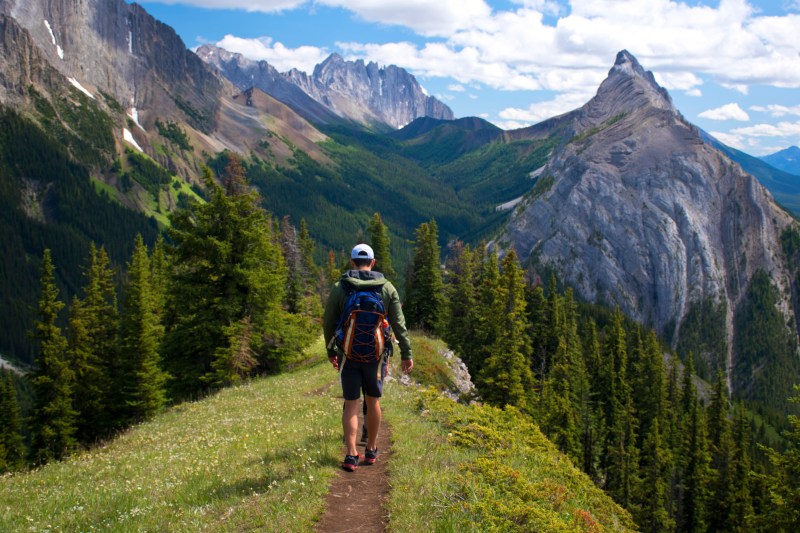 Winter is coming. But before we get ahead of ourselves, let's focus on fall and the cool (not yet cold) weather. The temps are already dropping across most of the U.S., and that means it's time to start layering up for hiking, biking, kayaking, or whatever brand of outdoor adventure you're into.
Honestly, layering your technical outdoor clothing is easy, but layering clothes poorly is even easier. Most of us, including this humble author, have been ill-informed about the right way to layer for years. So it's no surprise that the number one cause for outdoor rescue calls is as a result of exposure. Too many of us go out into the wild ill-dressed and unprepared and wind up paying the price.
That got us wondering about the "ultimate" layering system. So we sought out one of the world's foremost survival experts. John Barklow is an avid hunter, backcountry skier, and alpine climber. He's also a 26-year Armed Services veteran and Navy diver who was handpicked by the U.S. military to train Navy Seals how to survive the brutal winters of Afghanistan. He's literally the badass the other badasses call to figure out how not to die in the world's most inhospitable places.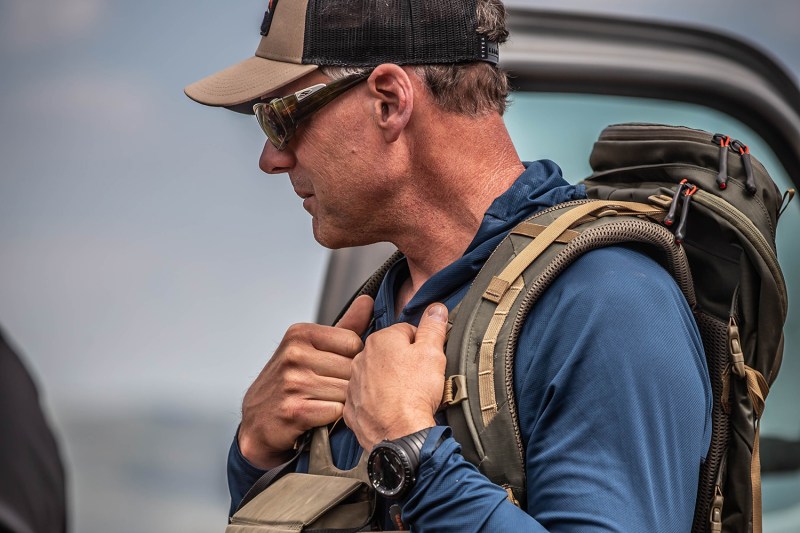 Developing the best outdoor clothing layering system
Barklow spent years working closely with the military to develop a simple, grab-and-go layering system that works for any terrain, in any climate, period. The first-generation PCU, or Protective Combat Uniform, started as an 8-layer, 24-piece system that he and his team refined over years of field testing down to just eight pieces. The final protocol has proven to work in any outdoor situation, whether climbing Mount Denali, crossing a river in the Atlas Mountains, or jumping out of a plane into the Pacific. This is the first, last, and only layering system you'll ever need.
Today, Barklow works as the Senior Product Developer of Hunting for Sitka Gear, where he's been fine-tuning his system even further since 2015. He confirms that the best outdoor clothing layering system is designed with one goal in mind: managing moisture. Staying dry is priority number one in any situation. If you can stay dry, you can almost always find a way to stay warm, and that's how you survive. Here's how.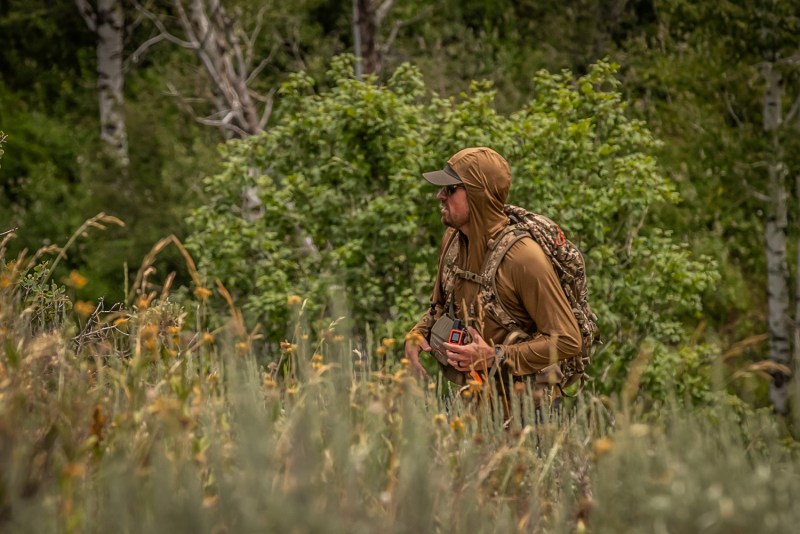 The best and only outdoor clothing layering system you'll ever need
The foundation layer
The first and most critical component of a good technical clothing system is your base or "next-to-skin" layer, consisting of a top (piece #1) and a bottom (piece #2). It sets the foundation of every other piece layered on top of it. These two pieces should be as thin and light as possible because they're your first line of defense in managing moisture. Barklow confirms that contrary to popular belief, this layer is not meant to warm you up or cool you down. Rather, its sole purpose is to improve the evaporation of sweat and moisture off and away from your skin.
As far as finding the right material, leave the cotton or any cotton blend at home. Your two best options are either synthetics (like polyester, rayon, spandex, or some combination) or good merino wool. According to Barklow, "There really is no right or wrong. It's shooter's choice." They each have their pros and cons.
"Synthetic is a little less expensive, a little more durable, dries a little quicker, but it does not manage body odor very well, no matter what chemical application we apply." He goes on to say, "Wool is a little more expensive. It's not quite as durable, doesn't dry quite as quickly, but manages body odor exceptionally well. So [your choice] really comes down to personal preference."
The soft shell layer
Next is your durable soft shell pants layer (piece #3). "It's kind of like your armor," said Barklow. This layer goes over your foundation layer to protect against scrapes, cuts, and scuffs in the wild. It's especially important when bushwacking through dense brush to keep your legs from getting chopped to pieces. There are plenty of great options on the market. Whichever hiking or outdoor pants you opt for, make sure that they allow for good freedom of motion so you're not "fighting" against your pants with every step.
The windbreaker layer
Wind can be brutal, even downright deadly. Strong wind is devastatingly effective at whisking away body heat. That's why a proper windbreaker is important enough to warrant its own layer. The best windbreaker (piece #4) is lightweight, breathable, and more versatile than any rain gear.
Barklow recommends or with GORE-TEX Labs' Windstopper tech. But he was careful throughout our chat to point out that, while he works for Sitka, there are plenty of great options available from his competitors. The key is that the one you choose be 100% windproof and lightweight to allow you to move freely and comfortably.
The active insulation layer
In cold or even cool weather, an active insulation layer (piece #5) is essential. This should be a heavyweight top made with synthetic fleece or wool (either merino or traditional) that's versatile enough to work as an outer layer or a mid-layer. "It's designed to be worn when you're active," Barklow told us. The key is that it be very breathable but warm. It should retain body heat without making you overheat.
Again, there are hundreds, if not thousands, of options on the market. Here, Barklow recommends the that he helped develop. In Sitka's words, it uses "low-bulk PrimaLoft Evolve active insulation [to deliver] plenty of warmth when you're still, [but] breathes well and manages moisture when you're moving and dries quickly if it gets wet."
The static insulation layer
Barklow confirms, "Static insulation is the first piece that I consider a critical component of my survival system and never go anywhere, no matter what I'm doing, year-round … that I don't bring some form of puffy jacket [piece #6]." Again, the exact type is your call. "That could be a micro-puffy jacket with down. It could be a synthetic puffy jacket with a hood for a later season. It could be a treated down piece, super-crazy warm … No matter what it is, I always have a static puffy jacket."
Because of the way our bodies regulate our core temperature, we need to always be stingy with our body heat. "The way a static puffy jacket is built is with loft. And that loft, either created through down, treated down, or synthetic insulation, has dead air space. And so as our body heat radiates away, it traps [heat]."
As to which material is best, Barlow again says it's up to you. The key is that the design, whether made with down or synthetic insulation, should have a high loft and be tightly knit to retain maximum body heat, even when you're not moving. "If you're going to pick one jacket with one insulation, you're new to this, or you travel a lot, and you never go to Arizona, synthetic is the way to go. Synthetic is the workhorse. It's the pickup truck of insulations. It's idiot-proof. I can get this wet, I can fall off the back of a raft in Alaska, I can soak this jacket, and I know … that [my body heat] can cook this dry." That's because the best synthetics "will keep 90% of [their] insulation properties when wet." Down, on the other hand, has lots of limitations, with the most critical being that it does not insulate when wet. Treated down does, but still not as effectively as synthetic alternatives.
Bottom line: This layer provides life-saving warmth to stave off hypothermia. In Barklow's words, "The importance cannot be overstated."
The rain protection layer
The final layer of a good technical clothing system consists of two pieces: s rain jacket (piece #7) and rain pants (piece #8). Barklow likens these to car insurance. "Nobody wants to buy it. But when you do need it, you're really glad you bought the best you could afford." He goes on to say that "it's the most expensive [layer], takes the most care, and I hope to God I never have to wear it while I'm on a trip."
But he confirms that these are "life-saving, life-critical survival pieces of clothing that I never go anywhere without." Bottom line: "None of the other layers I've talked about are worth a sh** without rain gear." Without the ability to stay dry in wet weather, nothing else matters.
And, no, starting a fire in the wild should not be one of your first priorities for survival. It's time-consuming and labor-intensive, and focusing on managing moisture via your properly packed and planned technical clothing system is where you should expend your energy.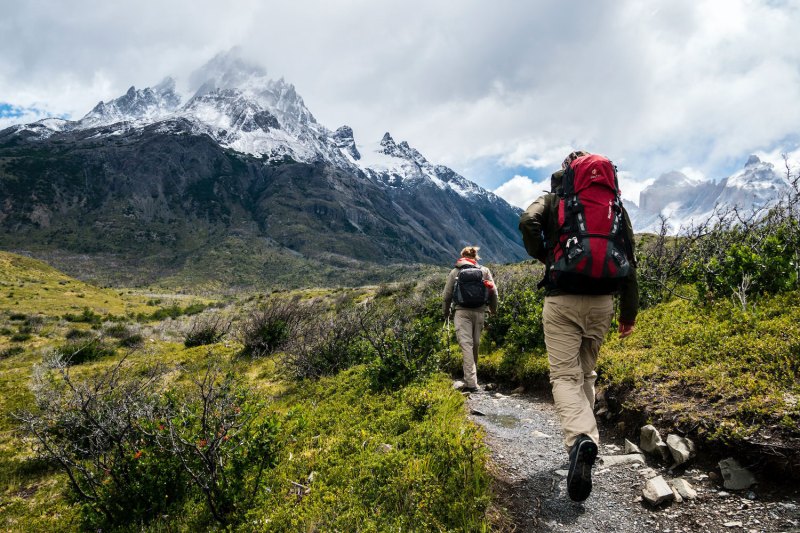 The bottom line
For whatever hardcore outdoor adventures you're packing for, all of these layers will provide you with the best chance of survival in any situation. At most, these are the only eight pieces you'll need. Barklow's last piece of advice to us, however: "You don't always need all of these layers." In bone-dry conditions, without a hint of rain, you probably don't need a rain layer, for example. If you're hiking the Florida Everglades in July, a puffy jacket probably isn't necessary. But, if Murphy's Law (and maybe your own mom's sage advice) has taught us anything, it's that it's better to have it and not need it than to need it and not have it.
Editors' Recommendations