Winter presents unique challenges, both for comfort and fashion. As temperatures drop and snow falls, you might be wondering how to keep your feet warm and dry. Thankfully, there are many boots out there created for just this task. We've gathered the best boots for all your outdoor needs. These boots will keep you looking good whether you're popping into the city for some last-minute shopping or spending a day on the mountain.
Winter is a lovely time to be outside, and if you haven't yet tried snowshoeing or explored your local trails blanketed in a fresh layer of powder, you're in for a treat. If you are venturing out and plan to encounter some ice, you might consider a pair of to give you some extra traction on the trails. Be sure to wear layers, such as this wool base layer, and you'll be set for whatever adventure is in store.
Columbia Sportswear Bugaboot Celsius Plus IV Omni-Heat
For Hiking
If you're headed out for a trek that will see you trudging through miles of snow and ice, you need a pair of boots that will offer you warmth, ensure your feet stay dry, and provide plenty of support and traction. That's why we recommend a pair of boots that were first and foremost designed for hiking, but that just happen to be waterproof and warm and have a good high rise that keeps out snow even when the drifts have piled up. The Columbia Bugaboot Celsius Plus Omni-Heat Infinity Boots have an aggressive tread pattern that'll help you stay upright in slippery conditions. The boot is rated to keep feet warm in cold temperatures and is waterproof enough to keep you dry even if you hang out in standing water, much like John Cleese in that classic Monty Python sketch. Too obscure? Anyway, great winter hiking boots, sir.
Danner Mountain 600
For City and Trail
Danner boots are made in Portland, Oregon, and are high-quality, well-made boots that'll last. Their Mountain 600 is totally waterproof, super comfortable, and looks good enough to wear into the brewery or coffee shop after your hike. While they definitely look more like a hiking boot than the Sorel boot below, they still make a great everyday boot if your style is outdoorsy. A Vibram sole rounds out this boot, providing great traction and comfort.
Sorel Ankeny II Mid Boot
For Style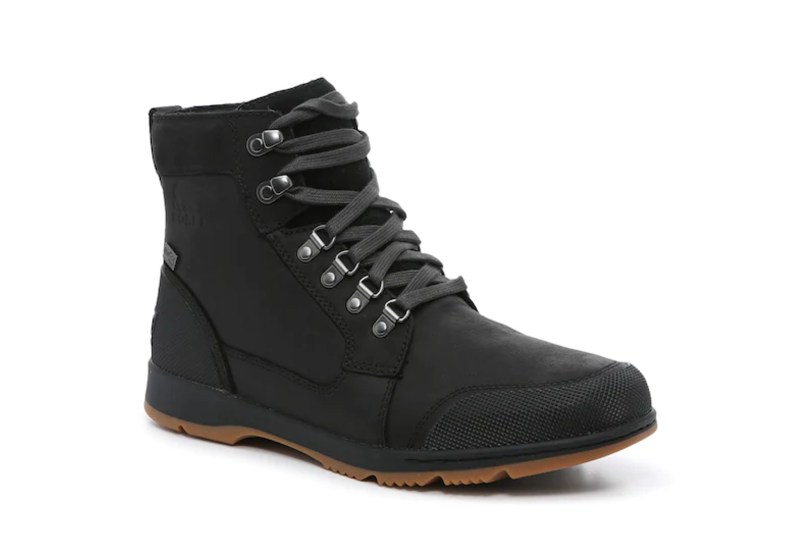 If you want to look good around town while still getting some serious winter protection, consider the Men's Ankeny II boots. With a waterproof leather upper, OutDry membrane, and rubber in the heel and toe, these boots offer serious weather protection without sacrificing on style. One hundred grams of insulation will also keep you warm and comfortable in cold conditions.
Korkers Polar Vortex Winter Boots
For the Boa Lacing System
If you're not familiar with the Boa lacing system, consider this a PSA. Boa laces use a single dial to tighten or loosen a piece of footwear's laces, ensuring an even, secure lacing that can be completed with a single hand even while you're wearing gloves. The Korkers Polar Vortex Winter Boots have a Boa M2 system that cinches them tight with just a few twists and loosens in a second when the central disc is popped forward. And what's perhaps an even more unique feature is the OnniTrax 3.0 Interchangeable Sole System, which allows the boots to use two different tread patterns depending on the conditions at hand. Or at foot, that is.
Editors' Recommendations