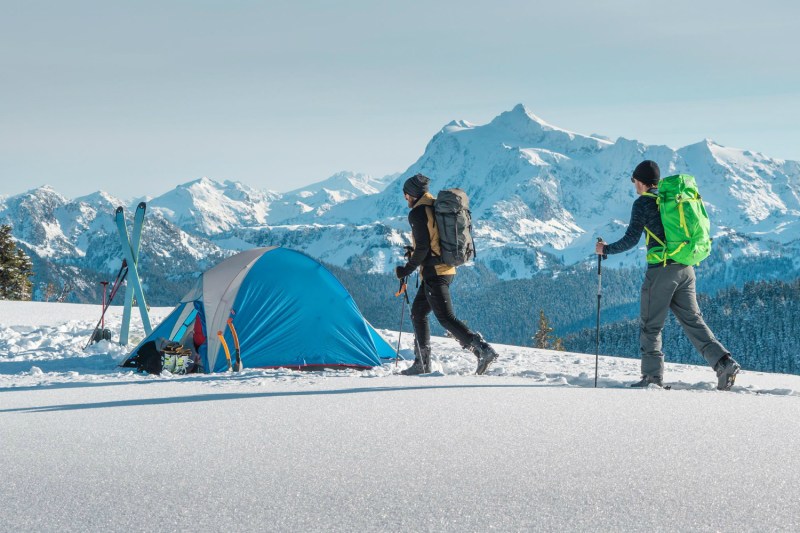 For about a year now, we've been waiting for the release of Smartwool's buzzed-about Intraknit base layers: the Merino 200 Series, Merino 250 Thermal Series, and Merino Logo Hoodie. Legend has it (OK, Smartwool told us), that Intraknit is the first reimagining of cut-and-sew base layers in the last 200 years. The pieces have fewer seams and a more articulated fit that is body-mapped for performance and ventilation. The result is supposed to be less bulky and easier to move in.
Before we get to whether that's true, how did Smartwool go about making this type of futuristic garment?
Intraknit uses a patent-pending 3D-knitting machine that yields nearly zero waste and can transition from insulation to ventilation zones without using fabric panels. Normal cut-and-sew base layers are made from many pieces of fabric sewn together. Smartwool Design Director Sue Jesch says this simple base layer is a "glimpse at what is to come with our future product design."
Intraknit, by the way, is being hyped to monumental proportions. And now it's here for everyone to snag before fall marathon season and the winter powder runs. For the next few months, Intraknit is exclusively . The range is available for both men and women, but the question remains: Should I really spend $120-plus on a new base layer this year?
Technically, Intraknit base layers are just more 100% Merino wool next-to-skins that tout the joys of odor-control and thermoregulation wool. This category is already stocked with heavy hitters like Icebreaker, Patagonia, and Arc'teryx. But what you won't see on Intraknit's label is the 10 years of development it took to make Intraknit a reality.
Smartwool even adopted a new knitting strategy formerly used in haute couture fashion.
The Manual set out to put all the hype to the test. We were one of the first to receive an Intraknit base layer, so we took it for a freezing run to see whether it's worth the investment. Did we "push past just going far and feeling good" to "venture beyond?" as Smartwool says the base layer will inspire?
Yes, we did. Here's our honest review.
First Impression: "Meh"
Merino wool is a performance fabric, but we wouldn't call it comfortable. We slipped on the Intraknit Merino 250 Thermal Series ¼ Zip without an undershirt and grabbed our keys for a run outside in the snow. The instant feel was not comfortable. In fact, we had thoughts that the slightly rough wool would irritate our skin, especially at the high collar neck. We also wondered whether Intraknit would keep us warm because the garment is thin, especially in the gender-specific venting zones, but also in the ribbed areas that offer added durability.
And where's the added insulation? Smartwool says insulating terry loops are seamlessly paired with mesh ventilation to create a mapped balance of warmth and breathability, but we were skeptical.
Headphones on.
Mid-Activity: "Well, that's different … "
Two minutes into the run and our elbows felt amazing. Yup, elbows. Smartwool's 3D sculpting allows for unique flex fabric to wrap around the joints, which dramatically enhances the base layer's movement. Normally you feel a tug at your elbows or knees, which makes you feel stuck and restricted. The greater range made for a more relaxed stride.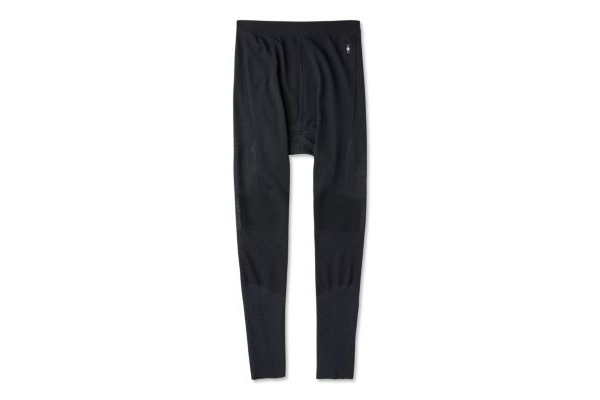 A mile in and we suddenly realized that we should be cold, but weren't. It was like running in a human sous vide machine where the temperature remains perfect. That thermoregulation made us push farther, plus the athletic fit was slim without feeling like a sausage casing and fell indulgently below the hip to keep our bum toasty.
Both warmth and breathability remained after three, four, then five miles, and we swear the fabric became softer the farther we ran.
Passing a coffee shop window, we had our first fashion-peak and all we needed was a pair of Vuarnet Glacier aviators and we'd be James Bond in the Spectre snow chase scene. Intraknit's high neck is extremely debonair and the slight variations in color (signaling different zones of breathability and insulation) are edgy and modern. Look good, feel good. We ran another mile on that high.
Final Thought: "I am a golden god!"
Returning to home base, we felt amazing and credit a lot of it to Intraknit. Pushing your body athletically in cold weather is difficult, but the Intraknit design succeeded in helping us "move better" and therefore "work more efficiently, and perform at a higher level."
The gender-specific ventilation zones turned out to be a gift from the wooly gods, and movement and comfort reigned supreme compared to other base layers.
Perhaps most importantly, the base layer really did feel like butter after working out in it. Meaning either our body heat softened the wool or we developed tougher skin. We're pretty sure it was the former.
Article originally published February 28, 2019. Updated in September 2019 to include information about product availability.
Editors' Recommendations