Shaving is a morning ritual. Even more than a hot shower, shaving lets us know we're wide awake: Unlike with most of our grooming regimen, though, we must be awake, alert, and present in the moment, or else things could get messy, if not downright dangerous.
Like all rituals, shaving also requires the right accouterments. Shaving gels, shaving creams, and aftershaves may come and go, but a trustworthy razor may become a lifelong companion. The razor you prefer can change based on your skin and hair type, which is why we've reviewed a wide selection of offerings to bring you the best razors for men in 2023.
Looking for a new razor to add to your shaving routine? Look no further, as we have what you need right here.
Oui the People: The Sensitive Set
Best luxury shaving experience
If you really want to level up your shaving routine, take a look at what Oui the People has to offer. Oui the People's razor may only be single-blade, but this razor is specially designed to provide a close shave without all the hair-pulling and razor burn that usually follows. Yes, this even applies to those of us with extra-thick and/or curly hair.
While this razor's price tag may seem high, Oui the People offers a pretty sweet deal with this bundle that includes Oui's Sugarcoat Moisturizing Shave Gel-to-Milk that will take your shave to a whole 'nother level with its inclusion of dandelion root extract, Vitamin C, and aloe vera leaf juice to nourish your skin and prevent irritation.
Oui the People: The Sensitive Set
Best luxury shaving experience
Schick Hydro Skin Comfort Stubble Erase Razor
Best for handling stubble
Schick will elevate your entire shaving experience with the launch of its Hydro Skin Comfort product line. Got a shaving challenge? There's a razor for that. We particularly like the Stubble Eraser version: This razor is perfect for those of us who want or need to skip a few days of shaving. The Stubble Eraser can comfortably handle up to seven days of growth without leaving your skin feeling prickly or uncomfortable.
A proprietary stubble comb aligns hairs with the leading blade for a close shave. Then 19 gel pools (the colorful blue stripe at the top of the razor) follow behind, infused with hydrating green tea to help soothe and refresh your skin on a microscopic level. The easy-to-rinse blades have three layers of comfort coating and Skin Guards on each blade for extra protection. The best feature is that the head of the razor moves in an eerily yet effectively familiar way, allowing it to hug the face's curves as if it were designed just for you.
Schick Hydro Skin Comfort Stubble Erase Razor
Best for handling stubble
Bevel Safety Razor
Best safety razor
Bevel has won our Grooming Awards before because the company has a penchant for paying attention to the details. This safety razor is one of the best we've ever tried. The silhouette is a simple T-shape with a brushed chrome, cylindrical handle that seems perfectly weighted to give an awesome, safe shave. You'll barely need to apply any pressure of your own, which is great for your skin.
To change the blade, simply unscrew the handle from the head, remove the top section, (carefully) pull off the razor blade, and replace it with a new one. Screw the assembly back together, and then you can get back to shaving.
Should you decide safety razors aren't your thing, you can chuck it into the metal recycling bin. We think it's the best because it performs as great as it look, yet it won't end up decomposing in a landfill for the next 1,000 years like most plastic disposable razors.
Bevel Safety Razor
Best safety razor
Schick Hydro 5 Disposable Razor
Best disposable razor
Disposable razors are an environmental nightmare, and we've yet to find one that gives a great shave. That said, we all know that moments arise when a disposable razor just makes sense. Equipped with five ultra glide blades, the Schick Hydro 5 Disposable Razor effortlessly glides across your skin, delivering an unbelievably close shave with each stroke. Say goodbye to irritation and hello to a smooth, irritation-free shave, thanks to the innovative skin guards that reduce friction between the blades and your skin.
This handy razor features a unique hydrating gel reservoir that outlasts ordinary lubrication strips, providing a luxuriously smooth and moisturizing glide throughout your entire shave. Enjoy the sensation of long-lasting hydration that keeps your skin feeling refreshed and nourished.
Schick Hydro 5 Disposable Razor
Best disposable razor
King C. Gillette Neck Razor
Best looking cartridge razor
The King C. Gillette razor seems to have been designed with Father's Day, birthday, and winter holiday gift-giving in mind. Its contemporary shaving technology comes in an elegant package that looks at home in either a traditional or modern setting, while the minimalistic handle design — in a deep midnight blue — offers a firm grip courtesy of the rubbery finish at the neck.
The razor ships with two of Gillette's Skinguard blades for sensitive skin, and it should be easy to find Gillette replacement blades that are compatible with the razor handle.
King C. Gillette Neck Razor
Best looking cartridge razor
The Art of Shaving Cross Knurl Safety Razor
Best for the safest shaving experience
The Art of Shaving's Cross Knurl Safety Razor draws on over a century of tradition to deliver a clean, close shave. If you ever worry that you're too clumsy to shave yourself well, this razor will help you boost your own confidence as you shave yourself with ease and remarkable precision. Even better, the closed-comb head design makes for a safer and gentler shave, and it works well to prevent nicks, cuts, and razor burn.
The Art of Shaving Cross Knurl Safety Razor
Best for the safest shaving experience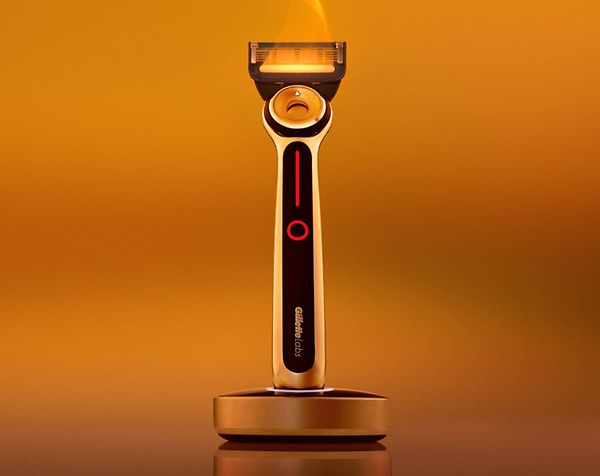 Gillette Heated Razor
Best heated razor
Designed to effectively replicate the delightful hot-towel shave experience, the Gillette Heated Razor offers an innovative shaving experience. Not only does it provide a pleasant sensation, but it also leverages the heat to open up the pores, ensuring a seamless and irritation-free shaving experience. The razor operates using a rechargeable warming bar and features a flex-disc head that effortlessly adapts to the unique contours of your face.
Gillette Heated Razor
Best heated razor
Cremo Barber Grade Razor
Best neck razor
Equipped with five durable blades, the Cremo Barber Grade Razor ensures a remarkably close shave, effortlessly removing even the most stubborn facial hair. But it doesn't stop there. With three layers of comfort coating, a coated guard bar, and lubricating pools infused with Cremo's renowned impossibly slick Shave Cream formula, this razor goes above and beyond to combat razor burn, nicks, and irritation.
Crafted with style and precision, the razor boasts a weighted handle that promotes proper balance, maximum grip, and increased control. Say goodbye to slips and hello to a confident, steady hand. Additionally, the integrated pull-back trimmer caters to those meticulous finishing touches, enabling precise edging and shaping of facial hair and those tricky areas, such as under your nose.
Cremo Barber Grade Razor
Best neck razor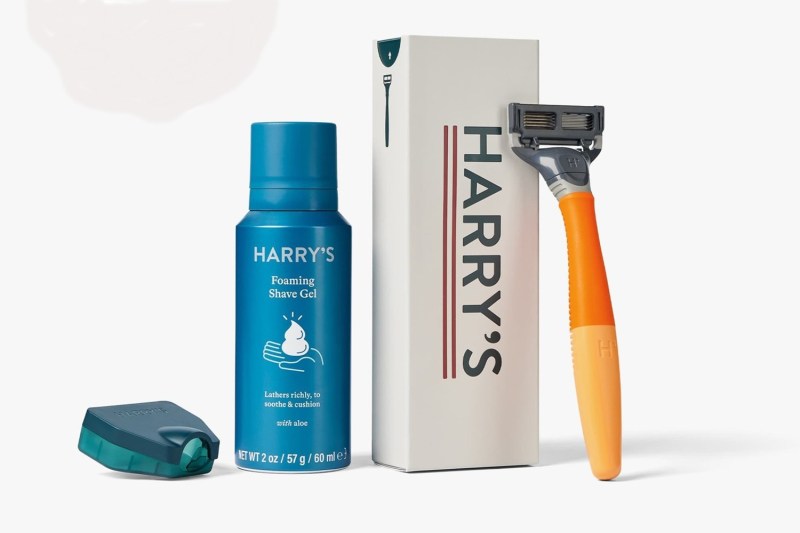 Harry's
Best subscription service
These days, it's tough to pick out one winner in the shaving subscription service war. From traditional retail brands to the startups, companies are realizing that people don't always have time to shop for incidentals. So why not have them delivered?
What makes Harry's the best? Simple: Cheap blades that offer a decent shave. We also love the selection of razor handles – from the brightly colored Truman in orange, indigo, or tropical green, with its rubberized, textured grip, to the metallic Winston in graphite or holiday blue, with the elegance of a sports car. There are also collectible limited-edition versions like the Harry's Pride Shave Set, where the company donates $5 per purchase to The Trevor Project to help vulnerable LGBTQ+ youth.
In the hunt for the best razor for men, Harry's has nearly everything to care for all your grooming needs, and it can all be delivered right to your doorstep. Join its premium membership program for $15 a year and save 10% on all Harrys.com orders, free engraving on handles and razor stands, faster shipping, exclusive access to member-only products, and early access to new products.
Harry's
Best subscription service
Frequently Asked Questions
When is the best time to shave?
How fast facial hair can grow over 24 hours varies based on genetics, nutrition, environment, and more. The best time to shave is when you need to look your best. Most of us want to look neat and clean for our 9-to-5 jobs, so a morning shave is usually the right time.
If you're working the night shift, you'll want to shave in the evening. Either way, your beard keeps growing (hence the term "5 o'clock shadow," referring to the light beard you may have at the end of a workday), but most of us can make it that far and still look well-groomed. Some guys may want to duck into the restroom for a quick refresher shave if post-work plans require a clean look.
How often should you change blades on a razor?
It's important that your razor is sharp to avoid nicks and cuts that you can get from putting too much pressure on the blade or from pushing into and against your skin. Microscopic imagery shows how blades lift and slice hairs at the root: When blades are dull, we're more likely to push harder to get a clean shave, therefore cutting right into the skin, rather than allowing the blades to rest on the surface and do the work for you.
Depending on the quality of the blades you're using, the thickness of your beard, how often you shave, and the kind of shaving product you're using, you may find that you need a fresh blade every day. Others can go a week or so without changing. Blades that are out of their packaging will be dulled by air and moisture, leading to corrosion and a dull shave.
Finally, disposable razors aren't our favorite from an environmental standpoint, but unless you're using them while traveling or at the gym (where you're going to throw them away after one use), you can get five to ten uses out of them.
With any blade, as you're shaving, be mindful of any pulling or tension on your skin. Do you have to go over a patch more than once to catch all the hair? Do your face a favor and grab a fresh blade.
Make sure to check out our other reviews of the best face washes, best shaving creams, and best moisturizers, too, so you — and your face — can look as sharp as possible.
Editors' Recommendations