For Chef Ed Cotton of Jack & Charlie No. 118, there's nothing like the creative cooking process of a raging wood fire oven.
"When coming up with dishes, I just really look at them with a different pair of glasses and see if I can see something different that I can do to it by using the wood-burning oven," said Cotton. "What can I do to help elevate it? Is it worth it? Will people notice it? Is the end result of the dish much more noticeable if I chose not to use the wood oven? These are a bunch of things that I think of and put into deep consideration."
Incredibly diverse, the wood oven is used by chefs for foods ranging from wood-fired pizza to Japanese binchotan grilling. But it's a complicated process, and anyone interested in the art of the wood oven will be remiss not to experience the carefully crafted menu at Jack & Cotton No. 118. From delicate seafood to pork, here, the art of wood fire cooking is elevated cuisine.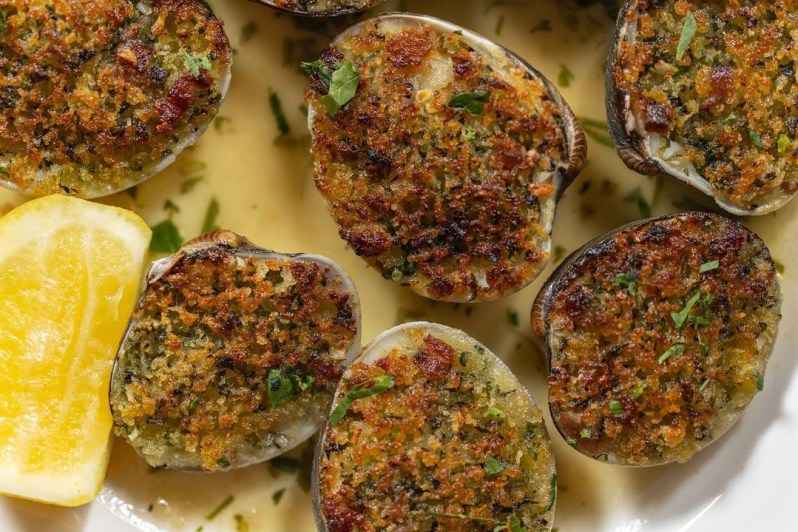 Cooking with wood is a choreographed dance
Much of the menu at Jack & Charlie No. 118 is centered around an 800-degree Fahrenheit wood-burning pizza oven. And for that process to succeed, Cotton believes the best wood for his oven is a curated combination of oak, maple, cherry, ash, and beech.
"They all work in different ways," said Cotton. "Some burn faster, and some burn slower, but the best part about using them all is that they all work well with one another and help impart a tremendous amount of flavor into the food that is cooking in the oven. The end results give that signature flavor to our food that really gets people talking about how great everything tasted. The wood helps with it all."
But wood is only the beginning. With so many different dishes and ingredients, all of varying sizes and styles, ensuring a dinner service runs smoothly is a carefully choreographed dance. Food is constantly moving and spinning around in the oven, some being covered or pulled, either moved closer to the mouth of the oven for char or further away to slow down cooking. It takes skill and experience to manage this dance.
"You really can't take your eye off what's inside when you're dealing with an 800-degree inferno," said Cotton. "Things can definitely get away from you, but this is why it is very important to watch the items that you are cooking like a hawk. You need to have a strong person on this station. Not only does the cook have to understand how to physically cook the items inside, but they need to fully understand how to control the heat, whether it be by adding a few pieces of wood to the fire or not adding more wood to the fire."
The art of wood-fire cooking
While not every item on Jack & Charlie's menu is cooked in the wood-fired oven, many of the most interesting items are. An intensely savory Wood-fired Clams Casino, served with crusty bread, is one of the best versions anywhere. The hearty Snake River Farms Pork Chop A' La Diablo is rich and smoky, the marbled pork balanced by the acidity of peppadew peppers. Even the unique Bone-In Duck Meatloaf, which is cooked in a conventional oven, is blasted in the high heat of the wood oven before it reaches the diner.
Naturally, the capacity and style of the wood-burning oven lends itself to this variety of ingredients — anything can be cooked in the oven. One particular strength is large, show-stopping foods. The Wood-fired Halibut Tail for Two is a new dish that represents this. Filleted table-side and served with charred Chinese broccoli and braised pig's feet, and little neck clam ragout, this item is part of the Sunday Summer Supper Series.
But the wood-fired oven can also be used in conjunction with other cooking methods, creating dishes that feature various techniques. For Cotton, one of his favorites is the Jack's Cut Prime Rib, served only on Fridays and Saturdays. A weeklong process from start to finish, the prime rib is deboned in-house, brined for three to four days in corned beef brine, and rubbed with Dijon mustard and pastrami spice. While the prime rib is first slow-roasted at 250 degrees Fahrenheit in a convection oven, the butchered ribs are placed in the wood oven overnight (when the fire is mostly gone), picking up a smoky flavor. However, the prime rib here is cooked twice.
"When the prime rib is finished cooking, I let it rest for 30 minutes or so, then remove the butcher's twine and then coat it again in Dijon mustard all over and cover it with pastrami spice," said Cotton. "Right before service, I transfer it to the wood oven and char every square inch of the rib until a deep caramelized crust appears. The prime rib is held in an extremely low-temperature oven for service and carved to order."
This combination of cooking techniques and heat management is central to understanding the surprisingly subtle art of the wood oven, according to Cotton.
"One of the most common misconceptions about wood-fired ovens is you are cooking just from the heat of the fire," said Cotton. "It's not just from the heat of the oven, but it's the actual oven that is doing the work. The design of the oven, along with the stones, has a lot to do with how it holds and retains the heat. Another one is that people are blaming wood ovens for ruining our environment. Burning firewood does release carbon into the atmosphere, but it is way greener than burning fossil fuels."
Editors' Recommendations