If you like beef, you like prime rib. There are no ifs, ands, or buts about that. Prime rib, perhaps the most classic of classic beef cuts, is a thick slice from the primal rib section of the cow and features your typical "eye" of rib (with or without the actual bone) surrounded by deliciously marbled muscle. More often than not, the prime rib is saved for special occasions, such as the holidays.
To better understand how to cook prime rib, we tapped the culinary wisdom of Chef James Tracey of Monterey, a modern American Brasserie in New York City. At Monterey, the tableside prime rib service is the menu's star. What better expert is there to learn everything about this American classic?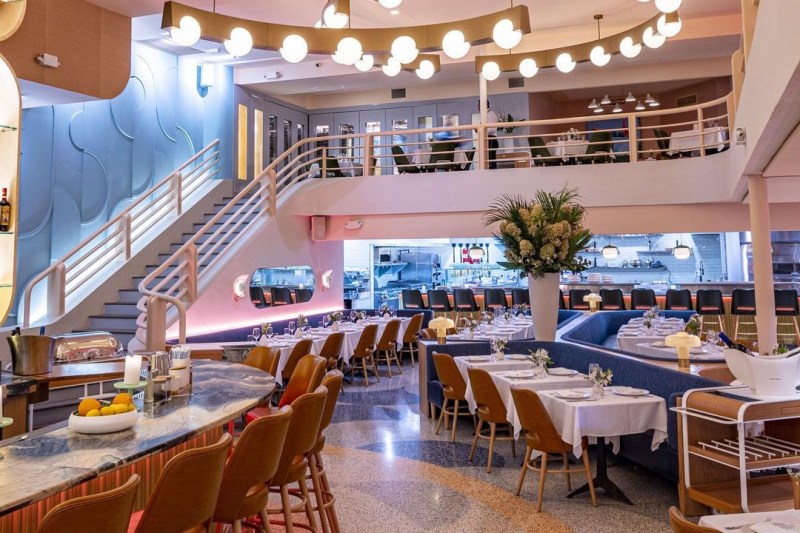 How to select a prime rib
Broken down, a serving of prime rib will be a thick slice from the primal rib section of the cow and features your typical "eye" of rib (with or without the actual bone) surrounded by deliciously marbled muscle.
However, prime rib, aka standing rib roast, is different than other meats like your standard steak or a rack of ribs — instead of throwing it on the grill, you bake it as a roast for a couple of hours. Sounds simple, right? In a sense, it is, but there are a few things you should know before you slap on your favorite apron and fix it up for the first time.
At Monterey, they use a series of meat purveyors for their prime rib. While Monterey always uses USDA Prime for their prime rib, you, as the home cook, can opt for USDA Choice, which will still have a good amount of marbling. However, Monterey recommends splurging a bit and going for prime quality. After all, prime rib is a special occasion dish, so why not purchase something with the best marbling and quality?
Finally, there's the aging process. Monterey wet-ages their prime rib, something that they recommend for the best experience. When purchasing your prime rib, look for a minimum of 28 days of wet aging. While wet aging doesn't add that meaty funk like dry aging, it's imperative for tenderness. If the meat isn't labeled with that information at the store, we recommend asking your butcher.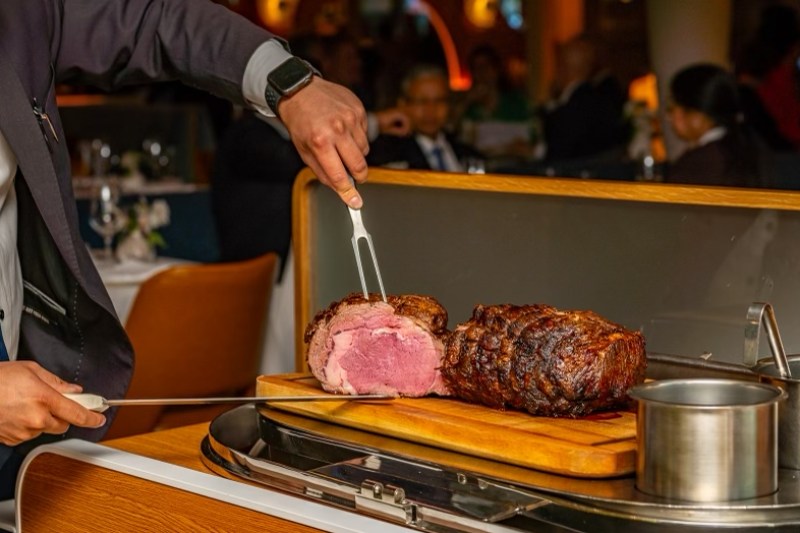 How to cook prime rib
The key to cooking an excellent prime rib is simplicity and technique. Basically, you don't need a secret spice rub or a plethora of herbs to make prime rib delicious — high-quality meat and proper cooking temperature will be more than enough.
"Salt and pepper 6 hours to 20 hours ahead of time and let dry uncovered in the fridge," said Chef Tracey. "You need a heavy layer of salt on the outside, especially if the rib is thick. We start at 425 degrees [Fahrenheit] for 20 minutes, then lower to 200 degrees [Fahrenheit] until the internal temperature is 100. We keep the rib after that in the cart."
Another tip recommended by Chef Tracey is using butcher twine: "Trim the outside to a 1/4 inch of fat all around and then tie with butcher twine. This helps the ribeye cook more evenly and looks nicer when served."
To check the meat temperature, a great tool is using a high-quality probe thermometer. Simply stick the probe into the thickest part of the roast and keep a close eye on the temperature. Cooking the roast to 115 degrees Fahrenheit on the inside will yield a few rare slices in the middle, mostly medium-rare slices, and a few medium slices on the outside — this should accommodate most refined steak eaters. If anyone wants their slice more well-done, you can always cook the roast for a few more minutes.
How to carve prime rib
When the prime rib arrives at Monterey, it's dinner and an event. First, the cart — impressively large, yet elegant — is opened by the server, revealing a gorgeous whole prime rib roast. Then, taking a sharp knife, they carve, slicing off a generous portion onto a plate before they ladle on the rich, in-house au jus. It's classic, old-school American steakhouse, all in a dining room that emotes an art deco, Miami vibe. It's a one-of-a-kind experience.
The key to all of this, however, is properly carving that prime rib. The last thing you want is to spend all this time roasting an expensive cut and have it hacked to death. According to Chef Tracey, all you need are "a sharp slicer, meat fork, and someone who can cut straight. The knife is called a slicer because that's how you need to use it. If you don't use a long slicing motion, it could look like a chainsaw cut it."
Once the prime rib has done its time in the oven, you also must resist the urge to start slicing right away, even if your guests are growing unruly (give them some great craft beer while they wait). You need to let the roast rest for about 30 minutes so the carryover cooking can take place.
After you let the roast rest, then you can give in to the lamentations of your hungry guests and start carving. We're partial to inch-thick cuts, but really it's a matter of personal preference. Some people enjoy super-thin English-style cuts of prime rib.
Side dishes for prime rib
The classic accompaniments for prime rib are au jus, horseradish sauce, and Yorkshire pudding. At Monterey, they serve their prime rib with a rich bone marrow au jus, fortified with veal stock. It's supremely silky and perfect with their buttery potato purée. To help cut through the richness, also have plenty of grated horseradish or horseradish cream sauce. You also can't go wrong with a baked potato for the starch and asparagus or baked spinach for the vegetable.
As for wine, you'll want a "big" Cabernet or Merlot that pairs well with the flavors of the beef. Chef Tracey prefers his prime rib with an 86 Margaux. However, it's also important to find a wine that appeals to you — the most important critic.
Prime rib occupies a hallowed space in the minds of meat lovers. Still, you shouldn't let that deter you from attempting it yourself. Learning how to cook prime rib can revolutionize your dinner parties, family dinners, or dinners alone.
Editors' Recommendations