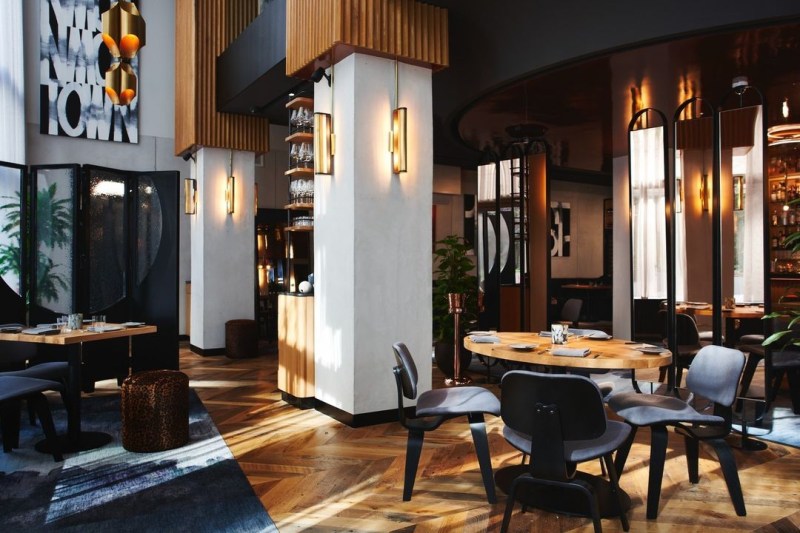 In Japan, one charcoal reigns supreme. Known as binchotan, this artisanal charcoal is prized by chefs in Japan for an array of dishes, including classic yakitori and Japanese yakiniku barbecue. In New York, Australian-born Chef Shaun Hergatt has created a new selection of grilled dishes at his Michelin-starred restaurant Vestry, all centered on highlighting the art of Japanese binchotan grilling.
"After working with the charcoal for years," Hergatt said. "I realized how much it can help make the taste of ingredients so much better and really bring out the flavors, and I want our clients to be able to enjoy it."
What is binchotan?
First, binchotan doesn't resemble the standard charcoal most people might be familiar with at a typical American backyard barbecue. If your first image of charcoal is square, vaguely chemically smelling Kingsford charcoal briquettes, binchotan will look nothing like it. Resembling cylindrical pieces of wood, binchotan has been used in Japan for centuries. Made from Japanese oak, the key to binchotan's prized nature is its long-burning nature (3 to 5 hours), odorless, and smokeless, allowing grillers to make incredible food without worrying about any unpleasant aromas. Or, being rushed for time.
"It's a very refined charcoal and has a very specific and layered flavor profile," Hergatt said.
The secret to binchotan's long-burning nature is that the wood is fired in a kiln until it's carbonized. Then, ash and sand are tossed on the binchotan to put out the fire, often resulting in a whitish-gray color. One touch, and you'll also realize that binchotan is incredibly hard. And finally, the main attribute — the heat generated by these cylindrical charcoal is awe inspiring — up to 1,800 degrees Fahrenheit! Although the prices for this artisanal charcoal can be eye popping, costing several times more than standard commercial charcoal ($100 for 4 pounds for some varieties).
For the Japanese grill, binchotan is most often used at yakitori restaurants or yakiniku establishments. Both styles focus on meat, with yakitori being chicken-centric and yakiniku being a combination of beef or pork due to its historical lineage to Korean barbecue. This type of meat grilling also focuses on small pieces of meat, often on skewers or in thin pieces, and designed to be eaten with copious amounts of alcohol in social settings.
The long-burning abilities of binchotan, often lasting 4 to 5 hours, are great for these types of restaurants when working through busy rushes. As a bonus, binchotan being smokeless and odorless, is also great for tight spaces, making it excellent for small kitchens in urban Japan and large American cities like New York, where space is at a premium. However, because of its density, binchotan will take longer to light than other forms of charcoal. It's not uncommon for binchotan to take 20 to 30 minutes to light fully.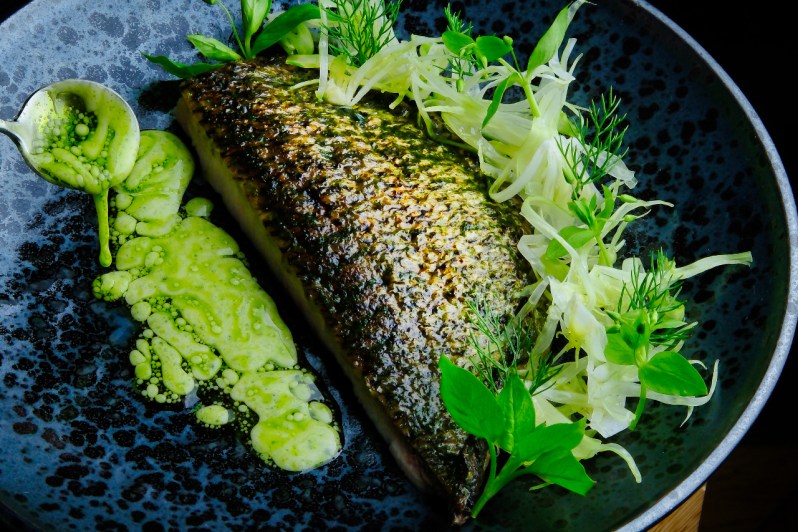 Vestry's innovative binchotan dishes
Since Vestry is heavily inspired by traditional Japanese cuisine, it's no surprise that the new binchotan dishes helmed by Hergatt are seafood-forward. However, the dishes here are also uniquely original, with traditional Japanese ingredients and techniques simply serving as a starting point. And given the island nation's propensity for fish and shellfish, these new binchotan items are some of the best on the menu.
"The white Carolina Prawns — everyone loves grilled shrimp, and I am loving the combination of grilled shrimp with red kosho and garlic chives," Hergatt said. "It is an explosion of flavors. I am also very happy with the binchotan grill for fish. It works very well with any fish that has skin. For example, Local Black Brim has an exceptionally great taste because the skin gets so crispy and smokey."
By using binchotan for grilling, Hergatt allows the various delicate seafood items to shine without adding any intense mesquite wood-flavored smoke that might overpower the flavors. While some types of grilling or barbecuing do benefit from an added wood-fired flavor, such as classic Southern American barbecue, binchotan grilling opts instead to allow the ingredients to pop without outside aromas or smoke.
The conclusion is perfectly cooked seafood that's crispy yet still succulent and tender. The previously mentioned Carolina Prawns are a crowd-pleaser and intensely savory; the sharp and grassy bite of the garlic chives is an ideal match with the grilled shrimp and red kosho sauce. You'll be pouring the sauce over the bowl of white rice that accompanies the dish. Or, better yet, dipping some of the house-made sourdough bread into all that grilled prawn goodness.
But the Local Black Bream is perhaps the best representation of the new binchotan items in this Japanese food. Taking full advantage of the freshest local seafood and sudachi, a small Japanese citrus that resembles a lime, this dish is exceptional. The skin of the fish is crispy thanks to the binchotan grilling, and the textural crunch of the accompanying fennel and chickweed salad only heightens the tart bite of the sudachi-spiked sauce. If you need to order one binchotan dish at Vestry, this fish entree is the one to sink your teeth into.
Editors' Recommendations