Tequila producer Don Julio recently announced new additions to its portfolio in the form of a new expression and a new program for tequila lovers. The new expression — a limited-edition release named Reposado, Double Cask and the brand's first new product in six years — gives a nod to Scotland while the reposado cask program serves as an homage of sorts to the company's founder, Don Julio González.
What we're trying to say is if you like reposado tequila, strap in! Don Julio has got some good stuff coming your way.
Reposado, Double Cask starts life just like the usual Don Julio Reposado: maturing in American White Oak barrels for eight months. After this period of aging, Double Cask is finished in Buchanan's Blended Scotch Whisky casks for an additional 30 days. The resulting product is a rich, complex tequila with Scotch whisky overtones to it.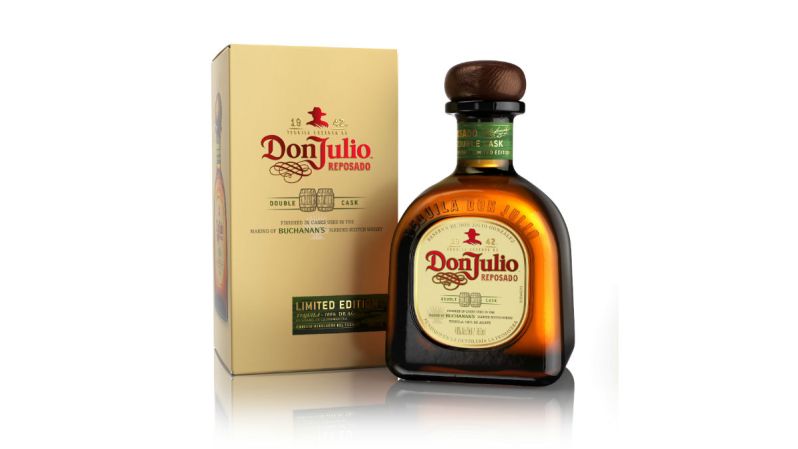 According to master distiller Enrique de Colsa, he spent three years trying out different casks from the Diageo portfolio (a beverage company that owns Johnnie Walker, Tanqueray, and Captain Morgan, among others) until he came across the Buchanan's. "I found that finishing the tequila for one month in casks used in the making of Buchanan's Blended Scotch Whisky allowed me to create a tequila that perfectly balances the core flavor of Tequila Don Julio as well as the signature flavor of Buchanan's Blended Scotch Whisky. It's an incredibly unique flavor profile that is excellent enjoyed responsibly neat or on the rocks," de Colsa said.
In addition to the new expression, Don Julio also unveiled the Reposado Private Cask Program. Starting in the fall of this year, 300 limited edition barrels (all selected by de Colsa) will be made available to retailers to be sold in the store with accompanying personalized certificates of authenticity. These casks were aged for two additional months (10 in total), which is five times longer than the minimum amount a reposado tequila must be aged. The decided on Reposado because it was the first variant that Don Julio González distilled under his name.
Tequila Don Julio Reposado, Double Cask will be available beginning summer 2018. It will retail for around $60 and will be found nationwide. If you are interested in learning more about the Private Cask Program, you can visit the brand's website.
Once you've gotten your new tequila, make sure to master these essential tequila cocktails with it!
Editors' Recommendations