The first instance of sustainable cocktails can be traced to the classic Tiki drink, in which fruit shells were used to hold flaming garnishes. However, for the most part, "the bar scene has always been a place of luxury and excess," says Edwin Cruz, beverage director at Winsome on Sunset Boulevard in Los Angeles. "The sustainable cocktail movement is a way for us to show we care as much as everyone else about the environment and the impact that we make on it."
So how do you make a cocktail sustainable? You design it to produce the lowest amount of food waste and attempt to use all parts of ingredients that go into the recipe.
"The idea of it came from chefs taking a 'snout-to-tail' approach to cooking," Cruz adds. "Food waste is a huge issue in the average cocktail bar. Think of the amount of fruit scraps, spent citrus shells,and old garnishes, not to mention the disposables (straws, coasters, napkins, picks, etc.) that go to waste. It adds up quickly."
The same goes for your mini-bar at home, where a whole lemon usually goes bad after using one curl and stalks of garnish rot in the fridge. "The easiest ingredients to reuse for sustainable cocktails are raw scraps of fruit and vegetable clippings/shells/peels. Day-old pastries and anything with sugar works as well," Cruz says. "But stay away from anything egg- or dairy-based."
Winsome has limited amounts of storage, so chefs and bartenders share ingredients and come up with an inventive use of everything in house. If the kitchen can't use a part of the product, they'll offer it to Cruz. "If they have overripe fruits and vegetables that we could potentially use for a shrub, liqueur, or syrup, we'll use it," he elaborates.
So dip your cocktail spoon into these three recipes that can reduce food waste … while helping get you wasted.
Tiki Novela
Cruz uses pineapple rind (which would otherwise be trashed after juicing the pineapple) as a main flavoring ingredient. He cooks the rinds with purple corn, baking spices, and sugar to create chicha morada, a Peruvian corn syrup, which gives the Tiki Novela it's brilliant color.
Method: Combine all ingredients in a shaker. Shake well with a pinch of crushed ice (learn how to mix like a pro here). Pour all into swizzle glass. For an optional garnish, use pineapple leaf, pineapple slice, cherry, and lime wheel.
PB & J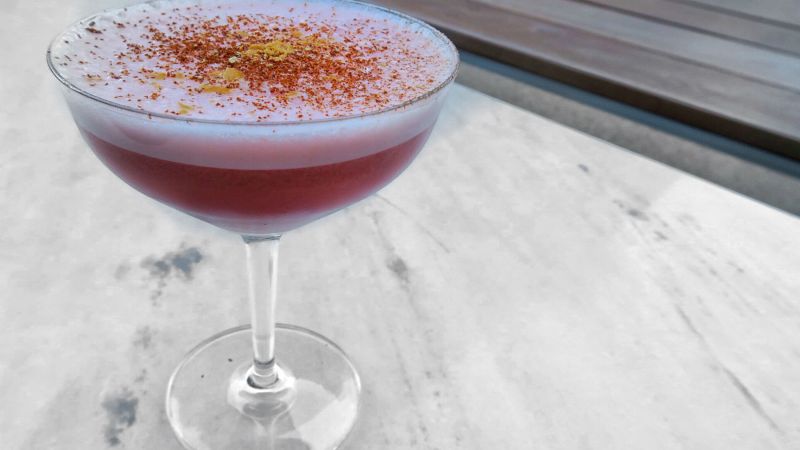 Bar director Chris Amirault of Los Angeles' fine-dining restaurant Otium came up with an ingenious way to put ordinarily wasted piece of burnt toast to good use. Amirault grates the toast to top his nostalgic cocktail, lending texture and a hint of smoky flavor.
Method: Combine all ingredients. Shake. Double strain into a chilled coupe glass. Finish with a sprinkle of peanut butter powder and grated "burnt" brioche crumbs.
The Barcelona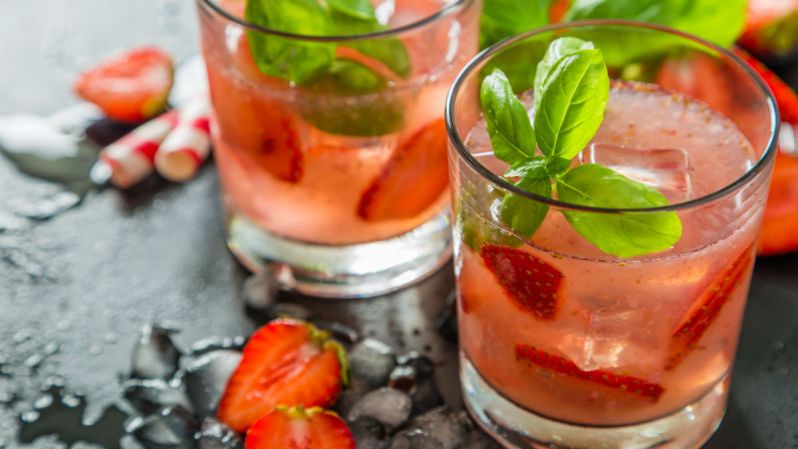 Created by sommelier Frankie Mace, who's based out of Amali in New York City, this cocktail makes use of ruined fruit. Mace infuses gin with bruised strawberries and adds dashes of basil, black pepper, white balsamic, and, of course, fresh strawberries. The result is a refreshing, adult strawberry soda.
2 oz strawberry-infused gin
1 oz fresh lemon juice
.75 oz simple syrup
5-6 fresh basil leaves, torn
Method: To make the strawberry-infused gin, combine 1 liter of Brooklyn Gin with 1 cup of strawberries and let it sit for 4-5 days. Shake all ingredients in a cocktail shaker with ice. Pour into a glass. Top with a splash or two of soda water, and enjoy!
Feature image by Sierra Prescott.
Editors' Recommendations