Throw out your adult vitamin gummies and drink a beer instead. (Kidding, but only sort of.) A new Kölsch beer from Sufferfest Beer Company out of San Francisco is creating beer with superfoods, meaning you can slow clap back at wine-drinking haters who say beer isn't good for you.
The super ingredient in Sufferfest's Repeat Kolsch is bee pollen, which has been proven to act as an antifungal, antiviral, anti-inflammatory, and overall immune-system boosting food. Repeat Kolsch is also low-calorie, low-carb, and low-alcohol at 3.5% alcohol by volume, and was created by the fit-minded Sufferfest as a response to low-cal summer beers that are nutrient duds.
Sufferfest founder and CEO Caitlin Landesberg started the company after craving a healthy-ish beer that would quench her thirst after long trail runs. Plus, she wanted a beer that understood her desire for maintaining an active lifestyle, not another cold one promoting sedentary couch days and sitting on a bar stool all night.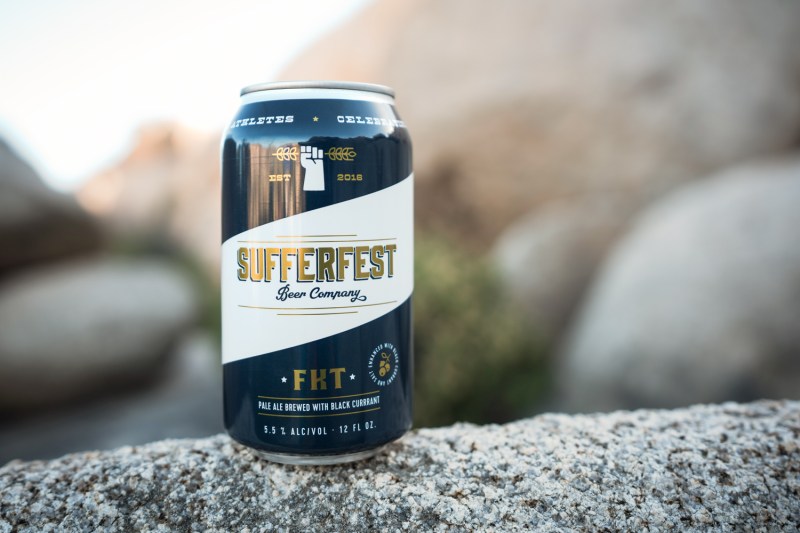 Repeat Kolsch is an experiment in active beer, made to be a health-conscious alternative for hops fanatics who don't want to give up their favorite refreshment but want to turn their ordinary beer bellies into good-feeling, thriving beer bellies. (Ain't nothing wrong with a beer belly, you do you.)
"We thought of Repeat as an exercise in adding things — more flavor, more nutrition — rather than removing calories and carbs," says Landesberg. We focused on achieving balance." The result? A beer that tastes like beer but is healthier.
At 95 calories and 5 grams of carbs per serving, Repeat is still "flavor-centric" and has vitamins, minerals, proteins, lipids, and fatty acids, the company says. Yep, bee pollen is 40-percent protein, is considered by health professionals to have anti-cancer qualities, can regulate your intestines, and contains more amino acids than beef, eggs, or cheese.
Let the Kolsch runneth over!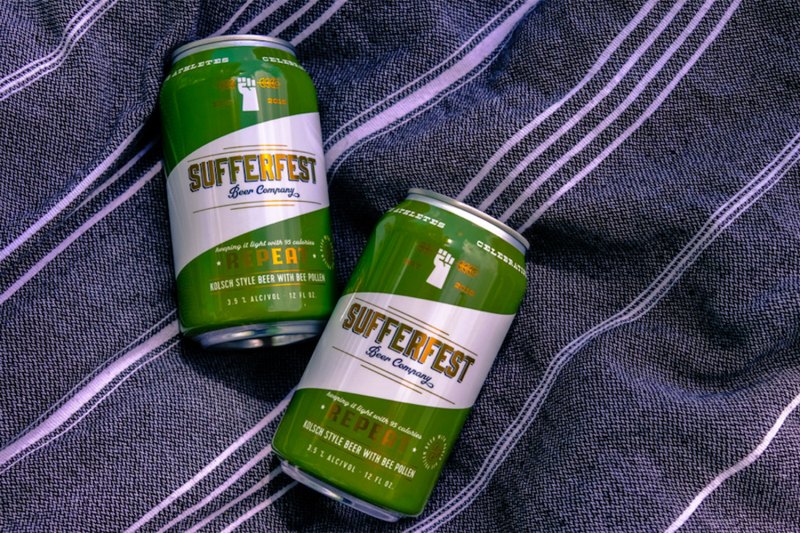 Obviously, drinking a beer laced with superfood isn't as beneficial as eating pure superfoods, but if you're going to indulge, it might as well give you a health nudge.
Bad boy brewers Dogfish Head played around with a superfood beer in 2018 called It's The End of the Wort As We Know It, designed to be a survival beer packed to the brim with nutrients. We're talking 90% of daily folic acid recommendations and eight times the Vitamin B Complex compared to standard light lagers. Which allows you to conclude that if you were stranded on a desert island and could only bring one food, a smart and satisfactory selection could be beer.
Obscure French brewers, Superfood Beers, also created a 5G Belgian (5.5% ABV) with organic superfood ingredients like ginseng, ginger, and gingko, and England's Cerne Abbas Brewery released Watercress Warrior, a beer rich in vitamin A, B, C, E, and watercress, which is thought to increase virility.
More than a one-off release, Sufferfest is doubling down on better-for-you beers with its pale ale FKT, brewed with blackcurrants "which carry four times the vitamin C as oranges, and bolster gut and kidney health," says the company. A dose of 65-plus milligrams of sodium also makes FKT an electrolyte replacement drink that is prime for post-sweat recovery, both physiologically and for the soul.
Research proved beer makes us happier, and if you're diligent about working out and eating well you deserve a damn pick-me-up.
Editors' Recommendations