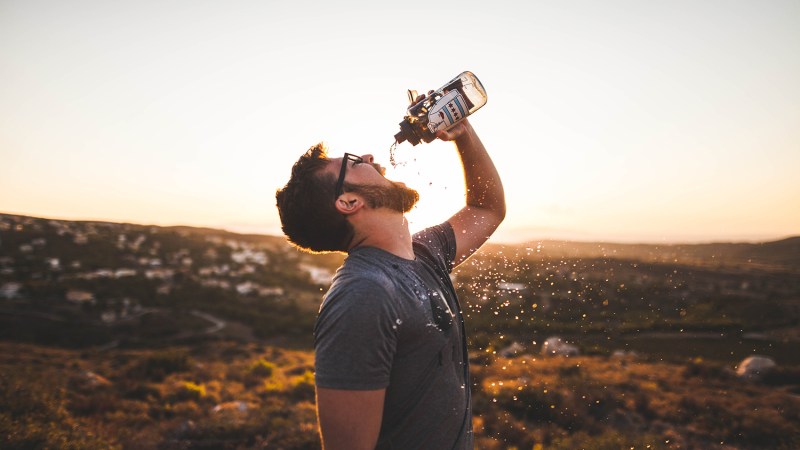 Raise a glass of electrolytes and toast to checking your pee color.
Sports hydration company Nuun (pronounced noon), has managed to compete and even surpass in specialty retail the giant Coca Cola electrolyte brand Gatorade, thanks to its expert knowledge of sweat, rehydration, and what exactly the body needs to stay #fresh.
So even if you have the best water bottle to rehydrate with, don't forget about the juice inside.
Nuun's Chief Nutritionist Vishal Patel, also known as the "professor of electrolytes," sat down with The Manual to talk summer rehydration tips that will keep you healthy, happy, and replenishing key nutrients lost in sweat… whether you're ending a tough workout or a weekend of exploring.
Plus, Patel busts a couple hydration myths we had no idea were bull…
1. Water Alone Does Not Hydrate You
Patel says that although water will provide the base fluid you need to hydrate, what he's learned over the past several years is that electrolytes with a small amount of carbohydrate are the key to hydration.
They play vital roles in the absorption of fluid, so the exact drink you choose to guzzle during or after exercise has to be in a specific concentration of carbs to electrolytes to fluids for proper delivery.
"In general, during recovery you want to make sure the fluid has a 1-4 grams of carbohydrates per 16 fluid ounces. For moderate exercise this is a good target and as your body is under more stress during harder or longer workouts, you need more carbohydrates to deliver fluid. Just do not to exceed 18 grams of carbohydrate per 16 ounces."
He adds that if a sports drink has 0 calories or is above 80 calories per 16 ounces, it's not optimized for proper hydration and should, therefore, be dumped.
2. Electrolytes, Electrolytes, Electrolytes – Get Em All
When choosing a rehydration beverage, you want to make sure you get a balanced blend of five electrolytes; Sodium, Potassium, Magnesium, Calcium, and Chloride.
"In general, you want more sodium than potassium during exercise and a slightly higher concentration of potassium for rehydration. But note: you need all of them!" Patel says.
Nuun abides by this electrolyte creed for its own Nuun Active tabs, and unlike many rehydration pills and potions on the market, its flavors taste delicious; not like a mouthful of salt or spoon of sugar. (Nuun flavors these with the plant based sweetener monk fruit and a touch of stevia leaf.) Our faves: Tropical, Orange, and Fruit Punch.
FYI: electrolytes don't just replenish what is lost via sweat, they're also essential for proper absorption.
Patel adds, "During exercise, the focus for hydration should be on absorption; the right type and amount of electrolytes carbohydrates will help achieve that and will supply oxygen to your muscles. The remaining electrolytes being consumed will aid in replenishing what your body cannot through its stores."
3. Boost Your Testosterone (Hoo-ah!)
Proper hydration increases and maintains your testosterone levels. So make sure to pause between beers so you can keep that manly figure.
Plus, ever hear your doctor say that drinking more water will give you more energy? Even the slightest bit of dehydration can alter cortisol levels that can reduce testosterone flowing through your system.
This contributes to the energy that the body needs, especially during exercise, so if you're hitting the pavement for an outdoor workout or playing in your men's league, don't let simple hydration be the reason you're not performing your best.
4. Stop Chugging!
Slow your roll when rehydrating after a workout.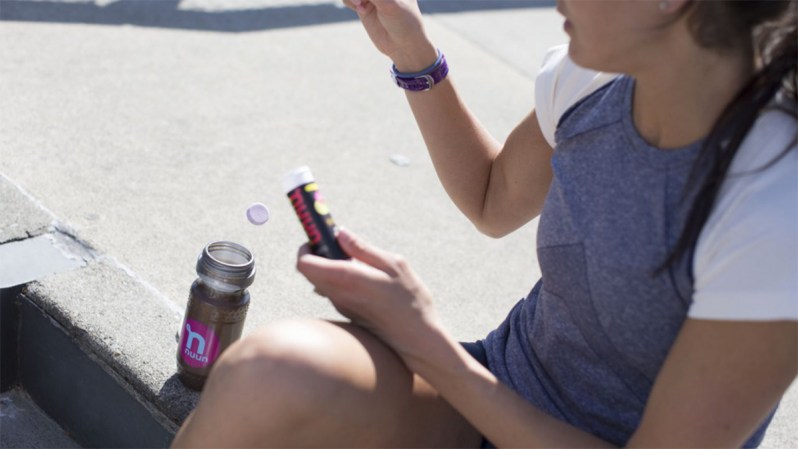 "Drinking too much too fast can alter natural hormone response to help the body naturally repair itself," says Patel.
5. Monitor Your Hydration
Ok, we all check our pee, but instead of doing it for pure curiosity, use it as a gauge to measure your hydration.
You want to aim for a pale yellow color. But Patel comforts us saying we shouldn't be alarmed with one adverse result, since the food we eat within an hour of taking a wiz can affect its color.
"If you prefer a more scientific approach, purchase urine analysis strips, which measure your urine specific gravity (USG). This test will spit out a number that determines how concentrated your urine is. A value below 1.020 is what you want to aim for."
This test can also give you loads of data including helping determine if you're getting enough protein to recovery.