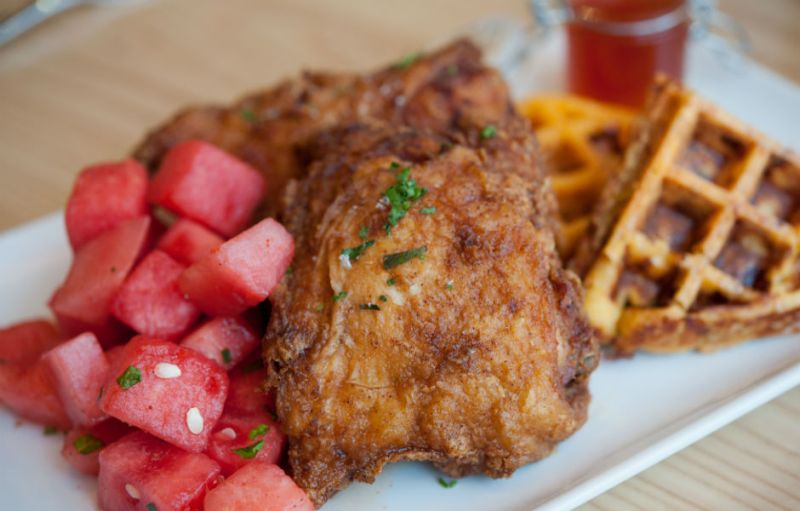 Yardbird, the beloved Miami Beach institution known for its farm-to-table take on Southern food, and its seemingly endless bourbon selection, recently made the move to Las Vegas. Now situated on the Restaurant Row that connects the Palazzo and the Venetian, executive chef Todd Harrington and his crew are whipping up all the Yardbird classics, along with some new dishes, for a crowd of Sin City revelers. We recently made a trip out there and indulged in the restaurant's signature — the Lewellyn's Fine Fried Chicken — and more. We caught up with Harrington to ask him how he prepared for the job, how to make the amazing fried chicken, and the must-try items on the menu.
How did you prepare for this position? Do you have a background in Southern cuisine?
I grew up in a Southern restaurant in Pennsylvania. My grandmother was a chef and southern food always holds such great memories for me. I went back to my roots to prepare for this position, but it really wasn't hard because it's the kind of food I'd make at home no matter if I were working at French restaurants.
Have you spent any time in the South?
I have been to South Carolina and loved the food, it was about 10 years ago but I definitely remember enjoying allot of local southern favorites.
Are there any new dishes in Las Vegas that aren't on the Miami menu that Yardbird enthusiasts can look forward to?
We have a smoked Niman Ranch 18 oz. Tomahawk Pork chop that is a big eye catcher when it goes out to the dining room. Between the smell, and crackling chicharron just popping while being served is a big game changer here in Las Vegas. It is a dish that is presented, then brought back and carved for service.
The fried chicken is amazing! What goes into preparing it? Could you possibly provide a recipe for us?
Our Lewellyn's Fine Fried Chicken, it's namesake from our Owner John Kunkel's grandmother who created the original recipe, is what we are extremely proud of. It is only made from Mary's free-range farm chicken. We are firm believers that good product is half the presentation. When I visit a restaurant with good quality product, you can tell right from the second you walk in that everyone is proud to offer the menu. The recipe, however, is all technique. Salt, sugar, and spice brine for 27 hours, then double dredged and fried in pork lard under pressure for 13.5 minutes, rested for 5 minutes before serving.
What are a few of the must-try items on the menu?
Our chicken, of course, is the reason you come to Yardbird. Our "BLT" appetizer, which is fried green tomatoes, pimento cheese, tomato jam, house made bacon, and frisée can arguably be on everyone's 'top 5 things I've ever eaten' list. I stand by the entire menu, and encourage all to try a few items during a first visit.
What are the biggest challenges of cooking for a Las Vegas crowd?
Las Vegas is a melting pot of people, culture, and food. Everyone's trying new things to be different. So the biggest challenge is staying ahead of the rest. Doing something different; something I feel that we do here on a daily basis in Vegas. No one is doing what we are doing and that makes staying ahead of the game a bit easier. Still, it doesn't stop me from playing around with new and improved dishes here in the kitchen
For more information, visit runchickenrun.com.
Editors' Recommendations