It's no secret that Christmas gets all the attention in the United States. Whether it's the advertising saturation of Santa Claus, Christian reverence for their holy holiday, or just the nostalgic charm of decorated trees, 'tis the season for all things holly and jolly.
But if your festivities revolve around the Hanukkah menorah instead, you may feel that your Jewish holiday is overshadowed by the Christmas fervor. There aren't hundreds of mainstream Hanukkah pop songs, dozens of Hallmark movies, or millions of cheap plastic decorating options dedicated to this festival of lights.
However, Hanukkah does have its own beer.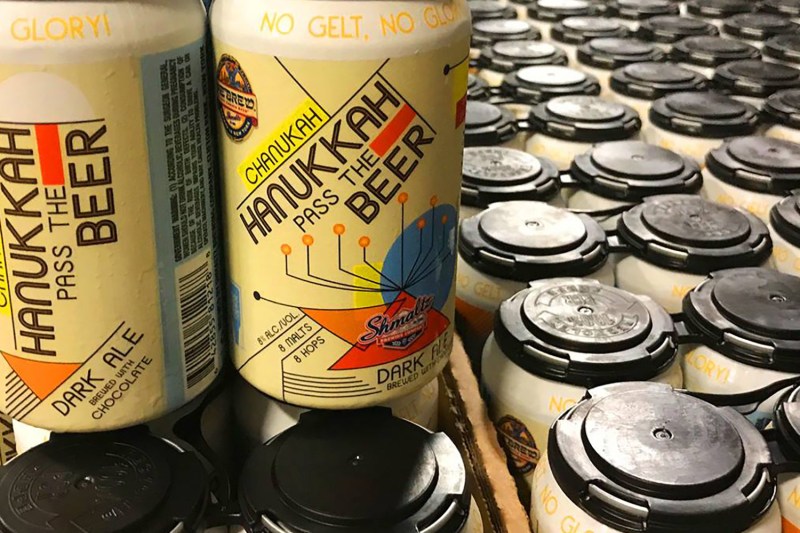 Clifton Park New York's Shmaltz Brewing offers a He'brew line of beers with names and ingredients that play on owner Jeremy Cowan's family heritage. He describes the brand as "a Jewish celebration of craft beer." The Shmaltz portfolio includes beers with names like Genesis, Funky Jewbelation, Hop Manna, MessiahandShe'Brew, but it's the brewery's winter seasonal that many beer drinkers anticipate most highly.
Chanukah, Hanukkah: Pass the Beer is a mouthful to say and an enjoyable mouthful to drink. A study in eights to commemorate the eight nights of Hanukkah, the beer includes eight malts and eight hops, checking in at an appropriate 8 percent alcohol by volume. Within those limitations, the actual beer style varies from year to year. For example, the 2017 version of Chanukah, Hanukkah was a Golden Strong Ale brewed with cocoa nibs. However, the 2018 edition is a dark ale brewed with chocolate.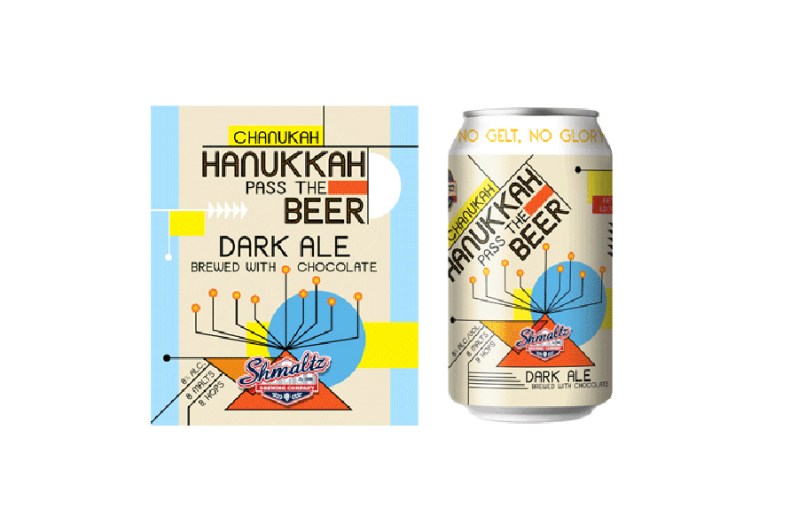 The rebranded label and can art for 2018 is a playful mid-century modern take with a stylized menorah and bright, blocky colors not typically associated with the season. As for the taste, expect earthy hops buoyed by roasted caramel malts and a whole lot of chocolate. With 8 separate hops and malts going into the brew, don't expect individual elements to shine through. Instead, enjoy a harmonious blend and a combined sensory experience. According to Shmaltz, the beer pairs "perfectly with the chocolate gelt, latkes and the battle royale of dreidels."
Chanukah, Hanukkah: Pass the Beer is available now in 12oz can 4-packs and on draft. To learn more about Shmaltz, check out Jeremy Cowan's book, Craft Beer Bar Mitzvah.
Editors' Recommendations