In New York, a city with an enormous array of pizza restaurants and bakeries, it takes something unique to make any impact. But Heritage Grand Restaurant and Pizza Bar is attempting to do just that, with a mission centered on a key concept — promoting ancient grains.
Located next door to its sister establishment, Heritage Grand Bakery, the new Heritage Grand Restaurant and Pizza Bar features wood-fire cooking and Mediterranean-style favorites like pasta and Tunisian chicken with salsa verde. However, a main feature of the menu is centered on their pizza and pasta, all made with ancient grains milled daily in-house. The owners, Lou Ramirez (Maison Kayser, Fig & Olive, and President of Le Pain Quotidien), fourth-generation French baker Luc Boulet, and Alex Garese, founder of Wolkonsky Bakery, have created an ambitious goal at Heritage Grand Restaurant — creating a destination for ancient grains and high-quality and minimally processed bread. The result? A unique selection of pizza, pasta, and bread that stands out in a city saturated with world-class bakeries.
"The concept was born from the expression 'you are what you eat.' We celebrate the simple joy of eating what is truly good," said Ramirez.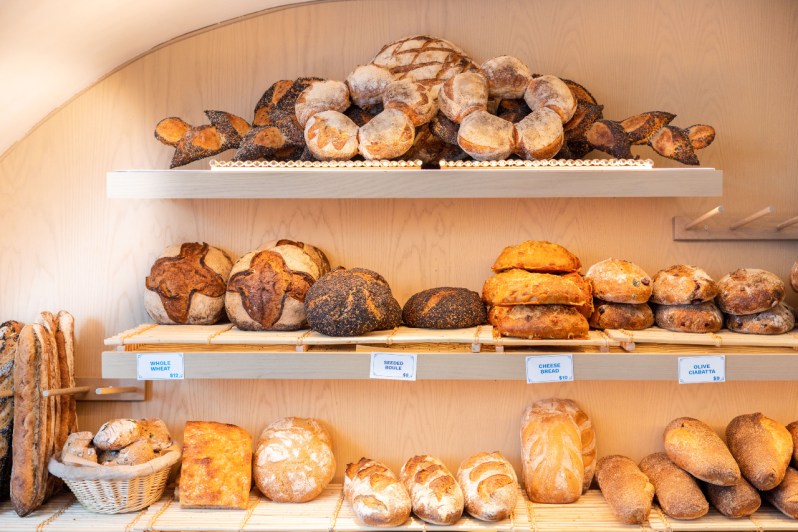 What are ancient grains?
First, what are ancient grains? According to the Whole Grains Council, a Boston-based nonprofit consumer advocacy group, there's no official definition for ancient grains. Since conventional wheat as a species has ancient origins, wheat grains are inherently "ancient." However, the Whole Grains Council does consider ancient grains to be any grains that have remained unchanged over the centuries, including grains like millet, black barley, sorghum, and more.
For Heritage Grand Restaurant, this means that sourcing the various grains is extremely important to the success and mission of the restaurant. As explained by Master Baker Luc Boulet:
"There are very few farmers in the world today that actually work with these ancient varieties of cereals. Some are members of associations similar to the ones we work with called Community Grain Project in NY and Initiatives Paysannes in France and Belgium, which promote organic and regenerative agriculture. Ancient grains, in general, have a lower yield per hectare than conventional cereals, whose seeds are purchased in the commercial catalogs of seed companies, whether organic or not, which call for a higher price point for these ancient grains. But the quality is far superior."
At Heritage Grand Restaurant, this means unique wheat varieties like Alauda, Blanc de Flandres, Bon Moulin, and Chiddam rouge. Besides simply sourcing these unique grains, there's also a focus on ancestral bread-making techniques. When done correctly, these techniques will "allow the heart of the grain to develop life under the effects of sourdough and fermentation, thus allowing the dough and bread to grow like all living organisms," explained Ramirez. "The combination of ancient grains, pure water, and natural salt creates the magic."
The health benefits of ancient grains
Because of the sourcing and preparation (Heritage mills its flour without chemical additives), Heritage believes bread made from these grains produces a healthier product. Unadulterated ingredients combined with time-tested techniques retain more nutrients, making bread richer in proteins and vitamins with the added bonus of being easier to digest than conventional cereals.
"Our customers have left glowing reviews on how those who have a sensitivity to gluten eat our breads and different doughs and feel no symptoms," said Boulet. "We obviously make no claims but have heard from many customers on how they don't experience things like sluggishness, etc."
How to make pizza from ancient grains
The first thing you'll notice about the pizza crust at Heritage is its thinness. This isn't the charred, airy dough of a wood-fired Neapolitan-style pizza or a Roman-style pinsa; the crust here is thin, almost cracker-like in appearance. And while the restaurant offers several varieties of pizza flavors, ranging from the classic Margherita to a mushroom pie topped with oyster mushrooms, pickled shallots, caciocavallo, and pecorino, it's the flavor of the crust that makes it unique.
Despite the thinness, the crust does not have the crisp texture of other thin-crust styles. Instead, the texture has an enjoyable chew while still remaining tender. Most apparent is the flavor — a light yet slightly nutty flavor that differs from conventional wheat crusts. Finally, the dough is also more pronounced in color.
However, while cooking time is similar to conventional pizza crusts, making pizza dough from ancient grains can be challenging. Because its growth is more randomized due to not using additives, ancient grains are greatly affected by soil and weather conditions, sometimes making the same variety of grain very different depending on these aspects.
"It is possible to mix this flour with flour of durum wheat of old varieties also to obtain a yellow and tender dough," said Executive Chef Paul Di Bari. "Our pasta incorporates many ancient cereals, population wheat, durum wheat, as well as einkorn and spelt. These types of grains give a profoundly signature taste, color, and texture to each dough with far more health benefits than any other form of flour."
Editors' Recommendations