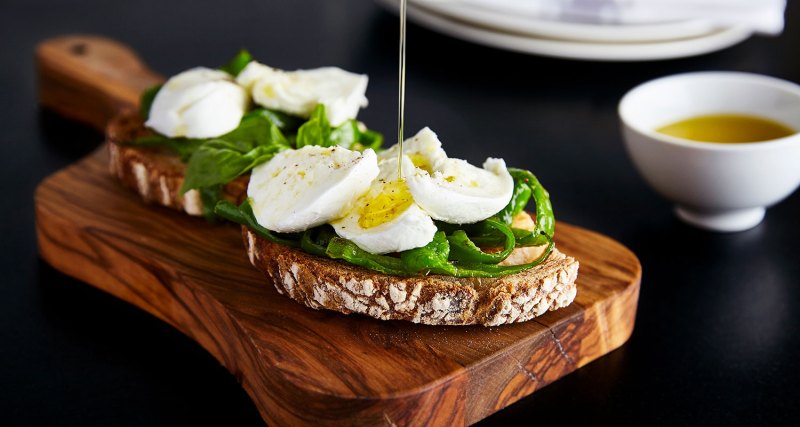 Cheese, like bacon and bourbon, is a necessity in life. It really doesn't matter how it's prepared — melted on something; shredded as a topper for, well, anything; or, during desperate circumstances, in singles form — at the end of the day, all cheese is good cheese (unless you're not into the smelly stuff, then, like, 75 percent of all cheese is good cheese).
Fresh cheese, though, that's on a whole different level. If you've ever had freshly made cheese, you know. Take mozzarella for example. Fresh mozzarella is ever-so-slightly hard on the outside. Immediately after a bite, the cool exterior practically melts in your mouth with a ghost of the heat that was used to just recently make the mozz. (Want your cheese warmer? Le Petit Paris in Los Angeles has flaming cheese.)
That's why, when we heard about a mozzarella bar in New York City, we couldn't help but go. Obica is located in the Flatiron area and is a mozzarella mecca. (If you're not by the Flatiron, they have another location on Madison Avenue, as well as spots in Los Angeles, the United Kingdom, Japan, and Italy.)
Obica makes a variety of mozzarellas in-house. You can literally watch them make heaven with their hands. Choose from bufala (buffalo) classica, a naturally-smoked bufala affumicata; ricota di bufala; burrata; buratta with black truffle (al tartufo); or, if you really are jonesing for fresh mozzarella, you can go for the treccia di bufala, a 1.1 lb braid of cheese that is intended to serve three to four people (or one very determined cheese fiend).
If you've made it to Obica, and you're ready for the cheesiest experience of your life, you need to start with the Mozzarella Bar Experience. If you've never had fresh mozzarella, this will be a game changer. For $38, you get a selection that, if you're only there with one other person, is enough for an entire meal. It'd be best to go with a group of four, though, because there's way too much else that you need to eat.
For the Experience, you can choose from mozzarella classica or a mix of affumicata and burrata. With that, you're given a selection of salumi, as well as focaccia bread, basil pesto, caponata, and datterini tomatoes.
If that seems like a lot, you can choose to have thesee cheeses, meats, and other small plates on their own (or be a complete hedonist and add them along). Do you now see why it's good to bring three friends?
Next up: pizza. Think of it like making your own pizza, but better because you don't have to make it. Go with the tartufo pizza, which comes with shaved black truffles, roasted ham, mozzarella, and ricotta di bufala.
From there, soup and salad are great options, but we're here for cheese (to be fair, most of the options contain cheese, but at this point you're going to want to press on ahead before your stomach realizes it's full).
Onward to pasta. You're in New York, at an Italian restaurant that makes its own mozzarella. You can't really go wrong. The pappardelle con ragu di antatra is a base of egg noodles topped with duck ragu. If beef is more your thing, the spinach lasagna features an equally delicious ragu. (If you're hungry now, try making tortellini arso or lasagna bolognese at home.)
At this point, you may feel like your stomach is about to burst. Don't worry, you've got two more courses left. For the secondi, the branzino is a nice choice; the dish comes with green beans, tomatoes and black eyed peas. Or there's the tagliata, which will deliver eight ounces of sliced grass-fed angus beef with baby potatoes and tomatoes.
Only one more course now: dessert. You can do it. Think of how accomplished you will feel. You're going to want to try the panna cotta or the tiramisu. Or both. You can't go wrong with either.
By the end of a meal at Obica, you will not only have had amazing Italian food, but you'll have had some of the best fresh mozzarella of your life. Your mind, body, and spirit will thank you.
Images courtesy of Tim Atkins/Obica.