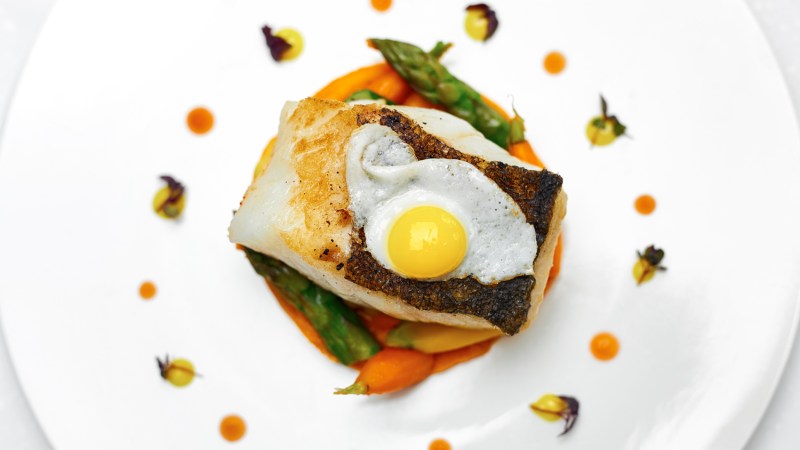 Downtown Los Angeles is often used as a stand-in for New York in movies and TV shows, but there is one place that's a dead ringer for the City of Lights: Le Petit Paris. If you're looking for some of the best food you'll ever put in your mouth and unparalleled service, 'Bienvenue!' Did we mention the flaming cognac in a wheel of cheese?
David and Fanny Rolland are from Cannes (that's in the South of France, like the Film Festival) and opened the original Le Petit Paris in the swanky seaside French town, but on a vacation to California, they fell in love with Los Angeles. It wasn't long before they were creatively revamping the lobby of a 1913 downtown hotel, turning its century-old mosaic floors, towering columns, and sweeping staircase into Paris in the heart of Tinsel Town. The space flows, but is also divided up into intimate spaces and private dining areas. Velvet seats, white tablecloths, pop art of celebrities, and massive modern crystal chandeliers update the Art Deco space. It's perfect for dates, a solo drink with a good book (French Enlightenment philosophy maybe?), brunch, a dinner meeting– really any event that you'd like to have delicious food with.
The Rollands didn't just uproot themselves from Cannes; they also brought Executive Chef Baptiste Grellier from their original location. The combination of his immense talent, rich French culinary tradition, and California's incredible local produce makes for a menu you won't soon forget. The French Onion Soup is fit for the Gods: gooey cheese tops a thick round of bread, floating in the salty-sweet oniony broth. The Omelette Parisienne is like eating a ham and cheese packed cloud– it's a deceptively difficult food to make well and mon dieu, this is made exceptionally. With a menu so full of French classics like escargots, frog's legs, and bouillabaisse, the Truffle Rossini Burger may come as a surprise. But Grellier has made this American staple as French as liberty, fraternity, and equality: the burger is topped with seared duck foie gras and black truffles. It should come with the warning label that burgers will never be the same after you taste it.
But what Le Petit Paris is truly famous for is the Cognac Flambéed Pasta in a Wheel of Parmesan Cheese. They're one of maybe two restaurants in LA that do this. A massive wheel of Parmesan cheese is brought to your table. The server will freshly grate cheese from the wheel, then carefully pour cognac down the handle of a long spoon and light it, forming a long waterfall of fire that pours into the wheel, melting the freshly grated cheese and infusing it with more flavor. Then they toss in the fresh pasta and top it with truffles. You will love yourself for ordering this masterpiece.
Do your best to save room for dessert; it's a French restaurant after all. The tray displaying the housemade treats is like a work of art. Freshly made macaroons, éclairs, light and airy profiteroles top ice cream, the Crepes Suzette is perfectly citrusy, flambéed in Grand Mariner. Perhaps their most interesting dessert is the large macaroon, a bit smaller than a bread plate, filled with light, tart cream and lined with fresh raspberries. Despite its large size, the wizards at Le Petit Paris have managed to maintain the macaroon's crisp yet moist texture.
Unlike many places in LA, even upscale restaurants, the service is unparalleled. Attentive, knowledgeable servers keep a watchful eye, ready to spring into action when needed, but also keep their distance to allow you to enjoy the food and company. Also imported was the European sensibility that meals should be luxuriated in. There is no pressure to eat quickly or leave once your food is gone. Stay to enjoy the live jazz on Wednesdays or the French DJ who is actually good at DJing– also something rare in LA.
There are two bars at Le Petit Paris, one that runs the length of the main dining room and the other that tops the mezzanine at the top of the stairs. Use both– starting on the ground floor for an aperitif, and then head upstairs for a nightcap after dinner. The bartenders are exceptionally well versed in the extensive wine list and cocktail menu and are able to whip up creative cocktails based on your tastes. We had a French twist on an Old Fashioned where the glass was first washed in absinthe– it was a shockingly perfect compliment to the Whistle Pig.
You can enjoy brunch on Sundays, lunch and dinner during the week, and happy hour from 4 pm to 7 pm, with a menu of things like oysters, mini burgers, tuna tartare crostini, and goat cheese and apple. There's even a boutique attached to the restaurant that sells the desserts and all manner of French food and gifts that are only available there.
Le Petit Paris is a haven of mind-blowingly delicious food, a gorgeous location, and some of the best service around. You'll come for the food and stay for the way of life.
Editors' Recommendations