If anyone tells you they hate authentic Italian food, this should immediately set off a warning signal in your head. Something like a claxon, but louder. If you do come across one of these "people," you'll want to back away slowly because that is not natural human behavior (if you feel the need to call the CDC to have them quarantined, we're not going to stop you, either). It is a proven fact that everyone loves an old-school Italian meal; from the red sauce to the meatballs to all the other specialties Nonna used to make, the plates of food bring about sheer joy in one's soul. (Down a Nonna? Practice being your own by learning how to make your own mouth-watering meatballs here.) True Italian food like this doesn't need any bells or whistles to make people come back for more, which is the simple philosophy at NYC's Il Principe restaurant in Hotel Hugo.
Il Principe is everything you could want a New York City restaurant to be. Designed by architect Marcello Pozzi, the space features floor-to-ceiling windows that open to the sidewalk for al fresco dining on warm days. The private dining room has a vertical garden wall and large skylight to bring the outdoors in anytime of year. The restaurant is a flawless match for its home in Hotel Hugo, designed with a mix of raw materials and modern finishes that fit perfectly into the neighborhood's art-meets-industrial vibe.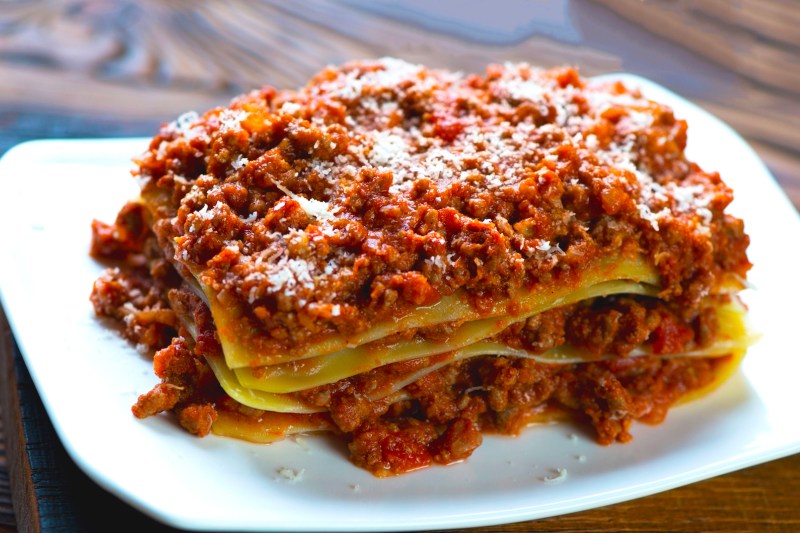 But back to the food. Chef Kristine Mana-ay was born and raised in Manila, Philippines, surrounded by a family that always loved to cook. She later moved to New York City and enrolled at the Art Institute, graduating with a degree in culinary arts. She has a passion for pastry arts as well as Italian cuisine, which is probably why her menu at Il Principe is so killer. We caught up with Chef Kristine to ask a little bit about her background and snag a lasagna bolognese recipe to make at home.
The Manual: Il Principe's menu is classic Italian, highlighting simple, delicious ingredients. What made you want to start cooking this type of food?
Kristine Mana-ay: Italian cuisine is known for its simplicity, with many dishes having only four to eight ingredients. I love the variety, too, because ingredients and dishes vary by region. I rely on the quality of the ingredients, and when it comes to taste, the flavor in the food you cook is best when you use fresh ingredients, whether it's succulent meat, fish, or fresh produce. All of them taste a lot better when fresh ingredients are used.
TM: Are there any techniques you learned in your early years cooking for your family in the Philippines that you still carry with you today?
KM: The values I learned are key. Growing up I was surrounded with family cooking together. Whenever we had an occasion, we worked as a team. Working in the kitchen today, I treat my guys as a family because I spend an enormous amount of time with them. I try to instill a teamwork environment where mutual support means having each other's backs, establishing a foundation of trust and encouraging them to come together as one. When you love to cook, it shows in your food no matter what you make. Cooking is not only about creating food, it's about sharing memories with those around you.
TM: Many regions of Italy are represented on your menu. Could you break down a dish, talk a little bit about its history and why it's an important part of Il Principe's lineup?
KM: Traditionally in Emilia Romagna, lasagna is a comfort food. It's always served with ragu, a thick sauce made from onion, carrots, celery, ground veal, ground beef, tomatoes, and béchamel sauce, and a generous amount of grated Parmigiano–Reggiano before going into the oven. Lasagna embodies everything we love about pasta — it's hearty, soul-warming, and comforting. Our lasagna has been on the menu since the beginning and is one of our most asked-for dishes.
How to Make Lasagna Bolognese
For the Bolognese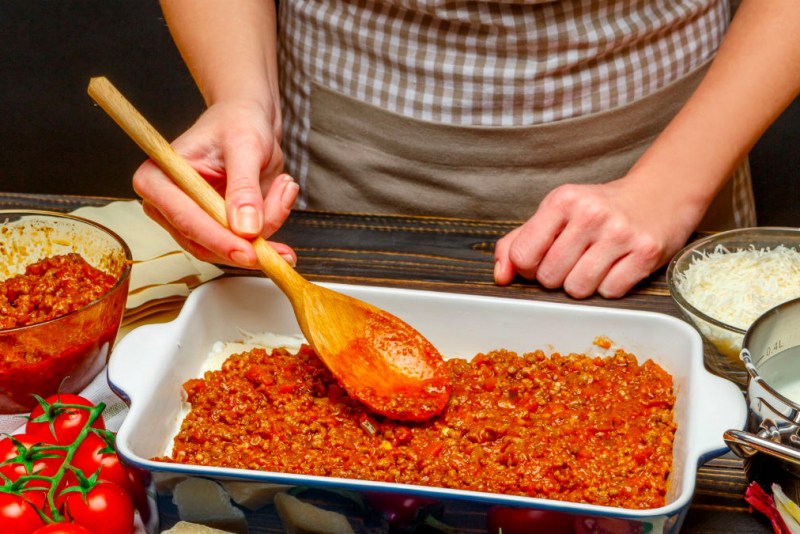 Ingredients:
2.5 lbs ground chuck or brisket combination
2 cups red wine
3 cans (28 oz) peeled whole tomatoes
3 ribs celery, diced
3 cloves garlic, chopped finely
3 bay leaves
2 carrots, diced
1 medium onion, diced
Salt and pepper to taste
Method:
Coat a large pan with oil over medium heat. Add the vegetables and season with salt and pepper.
Bring the pan to medium-high heat and cook until vegetables become nice and brown — about 15 minutes. Add the ground beef and season again with salt. Let the beef get brown over another 15 minutes.
Add the tomato and cook for about 5 minutes.
Add the red wine. Cook until the wine is reduced by half, another 4 minutes.
Toss in the bay leaves. Bring to boil and reduce to simmer, stirring constantly. Season with salt and pepper if you need.
Simmer for about 1.5 hrs.
For the Béchamel Sauce
Ingredients:
2 cups milk
2.5 tbsp butter
2 tbsp all-purpose flour
2 tsp salt
.5 tsp grated nutmeg
Method:
In a medium saucepan, heat the butter over medium-low heat until melted.
Add the flour and stir until smooth over medium heat. Cook the mixture until golden brown.
Heat the milk in a separate pan until just about to boil.
Add the hot milk to the butter mixture slowly, whisking continuously until very smooth.
Bring to boil for 10 minutes, stirring constantly.
Remove from the heat. Season with salt and nutmeg. Set aside until ready to use
For the Lasagna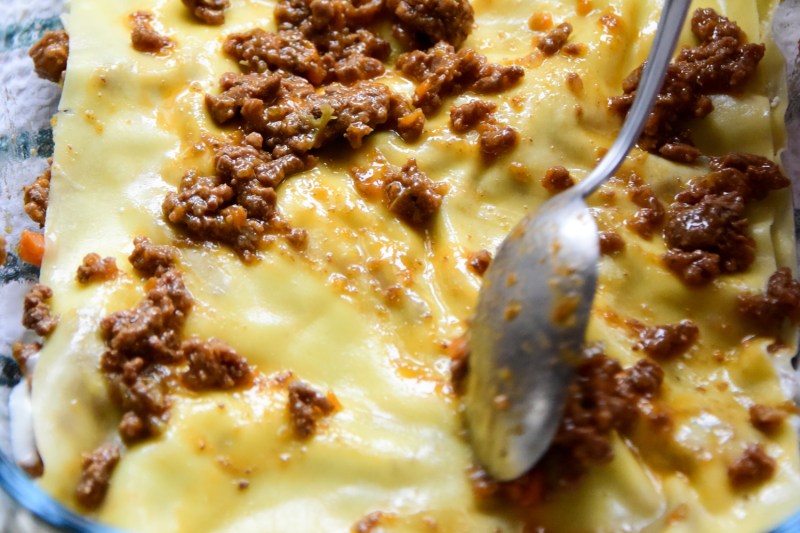 Ingredients:
12 lasagna sheets (fresh or box)
1.5 cup Parmesan cheese
10 oz ricotta cheese
10 oz béchamel sauce
Method:
Bring a large pot of lightly salted water to boil. Cook the lasagna sheets (if box, 8 minutes; fresh sheets, 4 minutes).
Drain the lasagna sheets and rinse with cold water.
Pre-heat the oven to 350 degrees Fahrenheit.
To assemble, spread 1.5 cups of meat sauce in the bottom of a 9 x 13-inch baking dish. Arrange lasagna sheets lengthwise over the meat sauce. Spread the ricotta cheese, béchamel sauce, and Parmesan cheese. Repeat the layer and top it with Parmesan.
Cover with foil, making sure the foil is not touching the cheese.
Bake in pre-heated oven for about 25 minutes. Remove the foil and bake an additional 25 mins.
Article originally published on March 6, 2017. Last updated June 18, 2019.
Editors' Recommendations