We've had a lot of strange and interesting cocktails in our day. But lately, we've been seeing the most unlikely ingredient on drink menus across the country — mustard. While many of you save this tangy condiment for meat glazes and Chicago-style hot dogs, mustard actually plays really well with booze. Of course, you have to strike the right balance of ingredients and flavors to get a mustard cocktail right, which is why we called in the experts to help. Here are four exciting mustard cocktails to switch up your at-home bartending routine.
Deli Calling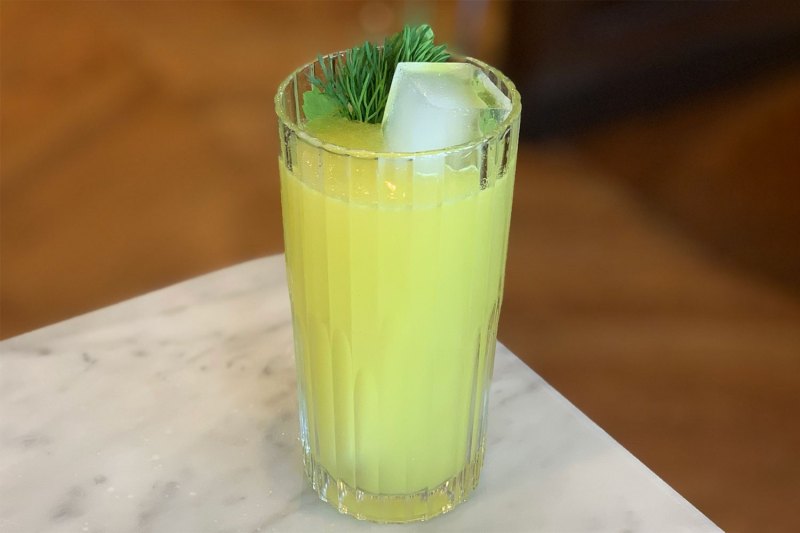 Playing around with cocktail ingredients can be a lot of fun, but it can also be costly if you don't have the proper ingredients on hand. Mustard, though, is probably something that's always sitting in your fridge. "Mustard is a great ingredient to add to the canon of modern cocktails for several reasons, the foremost being, everyone has it already!" says Karsten Osterby, bar director of Freedman's in Los Angeles. "It works excellently with gin, where the complexity of the juniper berry and supporting botanicals are rerouted to a darker or brighter profile, depending on the type of mustard used." An easy-to-make mustard syrup adds some heat to this refreshing Highball.
1.5 oz Future Gin (or London Dry Gin)
.5 oz Combier Liqueur d'Orange
.75 oz fresh lemon juice
.5 oz easy mustard syrup (incorporate by weight 4 parts simple syrup with 1 part yellow mustard)
1.5 oz Dr. Brown's Cel-Ray Soda
Dill, parsley, and lovage bouquet, for garnish
Method: Combine all ingredients in a tin and shake. Add Dr. Brown's Cel-Ray Soda into the tin and pour into a Collins glass with ice. Garnish with a bouquet of dill, parsley, and lovage.
The Wild Card
This frothy cocktail takes your tastebuds for a spin as it presents flavors of sweet, sour, savory, and bitter in every sip. And somehow, it really works. "The combination of mezcal and dijon mustard gives this cocktail a round, smokey flavor that is unlike anything else," says The Honey Well's Marcio Ramos. "The vanilla bean adds a very long aromatic smell that complements the peaty flavor as you sip this unique libation."
2 oz El Pelotón Mezcal
.5 oz lemon juice
.75 oz agave nectar
.75 oz egg white
Barspoon of Maille Mustard
Peychaud's Bitters swirl, for garnish
3 drops vanilla bean extract
Star anise, for garnish
Method: Put ingredients into shaker in this order: vanilla bean extract, mustard, lemon juice, agave, and mezcal. Dry shake. Open up shaker and add ice. Shake and double strain into a cocktail glass. Add a couple dashes of Peychaud bitters and swirl. Garnish with star anise.
Mango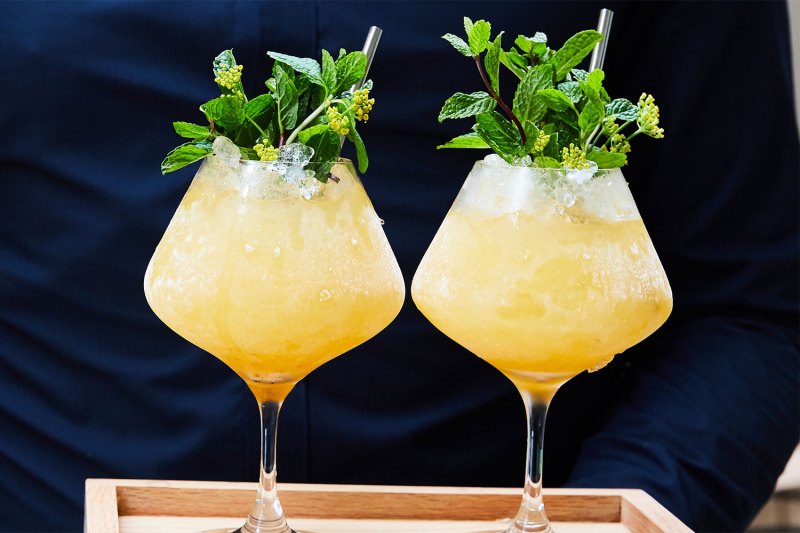 Tropical fruits and hot sauce play well together, especially in a cocktail. In this Daiquiri riff, Auburn manager Israel Mejia created a savory syrup that's inspired by his favorite piquant condiment. "Mango plays very well with spicy, and one of my favorite hot sauces is Bajan pepper sauce, a Barbadian-style hot sauce similar to Cajun styles," he says. "[The mix of] mango puree, vinegar, and dijon and whole-grain mustards is inspired by Bajan hot sauce traditions."
Method: Combine all of the ingredients, save for the garnish, in a shaker tin with ice. Soft shake for 3-4 seconds and pour over crushed ice in a snifter glass. Garnish with mint leaves and fennel flowers.
*For the Mango-Dijon Syrup:
450 g white sugar
300 g water
150 g mango puree
30 g dijon mustard
15 g whole grain mustard
30 g Huilerie Beaujolais Mango Vinegar
Method: Combine all of the ingredients in a blender until dissolved.
Ode to the Monks
The mustard cocktail gets a bubbly topper in this ombre sipper from Belvedere. A Dijon mustard syrup gives the vodka a sweet-spicy bite, while verjus — a mild, vinegar-like condiment made from the pressed juice of unripened grapes — heightens the mustard's flavor. Aquafaba gives the whole thing a luxuriously frothy texture without using egg whites.
Ingredients:
1.25 oz Belvedere Pure
1 oz verjus
.75 oz aquafaba
.5 oz dijon mustard syrup*
1.5 oz Champagne, to top
.25 oz Crème de Cassis, to top
Method: Add all the ingredients, save for the champagne and cassis, to a shaker tin. Dry shake, then shake with ice, and double strain into a short highball. Top with champagne and float the crème de cassis on top.
*Dijon mustard syrup
20 grams dijon mustard
200 ml simple syrup
Method: Combine the mustard with the simple syrup and store in the fridge.
Editors' Recommendations