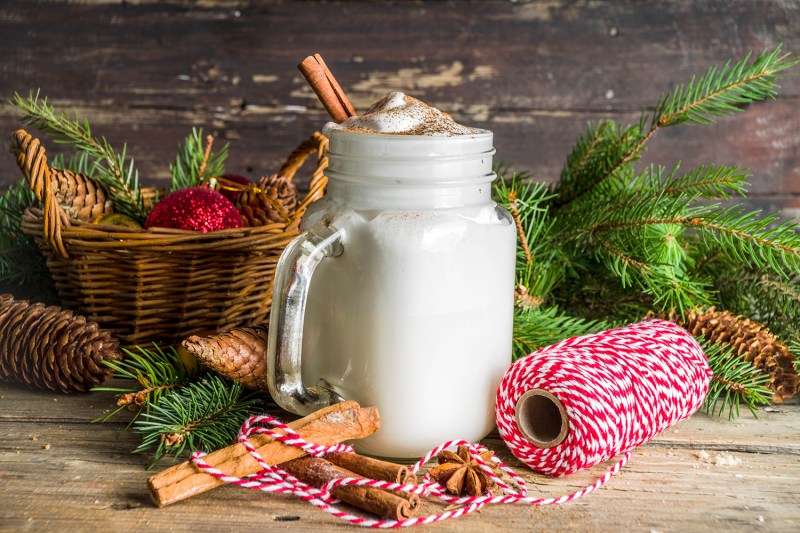 When it comes to classic cocktails, we like to cover 'em all. Even the ones crammed into an old-fashioned seasonal box, like the Tom and Jerry.
This drink has long been associated with the blinking lights and mistletoe of the holidays. Yet, we find that the creamy British invention carries intrigue almost year-round, especially now that the nights are getting a tad bit chillier. Sure, we prefer a Mojito or a Dark and Stormy on a balmy afternoon, but come night-time, especially just before bed, the Tom and Jerry is a real boozy triumph.
Related Reading
The origins of the drink are debated, but our favorite version dates back to the early 1820s, when an English sportswriter named Pierce Egan popularized it. The name is a reference to a book he wrote. Cleverly, Egan decided to concoct a drink that would help publicize the publication. And thus, a cocktail classic was born. Adored and served by the likes of former U.S. President Warren Harding at holiday parties, its popularity was set ablaze as a must-serve Christmastime drink.
Essentially a riff on a good old-fashioned eggnog and brandy, the Tom and Jerry can be made several ways. These days, especially in the Midwest, you can buy pre-made batters that you simply add hooch to. In cocktail land, however, simple is not often best. We have a few pro tips for you when it comes to making the 200-year-old drink.
We won't beat around the bush, this is a sweet, dessert-like drink, and its creation is slightly more complicated than throwing a few ingredients into a cocktail shaker. There is also ample sugar involved, not to mention vanilla and egg. You can lighten things up a bit with lower fat milk or even by diluting a bit with hot water. Yet, we prefer to go whole hog, even if that means just having one as a nightcap (and as a means of watching your weight).
You'll want a nice, dark rum for the task here, something that can stand up to the egg. Within the brandy family, Cognac is an excellent choice for a Tom and Jerry. Also, don't be afraid to try an Eaux-de-Vie of some kind, especially one made with a preferred fruit flavor (think pear or plum).
There are some other things to keep in mind. First, you're dealing with batter here, aka raw eggs. Use the batter while it's fresh or refrigerate immediately. We also suggest warming your mug beforehand and garnishing generously. Freshly grated nutmeg is a great start, but star anise also adds some pizzaz. Throw in a cinnamon stick for a bit of spice, or drizzle some coffee liqueur on top.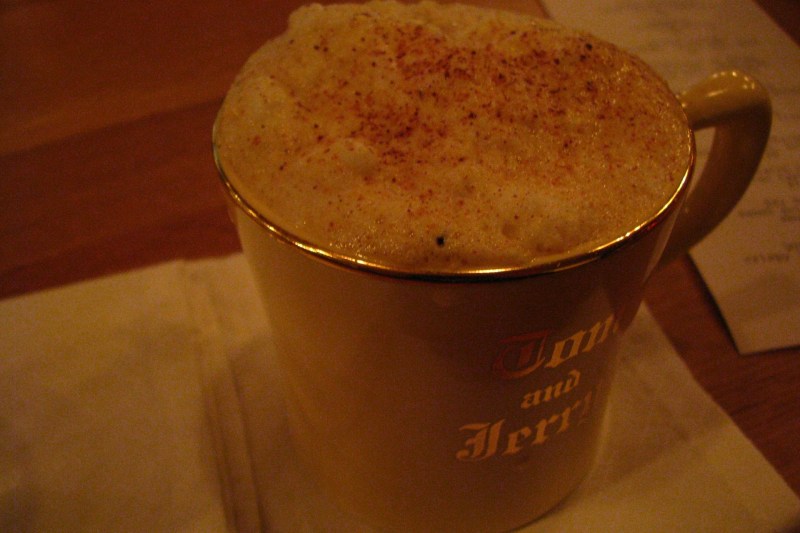 We love this recipe from Anders Erickson, which is a fluffy, warm and comforting concoction of holiday flavor. This version combines different rums for added complexity, but feel free to use just one if that's what you happen to have on hand.
Batter Ingredients:
2 eggs
1/2 cup granulated sugar
1/2 tsp vanilla extract
1/8 tsp ground clove
1/8 tsp ground allspice
1/8 tsp ground cinnamon
Small pinch of salt
Small dash Angostura Bitters
1/2 ounce Appleton Estate V/X Jamaican Rum
Drink Ingredients:
2 ounces Tom & Jerry batter
3/4 ounce El Dorado 12 year Demerara Rum
3/4 ounce Pierre Ferrand 1840 Cognac
3 ounces hot water or hot milk
Grated nutmeg for garnish
Directions:
In a small bowl, combine spices and rum. Stir and set aside.
Separate eggs into two bowls.
Add sugar, vanilla extract, bitters, and spice mixture to the egg yolks, stirring to combine.
Add salt to egg whites and whip to stiff peaks.
Gently fold together egg whites with the yolk mixture.
Spoon batter into your glassware of choice, then top with rum and cognac, whisking to combine.
Top with hot water or milk, garnish with nutmeg, and enjoy!
Editors' Recommendations