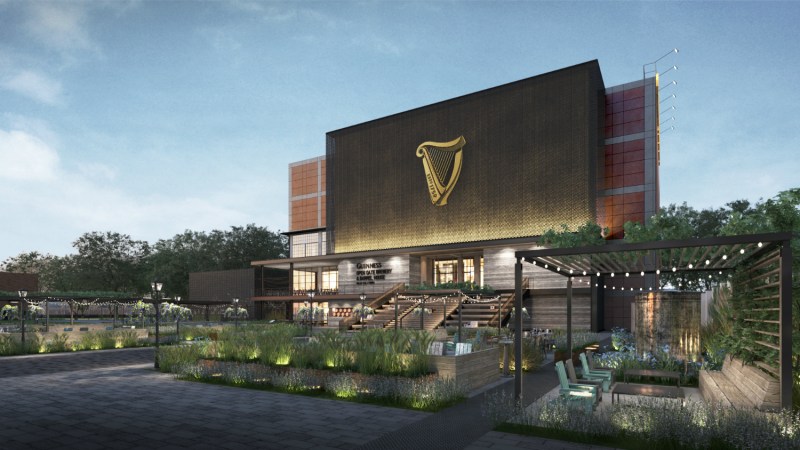 Baltimore is the latest East Coast city to witness a boom in its brewing and distilling scene. Now, Guinness is bringing its namesake to a dedicated brewery in the Maryland port city. The new Guinness Open Gate Brewery & Barrel House will be the company's first brewery in the U.S. in more than 60 years.
Baltimore's one-time, post-prohibition Maryland Whiskey Distillery is being transformed from the ground up into the 66-acre, $80-million-dollar Guinness Open Gate Brewery & Barrel House. The former distillery's rickhouses — essentially storehouses to age and shelf whiskey — will become a new, full-scale industrial operation for Guinness. The facilities will boast two-barrel and ten-barrel tanks for its most experimental beers, a larger, 100-hectoliter system for mainstream products like Guinness Blonde Lager, and the company's first-ever barrel-aging house.
Like Dublin's famed Guinness Storehouse, the grounds will be home to an interactive visitor's center. On the planned one-hour tour, guests will be able to watch Guinness brewers and the brewing process in action. Two full on-site restaurants will offer Maryland-inspired cuisine and beer-pairing menus to encourage visitors to linger as long as they like. More casual eats will also be available via local food trucks near the pint-glass-shaped outdoor courtyard.
What Guinness is really after is to inject a healthy dose of creative American brewing into their process. Brewery Ambassador Ryan Wagner confirmed the beermaker hired Holly Stephenson, Peter Wiens, and Sean Brennan (of Highland Brewing, Stone Brewing, and Jolly Pumpkin, respectively) to head the new brewery. They're tasked with unleashing their considerable beer-making chops and creativity to craft some truly one-of-a-kind brews. While the iconic brand already has a significant share of the worldwide beer market, Wagner notes that it's looking "to become a bigger part of the American craft beer industry, to have a place for innovation and creativity for Guinness in the states."
A temporary Test Taproom has been open since October with a rotating menu of experimental beers brewed on site. As of July 2018, the list included unique offerings like Guinness Oatmeal Stout, Guinness American Wheat Beer, and Guinness Guava Wit. The taproom will be closed once the full Guinness Open Gate Brewery & Barrel House officially opens August 3, 2018.
Editors' Recommendations