Fruits and vegetables always move through popularity cycles (like high school, but edible). At the beginning of this decade, Brussels sprouts gained thousands of new fans when restaurants cooked them, likely in animal fat, until crispy and delicious. Kale went from an inedible plate decoration to beloved leafy green and graphic T-shirt star. Celery, too, is currently having a moment as people's morning juice of choice. But there are some fruits and veggies that you'll likely never see in the supermarket. These forgotten varieties are kept alive by seed savers and heritage gardeners but are rarely tasted by the general public who isn't in the know.
To learn more about some of the heritage produce currently being grown in the United States, we chatted with Eve Otmar — a journeyman gardener and supervisor of the Colonial Garden and Nursery in Williamsburg, Virginia — and Ed Schultz, Colonial Williamsburg journeyman historic farmer. They chose their four favorite forgotten fruits and vegetables that you should add to your diet this year.
Cypriot Watermelon
This sweet, refreshing melon dates back to at least 1700 and is a native fruit of Cyprus. "It was found in a market in the capital city of Cyprus, Nicosia," Otmar says. "Our seed supplier mentions that it was found in 1996, grown by one farmer and was considered one of the most endangered of the Cypriot heirlooms." This melon is easy to grow, and the vines do trellis well, so Otmar suggests growing it upwards if you don't have a ton of ground space. Each Cypriot Watermelon grows to between 10 and 12 pounds, making it perfect to share with another person. "Refreshing and hydrating on a hot day right out of the garden," she says. "All you need is a knife."
Gourdseed Corn
The name "Gourdseed" was given to this white corn variety because its kernels are shaped like the seed of a common gourd. It was a popular crop among 18th century Virginia planters and can exceed 12 feet in height. It always has one ear, but can often grow two or three. "Some of it is eaten 'green' prior to becoming starchy, though the vast majority was allowed to dry so that it could be processed into grits and meal," Schultz says. "The leaves and the stalk above the ear were all cut to be used as fodder for livestock. Even the dry shuck after harvesting was used to feed horses and cattle." When tucking into Gourdseed Corn, don't expect the usual sweetness you're accustomed to from the yellow stuff. Schultz explains that it has a very nutty, deep corn flavor. He suggests grilling the young green kernels inside the husk for the best flavor.
Turkey or Armenian Cucumber
This muskmelon variety originated in Africa and is closely related to the cucumber you're familiar with seeing in the grocery store. It looks and tastes like a cucumber, and the skin is edible. "The gardeners were able to harvest an early crop with the squirrels getting the mature later crop," Otmar says. "They must have been delicious as they left us none." You can eat this cucumber raw and sliced into a salad, but Otmar loves it pickled and suggests taking the time to brine it, even if it's a "quick pickle" recipe. We reckon it would also be delicious drizzled with some salt and chili oil and enjoyed as a cooling side dish with spicy food.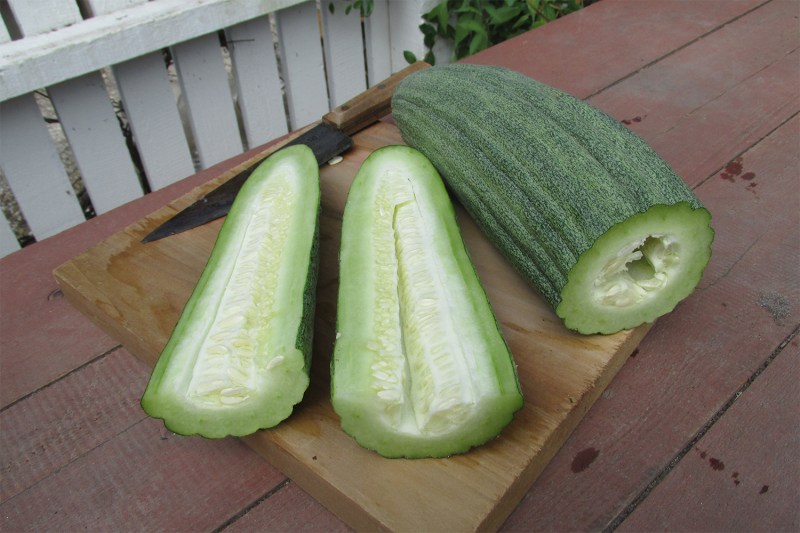 Radishes
We're all familiar with the bright pink radishes that are available in supermarkets year-round, but the types of radishes that grow in the Colonial Garden and Nursery are much different. "Radishes are thought to have originated in China and then moved to the Middle East," Otmar says. "The oldest varieties were long rooted like a carrot and mostly white, as well as black-rooted kinds. The small, round red radish of today started to appear in the colonies in the second half of the 18th century by way of Italy."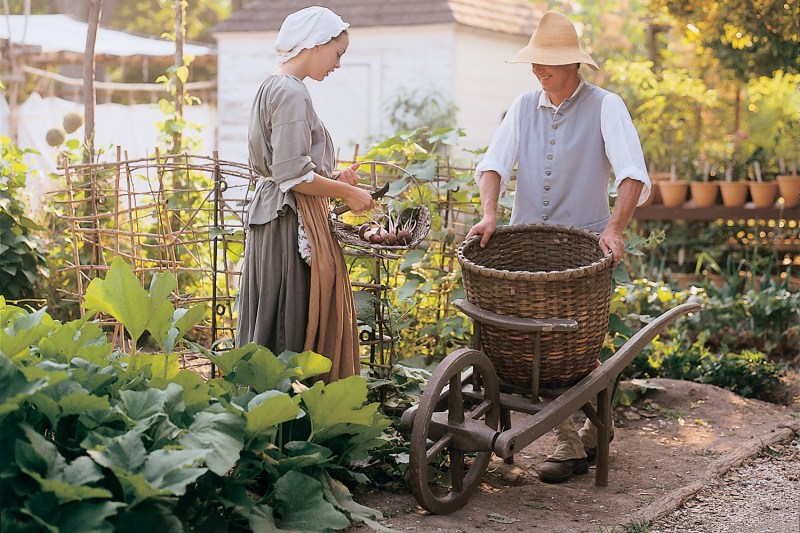 Radishes are a cool weather crop and easy to grow. Otmar and Schultz like the Black Spanish (round and long) and German Bier (white long and thick-rooted) varieties best, which are the 18th-century names for a plant that we simply call "radish" today. Both the Bier and Black radish are crunchy and spicy but don't have the same woody taste you'll often find in a late-harvested pink radish. And cooking with them is a breeze, especially because raw is the way to go. "Sliced on a salad, topped with a dressing or used as part of an appetizer—it's all delicious," Otmar says. "As a bonus, let some go to seed. The seed pod is a delicious spicy snack raw or delicious pickled."
If you're interested in growing these heirloom fruits and veggies in your garden this year, Otmar and Schultz suggest buying seeds from Southern Exposure Seed Exchange, Seed Savers, and Harvesting History.
Editors' Recommendations