Flying Dog Brewery, the Maryland-based brewery that is perhaps known as much for its Ralph Steadman-designed artwork as it is for its wide range of craft beers, is getting into the cannabis business with the announcement that they are partnering with Green Leaf Medical Cannabis to launch Maryland's first THC-infused beer later this year.
The beer, which will be called Hop Chronic IPA, will be non-alcoholic (we repeat: non-alcoholic) and meant as a vehicle for cannabinoids for medical marijuana patients.
"We see a lot of interest in cannabis from the craft beer community, and we jumped at the opportunity to partner with Green Leaf on a product that captures the passion and energy you see in fans of both craft beer and cannabis," Flying Dog CMO Ben Savage said in a statement. "There are definitely similarities between the natural flavor profiles we extract from hops and the terpenes and cannabinoids found in cannabis."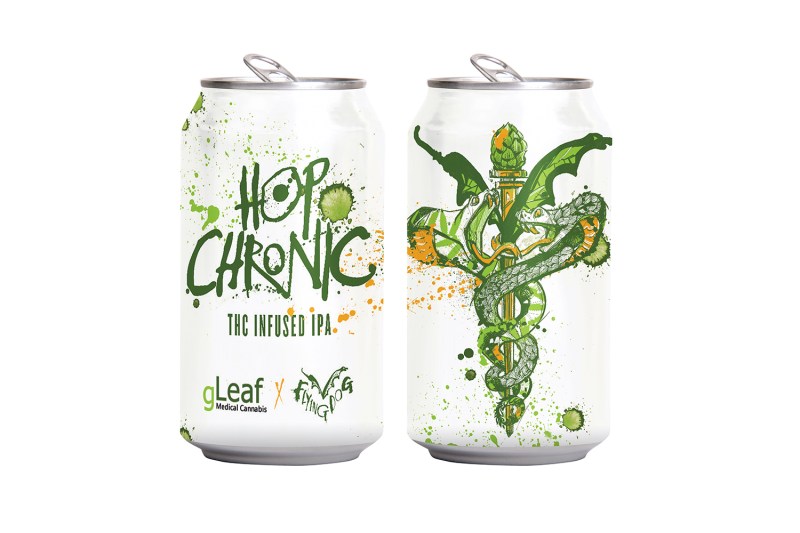 It isn't the first time breweries have created products in a similar vein. New Belgium's Hemperor uses toasted hemp seeds to get a similar flavor.
Hop Chronic will be available this summer pending regulatory and legal approvals, but if it clears all of the hoops, you will be able to find it at dispensaries throughout Maryland in either single-serve or six-packs of 12-ounce cans. According to the brand, Hop Chronic will be available in a wide variety of THC and CBD potencies.
"In a way, the cannabis industry is a lot like the craft beer movement was a few decades ago."
The collaboration between the two companies was not a chance encounter – both are headquartered in Frederick, Maryland, and less than a half-mile from one other.
"In a way, the cannabis industry is a lot like the craft beer movement was a few decades ago," Green Leaf CEO Phil Goldberg said in a statement. "We have to educate people and change the overall perception of what cannabis is, what it could be, and how it might benefit people. Partnering with Flying Dog seemed like another great way to get more people interested in cannabis."
In regards to the beer, Goldberg said that using it as a cannabis delivery system could be helpful for those that need the drug, but don't want to or can't smoke or vape it.
The brands both said that this would not be the last time they collaborate. Flying Dog and Green Leaf are already working on a number of other projects, including specific beer-inspired proprietary cannabis strains, cannabis strain-inspired beer recipes, and more, which they hope to also release in 2019.
Editors' Recommendations