A well-executed summer cookout should be a study in flavor contrasts. Peppery steak kebabs alongside sweet fruit salads, creamy mac & cheese next to fresh seasonal greens, and perfectly charred hot dogs or smoky pulled-pork sandwiches loaded up with cool, crunchy coleslaw. As a condiment or a side dish, coleslaw has a lot to offer, and traditional cabbage-based slaw delivers both a bright acidity and a welcome undercurrent of funk. However, plenty of other vegetables and fruits can supplement a cabbage coleslaw base, and the typical mayonnaise-laden formula isn't the only way for a slaw to offer a refreshing counterpoint to grilled meats and proteins. We asked a group of professional chefs to provide 6 coleslaw recipes that venture beyond this dish's expected norms, and you can find these creative slaw variations below:
Honey Sesame Carrot Slaw
(By Sybille van Kempen, owner, Loaves & Fishes, Sagaponack, New York)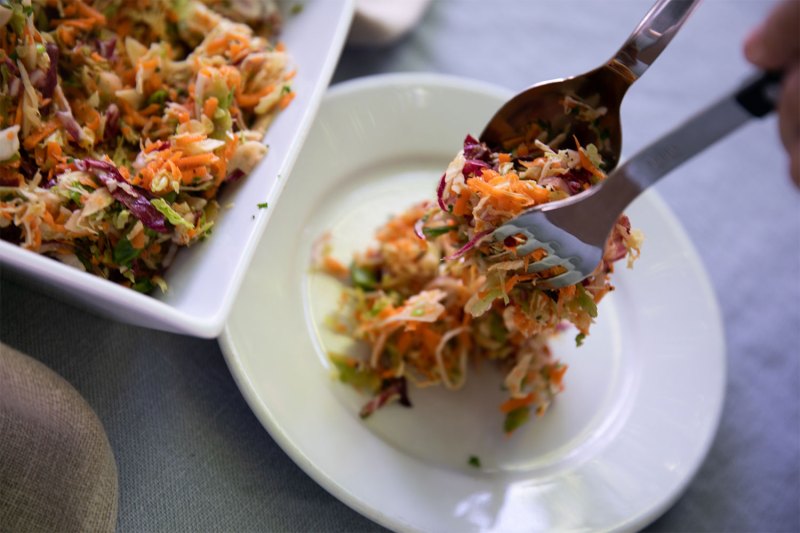 Hamptons-based cookbook author and restaurateur Sybille van Kempen likes to use the classic shredded cabbage in her favorite slaw recipe, but she chooses to bolster that ingredient with sweet grated carrots. She dresses the slaw with a blend of soy sauce, rice vinegar, sesame oil, honey, and lime juice, drawing inspiration from flavors commonly found in Asian cuisines. "This slaw features carrots and cabbage with other farm-fresh summer veggies, including radicchio and snow peas. The dressing is light and flavorful, with just a hint of sweetness from honey and sesame oil," says van Kempen.
Ingredients:
6 carrots, peeled and grated

.5 head Savoy or green cabbage, shredded

1 head radicchio, shredded

2 cups bias-sliced snow peas

.5 red onion, sliced

2 scallions, sliced on a bias

.25 cup soy sauce

2 tbsp rice vinegar

1 tbsp honey

2 tbsp sesame oil

1 tbsp lime juice

Grated zest of 1 lime

.5 cup canola or vegetable oil

Kosher salt and freshly ground black pepper, to taste
Method:
Add carrots, cabbage, radicchio, snow peas, red onion, and scallions to a medium-sized bowl.

To make the dressing, add soy sauce, rice vinegar, honey, sesame oil, lime juice, lime zest, canola or vegetable oil, and salt & pepper to a small bowl and whisk to combine. 

Pour the dressing over the slaw and toss until slaw is completely coated.
Crisp Green Apple Coleslaw
(By Hany Ali, executive chef, Europa Village, Temecula, California)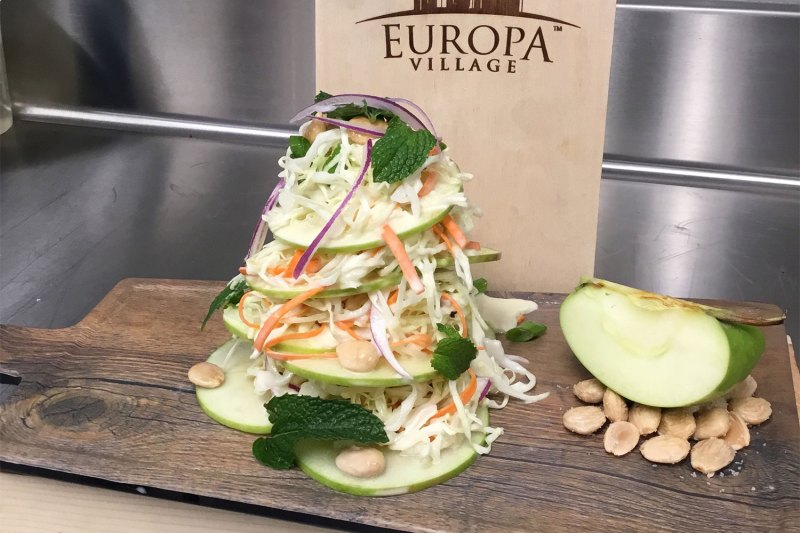 For an extra zing of acidity, executive chef Hany Ali mixes his coleslaw cabbage with sliced and julienned green apple. He hews to tradition by using a mayonnaise-based dressing for this slaw, but he includes both apple cider vinegar and honey to play off of the apple flavors, resulting in a side dish that's bright, invigorating, and a perfect match for char-grilled BBQ fare. 
Ingredients:
1 medium-sized green cabbage head, finely shredded

3 scallions, finely chopped

.5 cup toasted Marcona almonds

4 Granny Smith apples, ½ julienned and ½ sliced

1 carrot, finely shredded

24 mint leaves, chopped or torn

1.5 cups plain Greek yogurt

1 cup mayonnaise

1 tbsp Dijon mustard

.25 cup local honey

3 tbsp apple cider vinegar

1 tsp toasted black mustard seeds

Salt and pepper, to taste
Method:
Add cabbage, julienned apples, scallions, almonds, carrot, and mint leaves to a large mixing bowl.

To make the dressing, add Greek yogurt, mayonnaise, Dijon mustard, honey, apple cider vinegar, black mustard seeds, salt, and pepper to a bowl and whisk to combine.

Pour the dressing over the salad and toss until fully coated. Garnish with sliced apples. 
Corn and Fresno Slaw
(By Sarah Bell Lewis, chef de cuisine, The Ranch at Las Colinas, Irving, Texas)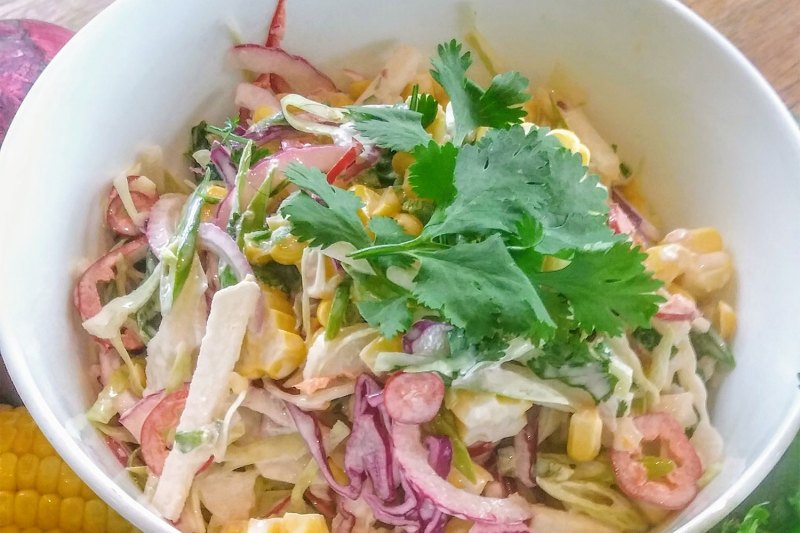 "Familiar flavors play well together in this lightly sweet and spicy slaw, perfect to top a taco or to simply spice up a burger. Sweet roasted corn and spicy Fresno peppers are balanced with fresh tangy lime juice and crunchy jicama. Dial up the heat by adding more Fresno peppers or pull back for a subtle kick," chef de cuisine Sarah Bell Lewis says of her slaw, which she tosses with a creamy lime dressing. 
Ingredients:
2 cups green cabbage, thinly sliced with a sharp knife or a mandolin

.5 cup red cabbage, thinly sliced

.5 cup roasted corn kernels (cut from the ear)

.5 cup red onion, thinly sliced

.5 cup jicama, julienned

.25 cup green onion, cut in a diagonal

.25 cup cilantro leaves, chopped or torn

3 tbsp Fresno peppers, thinly sliced in rings

.5 cup Creamy Lime Dressing*
Method:
Add all ingredients to a medium mixing bowl and toss until the vegetables are coated with dressing.

Garnish with cilantro sprigs.
*Creamy Lime Dressing:
Add .25 cup lime juice, 1 tsp lime zest, .75 tsp kosher salt, and .5 cup mayonnaise to a medium mixing bowl and whisk to combine. Set aside until needed.
Kale Caesar Slaw
(By Evan LeRoy, chef/co-owner, LeRoy & Lewis, Austin, Texas)
Austinites view BBQ in near-religious terms, and their scrutiny isn't limited to the smoked meats themselves. Side dishes also must pass muster, and chef Evan LeRoy of mega-popular Austin barbecue truck LeRoy & Lewis considers his Kale Caesar Slaw a fitting companion for his lauded pulled pork, sausage, and brisket. "Our best ideas are the ones [where] people can grasp onto something they are semi-familiar with, but that are also something slightly different. I was watching a show one time and a chef said, 'Every restaurant in America should have a Kale Caesar on the menu.' While I don't necessarily agree with that statement, something clicked in my head where I knew I could make a slaw out of [this concept] because kale is so sturdy and can stand up to a heavy Caesar dressing without getting wilted," LeRoy tells The Manual.
Ingredients:
1 bunch curly green kale

1 head green cabbage

1 cup shredded Parmesan cheese

.5 cup Caesar dressing of choice

1 cup croutons*
Method:
Wash the kale, then, remove the leaves from the stem of the kale. Slice the leaves thinly into ribbons. 

Remove the outer leaves from the cabbage. Core and quarter the cabbage head and slice as thinly as possible.

 In a large container, mix the kale, cabbage, and Parmesan together until fully incorporated. Add the dressing and mix thoroughly until all the greens are coated. 

Plate the slaw  and garnish with croutons.
*Croutons:
Preheat the oven to 300 degrees Fahrenheit.

Cut 12 slices of saved bread heels into cubes and spread in a single layer on a baking sheet. Toast in the oven for 30-45 minutes, or until crisp and slightly browned.

Add the croutons to a large container and coat with 4 oz olive oil. 

Add 1 tbsp Italian herb seasoning, 1 tsp granulated garlic, and 1 tsp kosher salt to the crouton container and toss until fully combined. 
Celery Root Slaw
(By Brandon Collins, mustard sommelier, Maille)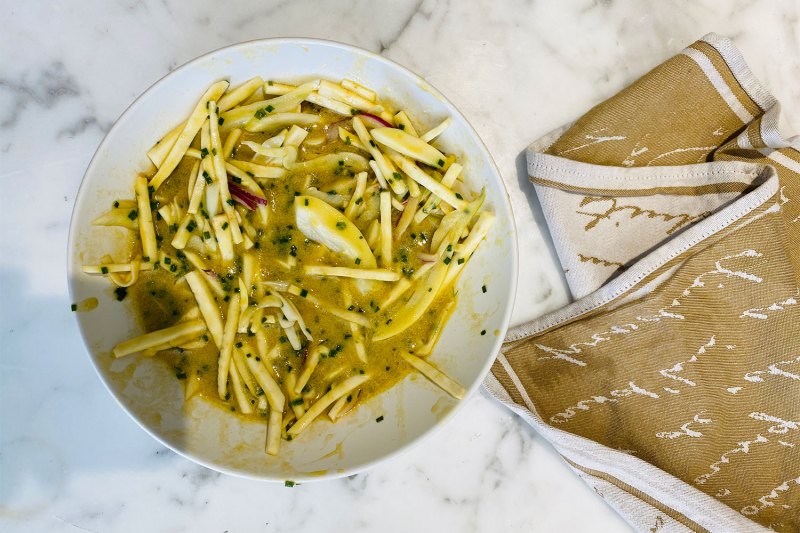 For a completely cabbage-free spin on coleslaw, try this celery root-based version created by mustard expert Brandon Collins. Celery root, a tuber vegetable, has a celery-like flavor with a distinct hint of sweetness, and this slaw's combination of aromatic fennel and a tangy dressing made from Dijon mustard and sherry vinegar sets off the shaved celery root to perfection.
Ingredients:
1/3 cup Dijon mustard (Collins uses Maille Dijon Mustard)

1/3 cup sugar

.25 cup sherry vinegar

.25 cup avocado oil

1 red onion, sliced

1 large fennel head, sliced thin

1 large celery root knob, julienned

.25 cup chopped chives

Pinch of salt and freshly ground pepper
Method:
Mix all ingredients

except

for the fennel and celery root in a large bowl and set aside.

Put fennel and celery root in a separate bowl.

Mix fennel and celery root with desired amount of dressing and serve.
Deluxe Dill Coleslaw
(By Trish Koetting, owner, Hoss's Market, Columbia, Missouri)
Dill pickles easily earn their status as a top cookout ingredient, and Trish Koetting embraces these iconic BBQ accoutrements by adapting them into a refreshing slaw. "Everyone loves a cold, crunchy dill pickle with their pulled pork sandwich. At Hoss's Market, we kick things up a notch in the sides department by combining that briny pickle flavor with our creamy cabbage coleslaw. Minced dill pickles and a splash of pickle juice in your slaw dressing can add a powerful, tangy punch to any summer meal. Once you've tossed it all together, garnish it with fresh dill, and your backyard barbecue guests will be pleasantly surprised," explains Koetting.
Ingredients:
4 cups shredded white cabbage

1 cup shredded carrots

.5 cup chopped dill pickles

12 cup chopped green onions

.5 cup mayonnaise

1 tsp sugar

2 tbsp dill pickle juice

2 tsp fresh dill, plus extra for garnish

Salt and pepper, to taste
Method:
Place the carrots, cabbage, green onions, and dill pickles in a large mixing bowl.

In a separate bowl, combine your mayonnaise with fresh dill, pickle juice, sugar, salt, and black pepper. 

Pour the dressing into the large bowl and thoroughly toss your slaw together.

Garnish with fresh dill fronds.

Cover and store in the fridge for at least 20 minutes before serving.
Editors' Recommendations