The season of entertaining is upon us. It's that time of year when invitations are sent out in the spirit of excited merriment and good intentions. We deck the halls and smile, thinking of how much fun that future event will be, friends and family, sparkling cocktails in hand, gushing over the gorgeous spread of delicious foods before them, each one a homemade testament to our superior hosting abilities.
But then the day arrives, and we find ourselves frantically googling "easy recipes for a crowd," cursing ourselves for our naive optimism at having forgotten the stress that holiday entertaining can bring. That's why we're thankful for recipes like this one. Recipes that come together quickly and simply, and will impress everyone at your holiday party.
This easy holiday appetizer combines deliciously creamy brie with the beautifully tart taste of fresh cranberries. The two flavors are fused together with a sweet vinegar punch, and topped on individual toasts, making for the perfect party dish. Not only is its flavor sinfully delicious, but it looks absolutely beautiful on a table, and comes together in just a few minutes with only a handful of ingredients.
This dish also works for any number of holiday gatherings, from an upscale Champagne brunch to a friendly neighborhood potluck and the fanciest of Thanksgiving tables. It's delicious when served both warm and at room temperature, so there's no need to worry about oven space or meticulous timing. Just set these little beauties out on the table and wait for them to disappear (but don't forget to get one for yourself first!).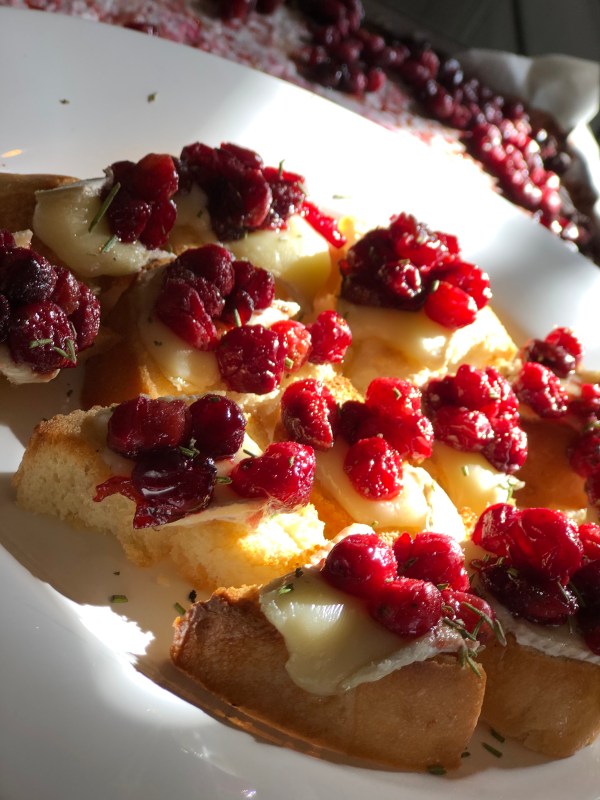 Cranberry crostini recipe
Ingredients
1 French baguette, sliced

4 tablespoons butter, melted

2 tablespoons olive oil

12 ounces fresh cranberries

2 tablespoons balsamic vinegar

1/2 cup granulated sugar

1 tablespoon fresh rosemary, finely chopped

Zest of 1 lemon

4 ounces triple cream brie

Salt to taste
Method
Preheat the oven to 425 degrees Fahrenheit. Line two large baking sheets with parchment paper and set aside.
In a small bowl, whisk together the butter and olive oil.
Brush both sides of the baguette slices with the butter mixture and arrange on one baking sheet in a single layer, seasoning with salt.
In a medium-sized bowl, stir together the cranberries, vinegar, sugar, and rosemary. Pour the mixture onto the second baking sheet, spreading into a single layer.
Bake both the cranberry mixture and the baguette slices for 7 to 10 minutes, until the cranberries have burst and the baguette slices are golden brown.
While the baguette slices are still hot, spread the brie onto each piece, and top with the warm cranberry mixture.
Top the crostini with lemon zest and serve warm.
Editors' Recommendations